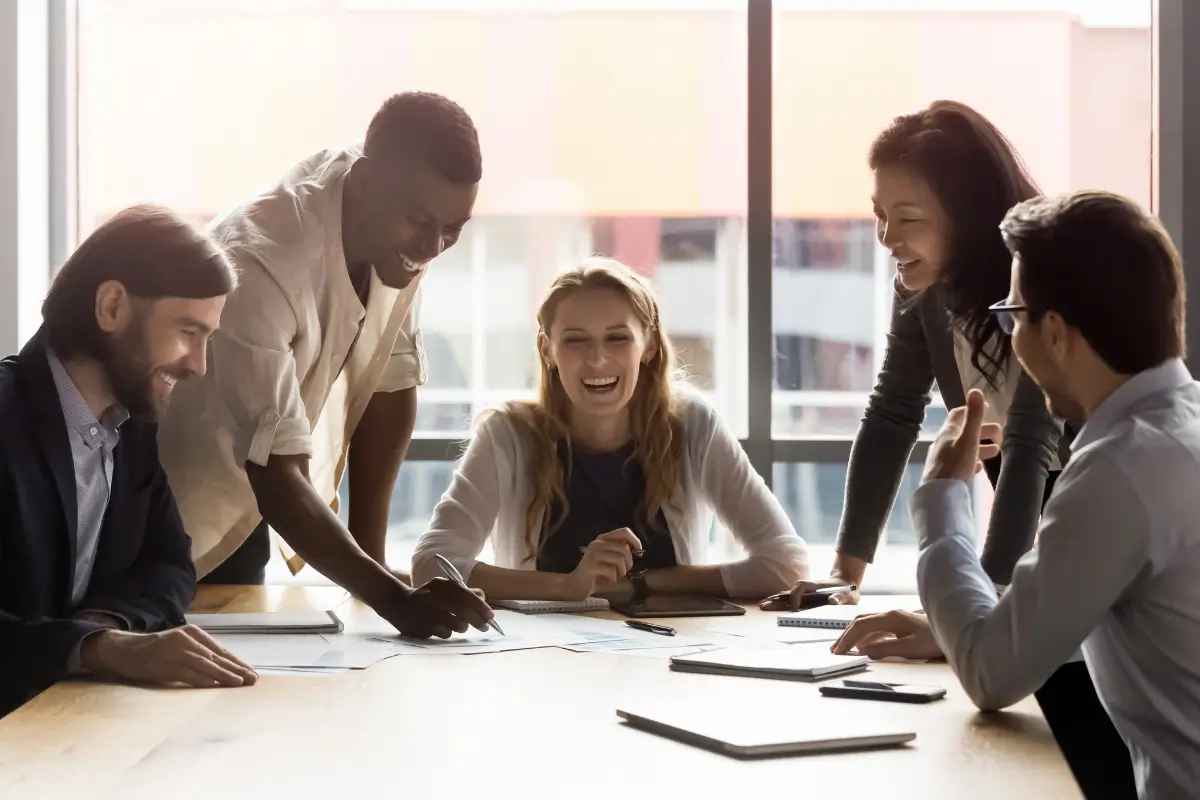 Even though employee engagement drives business success, it can be difficult to keep up with the best ways to engage employees – especially in today's workplace, which has been forever changed by the COVID-19 pandemic.
Personal and professional priorities have changed in ways no one could have imagined when the calendar flipped over to 2020. As a case in point, your employees may be among the 92% who continue to work at home at least one day a week – a nearly unimaginable statistic prior to the pandemic. Managers and HR professionals – especially those who run small businesses – have to keep those changes in mind if they want to foster workplace engagement.
RELATED: How Employee Development Benefits Your Team and Your Business >>
At its core, employee engagement stems from how positively teams feel toward their employers. The higher their opinions, the more committed they are to their jobs and emotionally connected they are to their work. In other words, employees who think of your organization as a great place to work are likely to be highly engaged.
Workplace policies and practices should demonstrate how valuable employees are to the organization.
When those actions are successful, they create engaged employees who:
Trust and respect management,

Understand how they fit into the organization's long-term strategy, and

Believe their companies are thriving and will have future success.

Management's Role
Engagement goes up when your employees and their supervisors consistently share positive interactions and mutual respect.
Managers can cultivate such relationships with direct reports by ensuring those employees have:
The tools they need to do their jobs well;

The autonomy to make decisions that affect their ability to carry out their responsibilities and solve problems;

Both positive and constructive feedback about job performance; and

Opportunities to learn and grow.
Managers who communicate authentically and prioritize professional development create environments where employees can win, increasing engagement and the business's overall success. The best managers set clear direction and fair expectations and provide sufficient resources for their teams.
RELATED: When Employees Lose Trust in Their Boss >>
Besides training and courses to hone or develop new skills, small businesses also can boost engagement by giving employees the chance to take on additional responsibilities, like spearheading a special project that has meaning to the worker and the company. Such assignments give employees a sense of ownership and purpose while helping them feel like an integral part of the team.
Be Flexible
Flexible work is perhaps more important now than ever before. Employees who got a taste for the conveniences that came with working at home during pandemic-related shutdowns may be unwilling to work for companies that don't continue allowing telecommuting or hybrid arrangements. In fact, 29% of employees now say they would quit their jobs if their employers never let them work remotely.
And, even if they don't leave their positions, many employees who are forced to return to 100% traditional on-site work will be resentful and dissatisfied – precursors to the dreaded state of disengagement. Because there's little indication this new mindset will change, employers should at least consider ways they could make remote work a possibility on some level.
RELATED: What Is Employee Engagement and Why Is It Critical To Your Business' Success? >>
Get Social
A stressed-out-by-the-job employee who doesn't have a close relationship with anyone else in the company won't be a highly engaged employee. So, companies should create periodic opportunities – whether virtual or in-person – for colleagues to socialize and relax with each other.
All employees are more likely to engage with their work when they feel a connection to teammates. Such bonds lead to improved communications and relationships, new ideas and higher morale, as well as healthier and less-stressful work environments.
RELATED: How Employers Can Handle Cliques at Work >>
Actively focus on increasing employee engagement. It's one of the best ways to insulate your business from inevitable challenges, make work more meaningful for all employees and improve the quality of life for everyone at your organization.