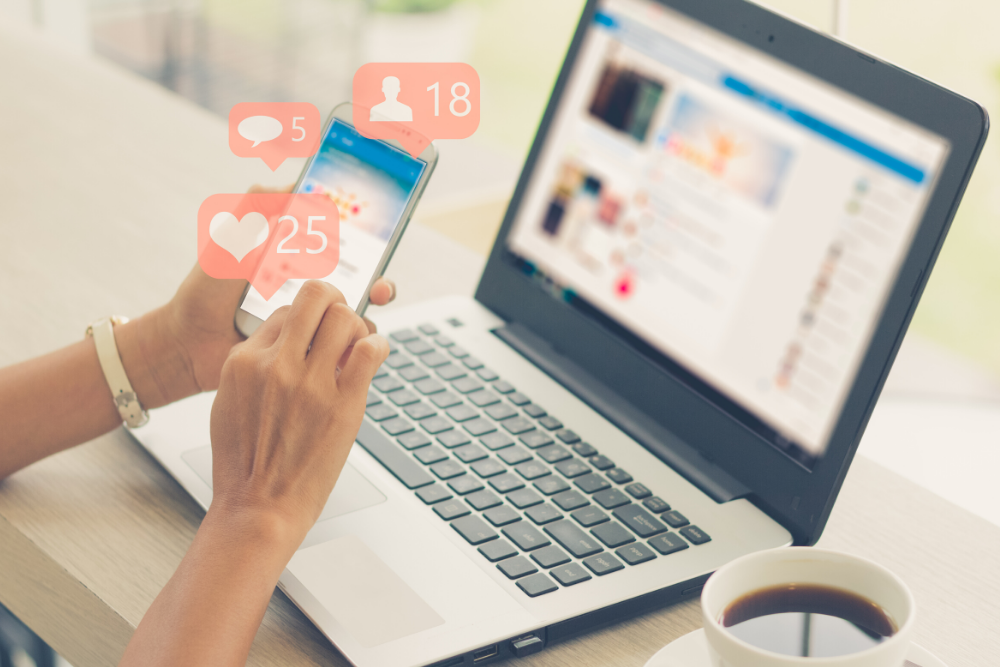 Social media is everywhere. It has changed the way we interact with people, get our news, shop for products and spend our time. With 3.5 billion active social media users daily spending an average of three hours per day, it is one of the most popular online activities we engage in. But just as smartphone technology has blurred the lines on the typically 9-5 workday creating an "always on" culture, social media has knocked down the barriers between our personal (private) and professional lives. It's not uncommon for us to be connected with friends, family, coworkers, clients and even our boss on our personal social media accounts.
But social media isn't always innocent snapping, tweeting, sharing and posting. Sometimes employees' use of social media crosses the line — and what may originally be dismissed as "just a joke" can quickly turn into harassment. What is unique about social media harassment, in comparison to suggestive comments or actions in person, is the employee who claims harassment often has well-documented evidence including messages, screenshots and more. When employees post content that discriminates or harasses, even through their personal social media accounts after work hours, employers can be held accountable. In these cases, the courts may view social media as an "extension of the workplace" for which employers bear responsibility and liability for hostile work environments.
Cases When Employers Have Been Held Liable
Here are a few cases involving social media, blogs and texts and how the courts have ruled, holding the employers liable:
Sexual Harassment and Retaliation:

Fry Electronics was ordered to pay $2.3 million to settle a lawsuit

brought by the EEOC

which alleged sexual harassment and retaliation. In this situation, an assistant store manager allegedly "frequently sent sexually charged text messages" to a young employee and invited her to his house for drinks. The employee reported the sexual harassment to her direct supervisor, who was then fired after he reported the harassment to the company's legal department. The EEOC charged the company with harassing a young salesperson and firing the supervisor who stood up for her. While this case involved texting, it extends to social media and may present in the form of direct messages, comments or Snapchat images.

Threatening Facebook Messages:

According to SHRM

, in

Maldonado-Cátala v. Municipality of Naranjito

(D. P.R. 2015), a municipal EMT alleged an emergency management office director sexually harassed female employees. Consequently, that director was forced out of his position. Soon thereafter, the plaintiff began receiving threatening Facebook messages referencing the director who was forced out of office. Worried about her safety, the woman filed a police report. Investigations revealed the messages originated from a computer in the municipality's emergency management office. The EMT claimed a hostile work environment due to the Facebook messages. While employees can attempt to hide behind fake social media profiles when sending harassing messages, if the location the messages originated from can be traced back to an employee or the work premises, that may be all that is needed for the courts to hold the employer liable.

When Bloggers Harass

: Another court upheld a $1.6 million verdict in favor of an employee with a disability who was harassed by co-workers on a blog outside the workplace. The employee reported the harassment, but the employer failed to take action. The courts held the employer liable because he was aware, but didn't take any action to stop the harassment.
3 Common Types of Social Media Workplace Harassment
Virtual Harassment.

Online harassment includes "friending" a coworker on Facebook or following on Instagram or another channel, then sending offensive messages through a social media app that could be sexual, discriminatory or bullying in nature. Additionally, digital harassment includes leaving inappropriate comments on pictures or repeatedly asking a coworker out on dates. For example, every time Tommy posts a photo on Instagram, Susan always responds by posting comments like "HOT" or "You look so good".

Lewd Photos via Snapchat.

In 2018, Snapchat had approximately 188 million daily users who generated over 3 billion snaps each day. The mobile application has become a popular means for sending sexual photos (or Snaps) because when sent through Snapchat the photos disappear within seconds of being viewed. Snapchat has been a popular avenue for individuals who want to send a photo that is sexual in nature to another Snapchat user because there is a false sense of security the photos just disappear.

Cyberstalking.

When an employee or boss obsessively follows someone on all of their social media channels, even as far as to show up where they may be, they are cyberstalking. Some apps, like Snapchat, even provide a map sharing the user's exact location.
It is important to remember, it doesn't matter whether the comments are left during the workday or afterhours, if one employee is causing another to feel uncomfortable or threatened, workplace harassment is occurring.
3 Workplace Strategies to Prevent Social Media Harassment
Social media harassment, cyberbullying and other forms of online harassment are a serious concern for employers. Clear, proactive policies can be an employer's best friend. Here are three workplace strategies to help prevent social media harassment:
Harassment and Bullying Policy.

Employers have a legal and moral obligation to provide employees with a healthy and safe work environment. The first step in preventing social media harassment among employees is to establish a robust policy denouncing all forms of bullying and harassment. It should clearly communicate to employees that the company will not tolerate such behaviors and should encourage them to report offenses – ideally through multiple options for confidential reporting channels. The policy also should describe examples of misconduct and outline consequences for prohibited behaviors.

Implement a Social Media Policy.

Your social media policy should, among other things, request respect in postings, especially if they involve managers, coworkers or clients and include policies on public social posts that could be interpreted as bullying, discrimination or harassment and disciplinary measures. Extending your business' anti-harassment policy to social media may be a good idea. It should also

clearly detail how a disgruntled employee can express their workplace grievances with HR or company leaders. Unfortunately, employees often don't know where to turn, so they take to social media.

Take Complaints Seriously.

The best way to encourage reporting is to demonstrate that allegations are treated seriously and resolved promptly. When an employee brings an incident to management's attention, the employer should immediately address the issue and conduct a fair and thorough investigation. If the outcome corroborates the allegation, the employer should take immediate corrective action.