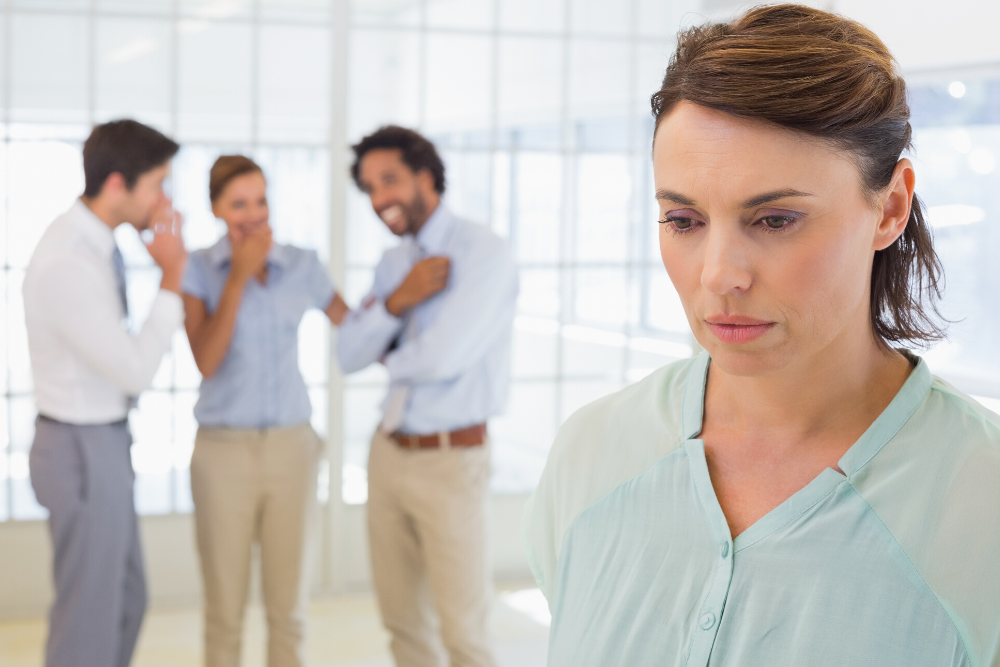 Workplace harassment and bullying are hot button issues for today's employers . Harassment more commonly rises to the level of illegality, and both involve patterns of mistreatment. Both are unwanted behaviors that can damage business by causing:
Increased employee absenteeism, turnover, accidents and assistance costs
Decreased employee productivity and morale
Diminished reputation, image and customer confidence
Poor customer service
Lower profitability
Legal risks
Harassment
The U.S. Equal Employment Opportunity Commission defines harassment as "unwelcome conduct based on race, color, religion, sex (including pregnancy), national origin, age (40 or older), disability or genetic information…that violates Title VII of the Civil Rights Act of 1964, the Age Discrimination in Employment Act of 1967, and the Americans with Disabilities Act of 1990."
Harassment becomes unlawful when enduring offensive conduct becomes a condition of continued employment or when it creates a hostile work environment where victims feel intimidated. Examples of workplace harassment include distasteful jokes, slurs, epithets or name calling, physical assaults or threats, intimidation, ridicule or mockery, insults or put-downs, requests for sexual favors, offensive objects or pictures and interference with job performance.
The harasser can be the victim's supervisor, another manager, a co-worker or someone who does not even work for the company.
Bullying
Workplace bullying entails a pattern of mistreatment intended to cause emotional harm, thereby negatively impacting a victim's mental health, and is almost always a component of harassment at some level.
To constitute bullying, behavior must be repetitive. It can include verbal, nonverbal or psychological tactics like physical abuse, humiliation, teasing, threats, intimidation, insults, sabotage, public reprimands or exclusion.
The abuse becomes physical when it involves unwanted contact or gestures. Like harassment, bullying behaviors may or may not be considered unlawful acts. Bullying is actionable under federal law only when the basis for it is tied to a protected category, such as race or sex, in which case it likely would qualify as illegal harassment.
Three Employer Tips
Create a Anti-Harassment/Bullying Policy. Employers have a legal and moral obligation to provide employees with a healthy and safe work environment. The first step in preventing workplace misconduct is establishing a robust policy denouncing all forms of bullying and harassment. It should clearly communicate to employees that the company will not tolerate such behaviors and should encourage them to report offenses – ideally through multiple options for confidential reporting channels. The policy also should describe examples of misconduct and outline consequences for prohibited behaviors.
Prompt Response. The best way to encourage reporting is to demonstrate that allegations are treated seriously and resolved promptly. When an employee brings an incident to management's attention, the employer should immediately address the issue and conduct a fair and thorough investigation. If the outcome corroborates the allegation, the employer should take immediate corrective action. The anti-harassment/bullying policy should describe a range of disciplinary steps the company will take based on the severity, duration and scope of the offense.
Training. Training is also a critical component in any program designed to prevent workplace harassment. Employers should require all employees to attend training upon hire and on an annual basis so that they understand exactly what kind of behavior is disallowed. Civility training that promotes respect among employees from different backgrounds at all levels of the organization also may reduce on-the-job bullying.
Taking these measures will help foster an inclusive culture by regularly demonstrating a commitment to eradicating harassment and bullying. That, in turn, should lower or eliminate mistreatment that is detrimental both to victims and the companies that employ them.
Related Reading:
The High Cost of Sexual Harassment in the Workplace
Defining Zero Tolerance to Curb Sexual Harassment at Work
Fear-Based Reaction to #MeToo Can Be a Dangerous Path to Discrimination Claims