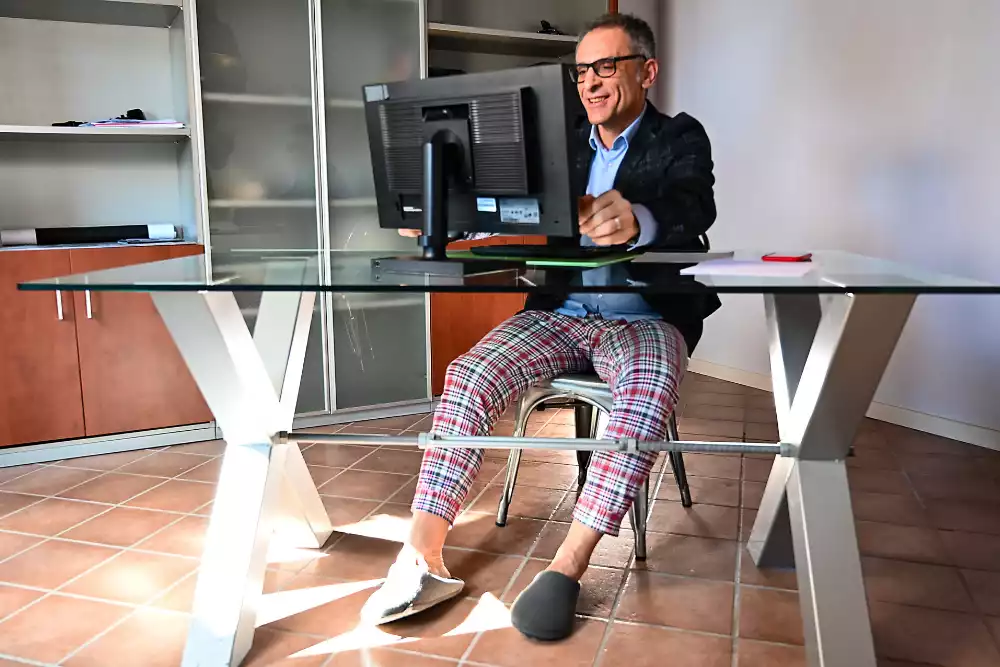 Tech company employees have been coming to work in jeans and sweatshirts for years. Even at traditionally buttoned-up organizations like financial services companies or law firms, approved employee attire has edged toward "business casual." But the coronavirus pandemic, which has driven hundreds of thousands of employees into remote work, may have tipped the American workplace forever into casual dress.
Nearly one-fourth of consumers told market research firm NPD in June that their preferred work-at-home attire is activewear, pajamas or loungewear. The "Zoom shirt" has become so commonplace that it earned an Urban Dictionary definition as the "shirt or blouse kept on the back of your desk chair to quickly be presentable for video conferences." It stands to reason that home-based employees, many of whom are juggling work and unprecedented personal responsibilities, would find it easier to handle those myriad demands in comfortable clothing.
Is It Time to Update Your Employee Dress Code Policy?
A work-from-home or return-to-work dress code policy is likely something small business owners never thought they would have to consider, but this is 2020. Just add it to the list of challenges the pandemic has thrown at us.
As an employer, you obviously can't control what employees wear in their own homes. You should, however, clarify expectations for employee attire during video meetings and for those who return to or remain in your physical workspace. Even if employees are working remotely, they need to understand that showing up on video calls in their PJs doesn't reflect well on the person or your company.
Provide simple guidelines that define the type of clothes you prefer they wear when meeting virtually with co-workers or customers, along with examples of acceptable outfits and items of clothing they should leave in their closets until after hours.
Business casual could include wrinkle-free khaki or cotton pants and skirts with knee-length (or longer) hems, paired with button-down shirts, polos, sweaters, blouses, and cardigans – but no t-shirts, jeans or revealing tops. Smart casual, which is less formal than business casual but a step up from off-hours attire, might include clean, well-fitting t-shirts or jeans, which might make more sense for telecommuters who typically are only seen from the waist up during video conferences.
Start Here to Revamp Your Dress Code
Review your company's dress code – or draft one if you don't have one already – to ensure employees returning to the workplace leave their sweatpants at home. Remind employees of the policy before they resume working onsite.
When you update or establish your company's dress code, besides thinking about how the pandemic may have changed your customers' and employees' expectations about workplace attire, consider the political division and racial equality issues that are part of the country's discourse. To disallow certain clothing and accessories that convey political views or commentary on social justice issues, dress code rules must expressly prohibit the practice and be enforced consistently.
Uniform enforcement, in fact, is the cornerstone of an effective dress code policy. Make sure the rules you create do not discriminate or appear to discriminate against employees in any protected class, including race, religion, sex (including sexual orientation and gender identity), national origin, age and disability.
COVID-19 has made mask-wearing a hot dress code topic, as well. The Equal Employment Opportunity Commission has determined that employers can require their employees to wear face coverings in most cases.
To avoid legal concerns, keep these tips in mind when writing or revising a dress code policy:
Do not place a higher burden on one gender or another, such as requiring women to wear skirts without asking men to wear something considered equally formal, like a suit and tie.
Allow for reasonable accommodations for sincerely held religious beliefs (for example, allowing a Muslim woman to wear a head covering) or a disability (for example, shoes that address an orthopedic issue). You do not have to grant an accommodation if it would cause undue hardship, but a best practice is to do your best to reach an agreeable accommodation for the affected employee.
Remember the National Labor Relations Act protects concerted activity among employees, such as protesting perceived discrimination or injustice within the company. Even though the NLRA doesn't necessarily protect general social justice or political statements, an activity like wearing masks with the words "Black Lives Matter" on them could, in some cases, be protected.
Understand the Americans with Disabilities Act and religious protections when implementing a mask mandate. For example, consider whether a reasonable accommodation would allow an employee who cannot wear a mask due to health reasons to perform the essential functions of the job (assuming no undue hardship issue). A similar situation could arise if a mask impedes an employee's ability to wear certain religious garb.
Axcet HR Solutions can help your company create a clear dress code that adheres to federal regulations and can be consistently enforced – and ensure nobody shows up on your company's next customer Zoom call in PJs and a robe.