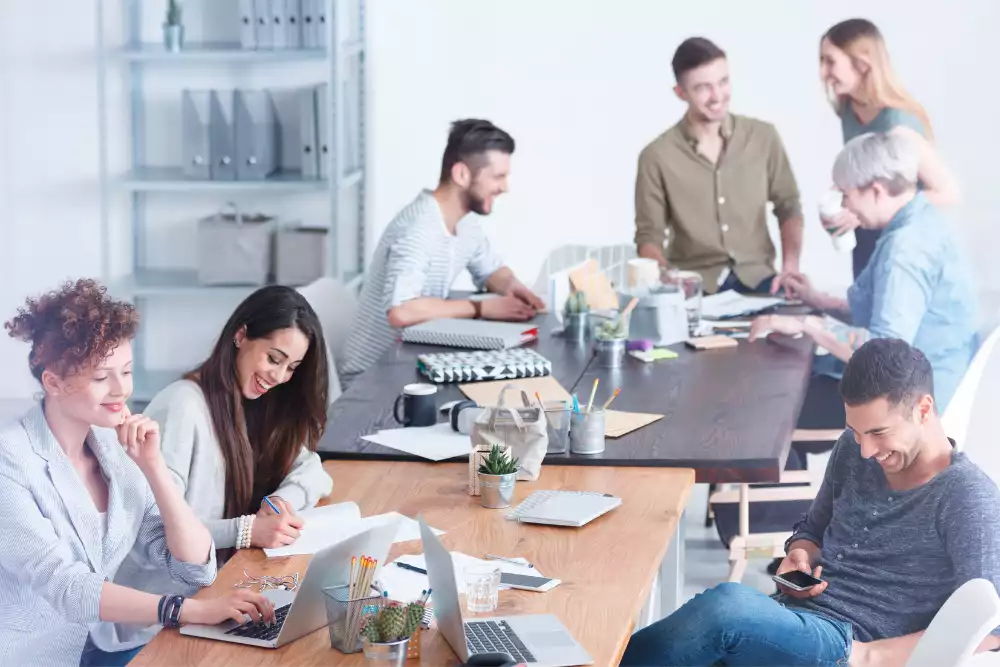 Having to pivot from your regular daily life, to a life filled with restrictions and uncertainties of an ongoing pandemic has been challenging for everyone - both at home and work. It has changed our everyday interactions, and for many, our everyday work environments. Ensuring loved ones are healthy, staying safe at work and keeping everything moving forward has impacted company cultures in many ways.
Catilin Mullen, writing for Biz Journals, explains that a Telus International poll found about half of working Americans surveyed feel more disconnected from company culture while working at home due to the pandemic. Employees miss regular interactions with co-workers and teams, and the separation between home and work going to the office provides. But another poll by Quartz and Qualtrics found about half of respondents feel more connected during the pandemic. It's clear the pandemic has people feeling conflicted about working from home and feeling connected to the company's core values.
Adaptable Employees and Cultural Values
Jenny Chatman of the University of Berkeley School of Business and Harvard Business School professor and Francesca Gino, a behavioral scientist, explain that the challenges of running a business and working during the pandemic can strain the strongest company cultures. Writing for Harvard Business Review, they explain that even strong cultures need to be adaptive to survive the rigors of a pivot to extended remote working during pandemic conditions, and need nurturing and attention with ongoing communication and commitment to sustain them.
Chatman and Gino explain that companies with adaptable cultures hire and promote adaptable and resilient people, communicate their companies' cultural values, and model their values. That means doing more than just what's on paper. It means taking action like Washington, D.C. pizza chain &pizza providing free pizza to Covid-19 hospital workers to live their company philosophy of doing good while being good. Or embracing a remote workforce when the company didn't have that work option pre-pandemic. Or providing virtual ways to connect remote employees with each other.
Attention to Culture
Robert Half UK Managing Director Matt Weston explains that Covid-19 has made many of the things that make up corporate culture inaccessible or out of the control of organizational leaders. So they have to be more diligent to ensure their company culture doesn't dissipate during the ongoing pandemic. Weston says employees who feel isolated and miss the face-to-face interactions with co-workers need outlets to replace the daily camaraderie and social activity like small talk and idea-sharing. He says companies can assist by encouraging and providing "regular visual interactions" and opportunities to manage projects collaboratively with video conferencing tools and collaborative platforms.
Other isolation-busters and culture promoters include pairing up employees with remote working buddies to build stronger relationships and provide support systems, holding virtual awards gatherings and town halls, and holding online events. These activities build trust, alignment, and problem solving, and encourage extra communication to support remote workers.
Growing a Company During the Pandemic
Many companies have been hard hit during pandemic restrictions by losing revenues and employees. But many have been challenged with managing growth with a raging coronavirus outbreak and remote workforce that makes it very difficult to define and sustain their company culture. Virtually recruiting, interviewing, hiring, and onboarding employees that haven't met anyone at their new employer face to face means putting teams together and maintaining company culture without the traditional meet and greets and typical social safety nets.
Kal Patel, MD, CEO of BrightInsight says they've hired 40 percent of their staff during the pandemic, meaning that almost half of their employees have never been to the office or met anyone in the company in person. Patel says it's important to embrace a virtual recruiting and work environment, be agile and able to adapt quickly to changing conditions, and stay connected with virtual happy hours and coffee breaks and fun challenges. He says hiring people who believe in your mission and taking care of employees during these stressful times helps remote work and virtual recruiting to support and sustain the company culture.
With the unprecedented challenges to employers and employees from the worldwide pandemic, the world of work has greatly changed in 2020. The Society for Human Resource Management reports that over three quarters of employers are having employees work from home, and over one third of employers are providing resources to support their remote employees' healthy adjustment to remote working. The impact of the coronavirus pandemic is undeniable, but facing it head on and focusing on your company culture to improve and sustain it is more important than ever.