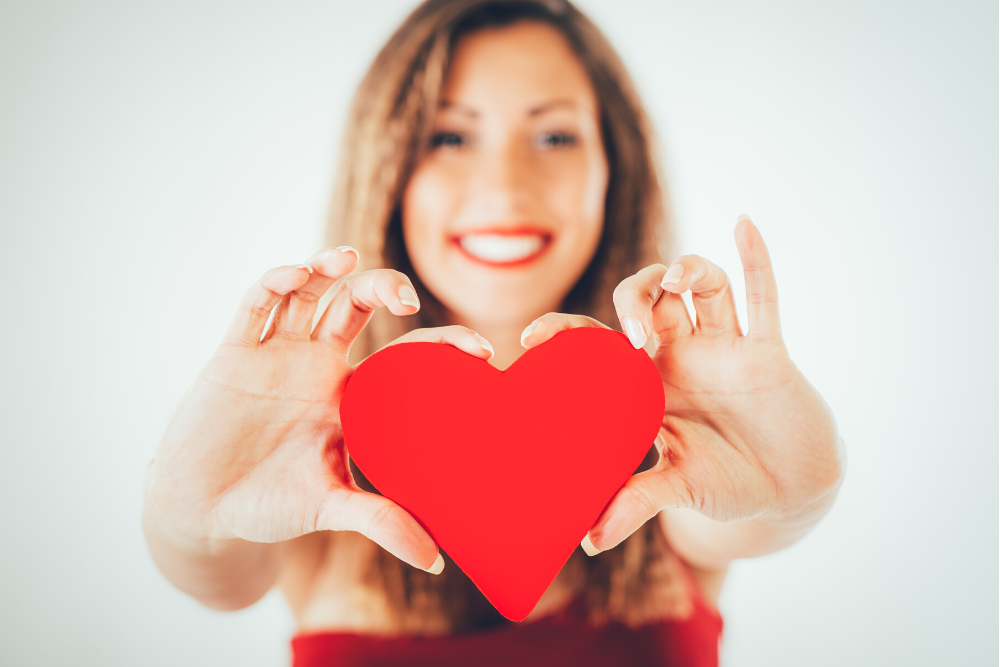 Over 50% of Americans will be celebrating Valentine's Day this year, according to new data shared by the National Retail Federation (NRF), showing their love or affection for that special someone with red roses, expensive chocolates, balloon bouquets, Hallmark cards and extravagant gifts. And this year looks to be more lavish than the last, with record-breaking spending expected. Surveys indicate those celebrating are planning to spend an average of $196.31, a 21% increase from last year's record, for a grand total of $27.4 billion, up 32% from last year's record.
RELATED: 5 New Workplace Rules in a #MeToo World >>
Love will definitely be in the air this week, but should cupid have a place in the workplace? Generally speaking, no. Romance in the workplace can get awkward real quick. Think about it, is a singing telegram delivered to your Valentine at work really the best way to say "I love you" or are there better, more appropriate ways? Check out this list of Valentine's Day dos and don'ts to be sure you're following proper Valentine's Day office etiquette.
The Don'ts of Valentine's Day at Work
Valentine's Day can be tricky to navigate at the office, and even more so if your Valentine is also your coworker, which could be the case considering an annual CareerBuilder survey that found 36% of workers have dated a coworker. Avoid these don'ts to help prevent embarrassment, awkwardness and office gossip.
Don't Flirt with Coworkers

You may think Valentine's Day is this perfect time to profess your love to a coworker who you've had a crush on for months, but just because it's Valentine's Day doesn't change the rules for what's considered appropriate at work. Flirting with Susan or Bob two cubicles over because it's Valentine's Day may make him/her more uncomfortable than you imagined.




Don't Engage in Public Displays of Affection or Elaborate Gift Giving

If you're in a relationship with a coworker, Valentine's Day doesn't make it okay to engage in public displays of affection. If you're planning on exchanging gifts, discuss ahead of time and make a plan to do it after the workday. By staying professional and keeping your romantic life outside of the workplace, your coworkers will feel more relaxed around you.




Don't Brag

Did your Valentine give you the most amazing gift? Whether you received a stunning piece of jewelry or had a killer flower arrangement delivered to your office, making rounds to show it off to everyone might make others feel downright sad. Whether their significant other chose to "skip" Valentine's Day, or they didn't have a Valentine this year, being boastful may be hurtful.




Don't Let Your Anti-Valentine's Day Attitude Rule

So, you don't love Valentine's Day. You're not alone. But being the Negative Nancy of the day and taking away from your team members' happiness isn't the best path to go down.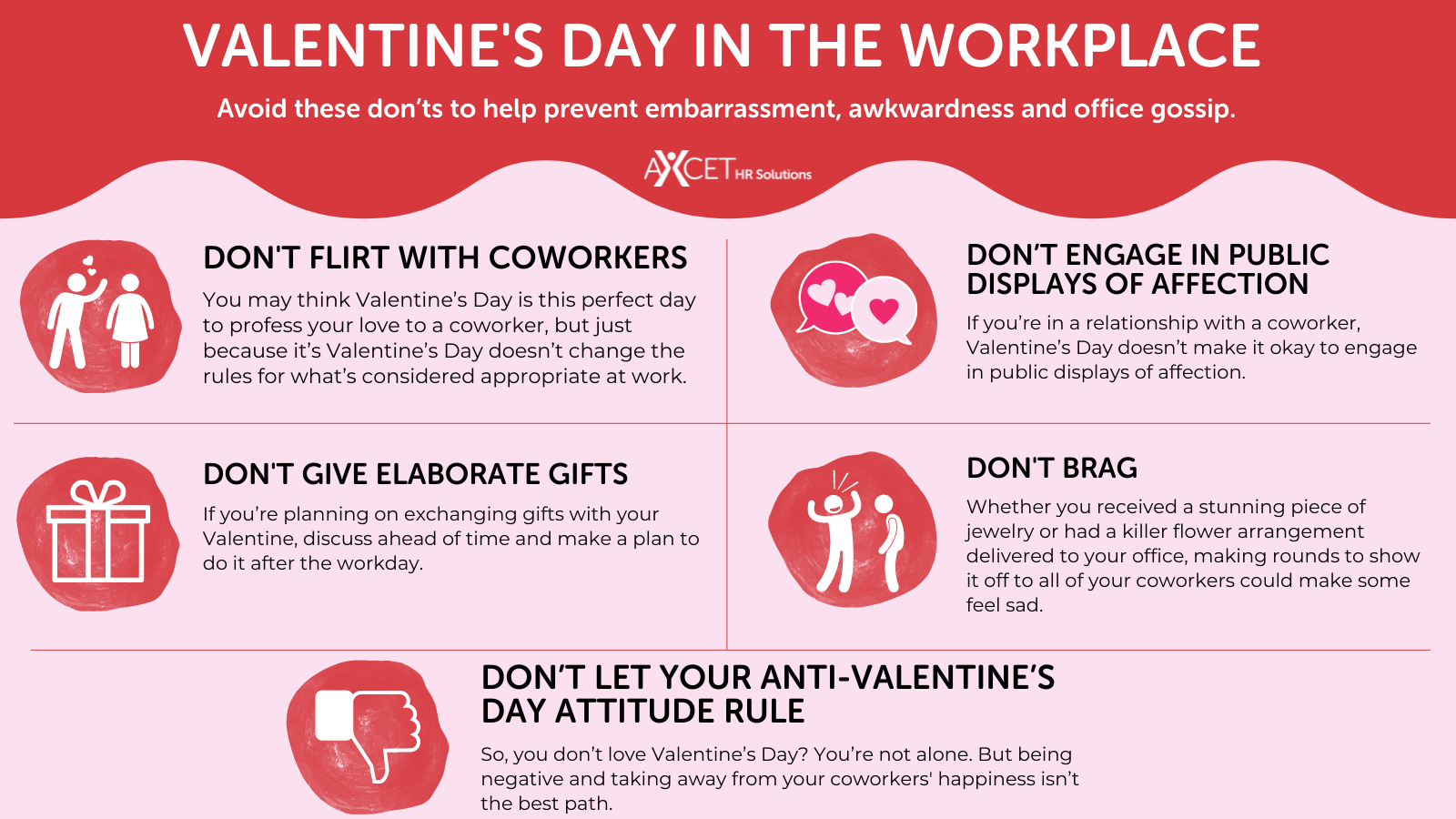 The Dos of Valentine's Day at Work
Just because there are a few etiquette rules, doesn't mean you can't celebrate Valentine's Day if it falls on a workday. Here are a few dos to keep you on the right track.
Wait Until After the Work Day

The best plan of action is to keep your romance in your personal, not professional life. It's easy to bring your personal details into the workplace — you spend the majority of your days there and have probably built work friendships with coworkers. But once introduced and discussed, it can become a distraction, take up your time and your coworkers', and become, you guessed it, a source of office gossip.




Moderation Is Key

If you can't wait until after the workday and you know the most important thing to your Valentine is receiving a public declaration of your love and admiration on Valentine's Day, then it's best to go with a small- to moderate-sized gift. A tasteful flower arrangement or a box of chocolates is great, but a balloon bouquet large enough to obstruct vision or a life-sized teddy bear with no place to sit will just make a scene.




Meet Your Date Outside of the Office Building

If you know your Valentine's Day plans consist of an evening out, but for the sake of time, you can't make it home before your reservation and your date will be picking you up at work, think about meeting outdoors. Not only will this prevent office gossip, but it also helps avoid any uncomfortable PDA situations in front of your coworkers or boss.




Celebrate with Coworkers in a Professional Way

Valentine's Day doesn't have to only be about romantic love. You can "love" your job, "love" your friends and even "love" your coworkers. To show your team you're feeling festive and want to celebrate in a positive, professional way, bring in cookies or chocolates to share. As long as the treats are for the whole team and not a few select individuals, it is a great way to celebrate. Think about grade school Valentine's Day parties — that's about where you want to be. Everyone who wants a treat can have one, no one is excluded, everything is appropriate and there are only positive vibes.
RELATED: Defining Zero Tolerance To Curb Sexual Harassment at Work >>
While Valentine's Day at the office can be awkward, it doesn't have to be. Some forethought and etiquette can go a long way in ensuring no one gets too carried away.