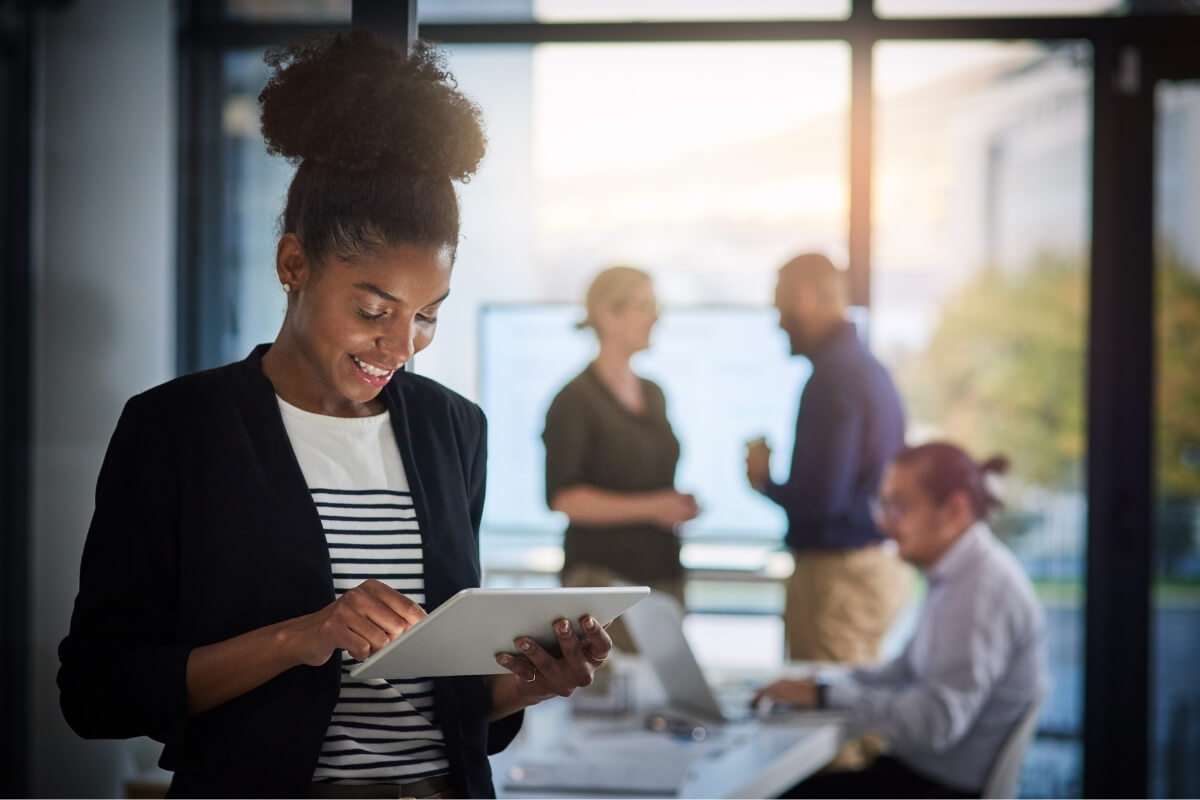 Many small and mid-sized employers struggle with the question of how to improve employee performance. Some have learned the hard way that pressuring or micromanaging employees to improve efficiency usually backfires and has the opposite effect. Employees feel anxious and resentful rather than motivated, leading some to resign rather than continue working in such a high-pressure environment.
What can the owners of smaller companies do instead? From our experience of working with hundreds of business owners in Kansas and Missouri, efficiency at work typically increases when employees feel the company they work for has their best interests at heart.
Start by Improving Workplace Conditions

Employers are often surprised to learn that the smallest things can have the biggest impact on employee morale. The never-ending battle of a comfortable room temperature is just one example. According to heating and cooling experts, the ideal temperature for an office environment is between 68 and 70 degrees Fahrenheit. An indoor environment that is too hot or too cold is a huge distraction because people will spend most of their time figuring out how to get comfortable.

Making sure that the office receives adequate natural light is another simple way to improve efficiency. Employee desks should be near windows whenever possible to allow them access to natural light over artificial light. Psychology Today confirms the importance of natural lighting indicating that people who work in natural lighting conditions sleep an average of 46 minutes more each night. Resulting in well-rested employees who can concentrate on their work!

Consider More Efficient Methods of Communication

Clear communication between managers and their team members is critical for efficient workplace performance. However, the tools some small and mid-sized companies use to communicate with employees have become outdated and inefficient. Email is just one common example. The typical employee receives dozens of emails every day and must prioritize which ones are important. If they miss even one day, catching up on email can become so overwhelming that they give up.

Project management and instant-messaging tools can be a more efficient way for employees to communicate and share information. Slack, Basecamp, Trello, and Microsoft Teams are just four examples of cloud-based software that allows entire teams to communicate with ease. Managers can delegate tasks and track progress, while team members can interact with each other and gain clarity about who is working on what. When it comes to urgent matters, scheduling a quick group conference call or video meeting is faster than several back-and-forth emails.

Offer More Flexible Working Arrangements

As managers struggle with how to improve efficiency at work, they need only look at how the world of work changed during the COVID-19 pandemic to find the answer. Millions of Americans successfully worked from home, and others adopted more of a hybrid work arrangement that divided their time between home and the office.

Employers that previously held the opinion that flexible work schedules only benefited employees saw firsthand that they benefited as well. Greater flexibility at work reduces employees' stress levels because it gives them alternatives for juggling multiple responsibilities. This results in less employee burnout, fewer resignations and improved focus and productivity while at work. Although employers must still hold employees accountable for completing the tasks assigned to them, offering greater scheduling flexibility is an excellent way to increase motivation.

Learn to Delegate More Effectively

Managers must give up a certain element of control when they assign tasks to employees that they prefer to do themselves. However, giving opportunities to employees with a proven record of success and personal responsibility helps to encourage their personal growth. For most people, the fact that their manager has entrusted them with important work spurs an inner drive to reward and prove that trust.

Taking on new responsibilities and managing them well provides an important boost of self-confidence that can enhance productivity. Task delegation gives people a clearer sense of direction in their career, and their advancement within the company can benefit the employer as well.

Replace Criticism with Positive Reinforcement

Employees make mistakes that management or HR must bring to their attention, but there is a right way and a wrong way to go about it. No one enjoys feeling belittled or receiving corrections in front of other people. Those in the position of directing others should always make it a point to offer constructive criticism with the goal of building people up, not tearing them down.

Constructive criticism offers specific and actionable objectives for how employees can improve their performance. Managers or HR representatives offering it should focus on the action or behavior they would like the employee to change without making it personal about the employee. Taking this approach contributes to a more positive work environment where employees feel safe and heard. Employees know they can ask questions without fear of embarrassment or reprimand.
Axcet HR Solutions Offers Employee Management Solutions and More
Axcet is a Certified Professional Employer Organization (CPEO) serving the human resources needs of small and mid-sized businesses in the Kansas City metropolitan area. We invite smaller employers to request a consultation to learn more about how we can help with employee relations and performance management. These are just two of the dozens of services we offer as part of our human resources service offerings.
Axcet also provides payroll administration, risk management, and employee benefits management. By outsourcing these time-consuming administrative responsibilities to us, clients have significantly more time in their day to focus on defined business objectives.
Related Reading
Good-Bye 9-to-5, Hello Flexible Schedules and Improved Productivity
Working From Home? Here Are Five Tips to Help You Stay Productive
7 Ways to Ease Work at Home Employees' Stress