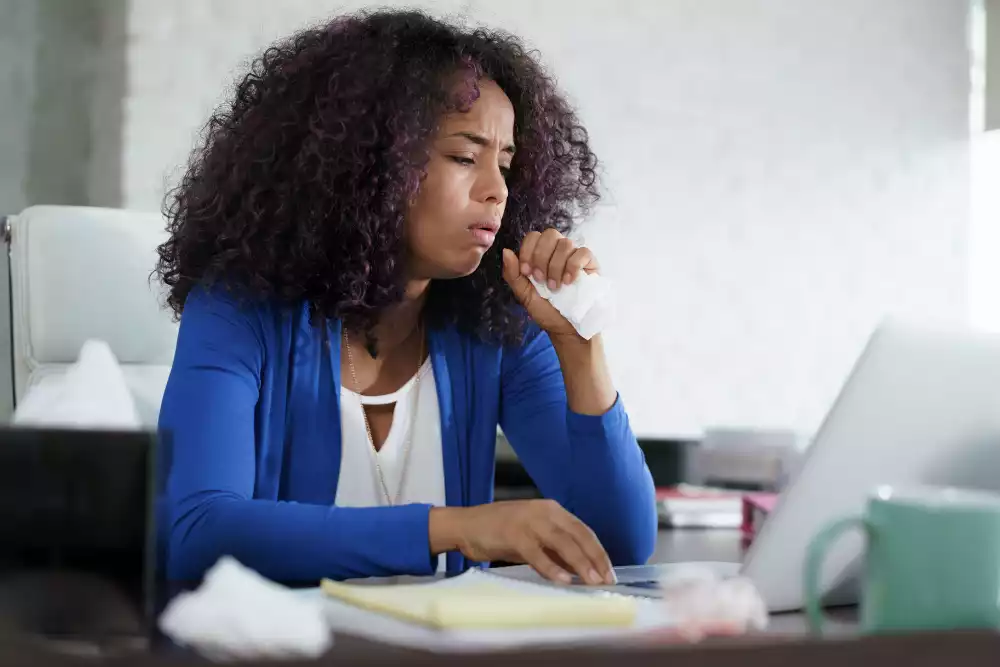 Infectious diseases (or communicable diseases) can be caused by viruses (e.g., the common cold, influenza, measles, HIV), bacteria (e.g., strep throat, meningitis, pneumonia, tuberculosis), fungi (e.g., ringworm, Athlete's Foot) or parasites (e.g. malaria). Employees at your business can catch most infectious diseases through person-to-person contact with an infected person, which occurs when an individual touches, coughs or sneezes near uninfected coworkers or clients. Additionally, disease-causing organisms can linger throughout the workplace on doorknobs, computers, desks and bathroom faucets.
While there has been a lot of attention placed on the coronavirus, flu season is almost upon us. In fact, the CDC estimated at least 22 million cases of influenza last flu season (which started September 29, 2019), causing 210,000 hospitalizations and 12,000 deaths.
In the office environment, it's easy for germs to spread — multiple people are often working in a close space, daily. In just a short amount of time, a virus (like influenza) could spread across your team, causing increased absenteeism, decreased productivity and increased costs to the employer. The CDC estimates seasonal influenza causes U.S. employees to miss approximately 17 million workdays due to flu, at an estimated $7 billion per year in sick days and lost productivity. So, how can employers manage infectious diseases in the workplace, especially during peak flu season?
5 Ways Employers Can Manage Infectious Diseases in the Workplace
According to OSHA, employers are required to maintain a safe and healthy workplace for their employees. Further, workers have a right to refuse to work if they believe the working conditions are unsafe or unhealthful (i.e., their coworker has reported to work with an infectious disease). Here are four practices to implement at your small business to reduce the spread of germs.
Mandatory Sick Leave

In some instances, this may result in the employer placing an employee with an infectious disease on mandatory sick leave if evidence indicates work duties could pose a further risk to the infected employee and/or be transmitted to uninfected coworkers. An infected employee can provide medical documentation from his or her doctor about the condition and employers can review information from the National Institute for Occupational Safety and the Centers for Disease Control to determine whether or not the disease poses risk to others and how it should be handled. Employers should consider whether the employee qualifies for sick leave (and whether or not it will be paid) or if FMLA applies.

Have an Illness Policy in Your Handbook

An illness policy in your employee handbook ensures employees know what is expected of them should they become ill with an infectious disease. Oftentimes, it includes information on employees' responsibilities when they contract an infectious disease, identifies potential risks (i.e., workers in the healthcare industry), discusses the potential benefits of flu vaccines, and promotes hand hygiene best practices and cough etiquette. It also encourages infected workers to stay home to reduce risk to other workers. According to OSHA, the CDC recommends workers who have a fever and respiratory symptoms stay at home until 24 hours after their fever ends (100 degrees Fahrenheit or lower), without the use of medication.

Implement a Cleaning Plan

During times of high illness, such as during flu season, it pays to have the proper supplies to sanitize desks, whiteboard markers, doorknobs, phones and conference tables. Cleaning wipes work great. Another way to cut back on germs is to place bottles of hand sanitizer around the office.

Educate Employees on Prevention

A good defense may be your best offense for preventing the spread of infectious diseases in your workplace. According to OSHA, simple hygiene can go a long way. OSHA recommends employees be educated on the following disease prevention measures:

Wash hands frequently with soap and water for 20 seconds. When unavailable, use an alcohol-based hand sanitizer.
After coughing, sneezing or blowing your nose, immediately wash or sanitize your hands.
Avoid touching the eyes, nose, and mouth.
Cover coughs and sneezes with a facial tissue. If a tissue is unavailable, cough or sneeze into your arm (not your hand).
When possible, avoid close contact with coworkers and customers when ill. If you must be around them, maintain at least six feet distance. Try to use email or make phone calls instead of meetings.
Avoid shaking hands and always wash or sanitize your hands if you have come into contact with others.
When removing gloves, always thoroughly wash your hands after removing and disposing of them.
Sanitize frequently touched office surfaces daily with sanitizing wipes.
Maintain a healthy lifestyle by exercising and eating right.

Encourage Remote Working

While employees who are ill should be encouraged to take the day off and stay home while sick, there may be times when they are well enough to work, but still contagious. In this case, a remote work arrangement, if possible, will help transition the employee back to work without risking spreading the disease to other workers. If remote work while sick is possible in your industry, a policy should be included in your handbook to ensure employees understand expectations.

Control of infectious diseases in the workplace is possible with proper planning, a well-thought sick policy, and appropriate sanitation procedures.