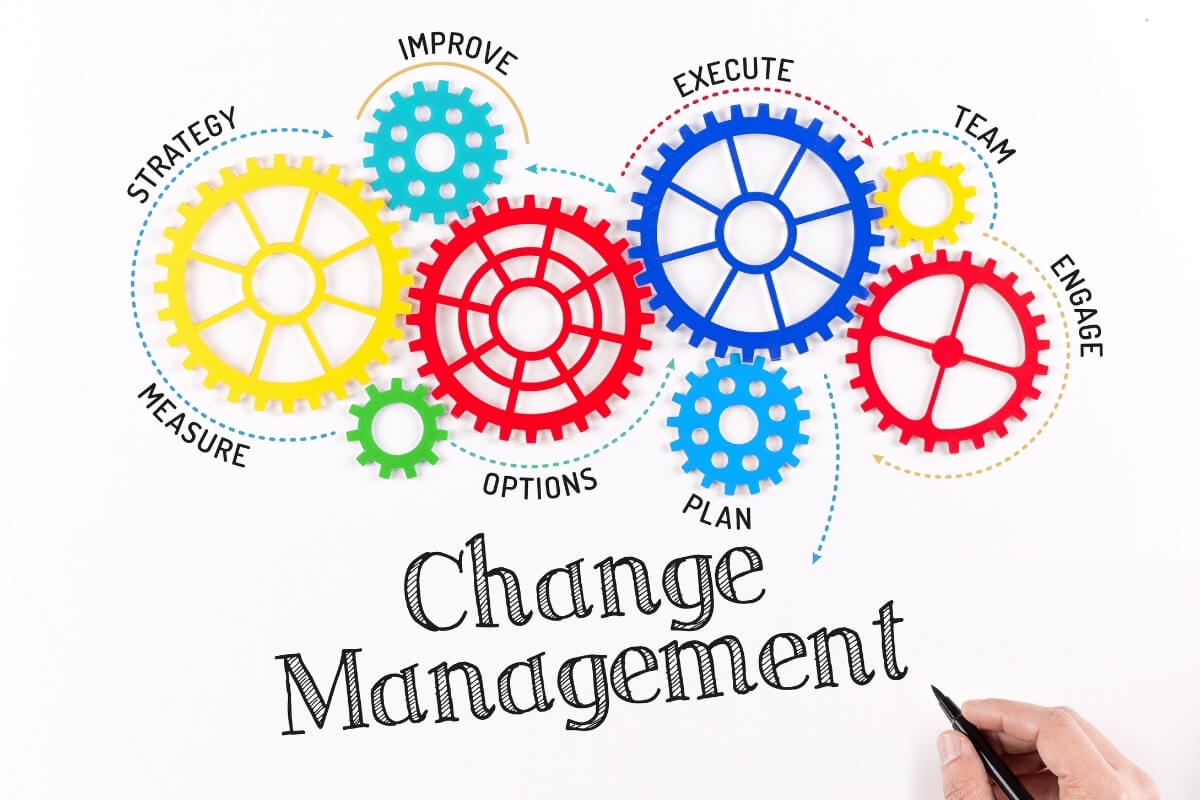 As with anything else, organizations evolve. Growth spurs change; shifts in the market hasten change; outside factors prompt such change. Companies need to be able to adapt accordingly and change in a way that does not undermine the integrity of the business while allowing the organization to remain competitive and ultimately thrive.
Organizational change does not happen in a vacuum. In other words, all facets of the business are impacted, just as all people connected to the company are generally affected. Not overlooking the "human side" of change management is imperative. Employees and all relevant stakeholders need to meaningfully engage with the changes taking place if said changes are to achieve desired results. What follows is a basic overview of what change management is and the key points of what it entails to be considered successful.
Related: How an Employee Relations Strategy Supports Your Company's Culture >>
Change Management Defined
Simply understood, change management is a structured approach for managing change within a company to help continue to produce intended organizational outcomes as external conditions and the business environment changes. As such, change management is intended to assist the people/employees associated with the business in transitioning from one way of doing things to a new protocol, job responsibilities, workflows or perhaps even a new overall company culture.
Whether the organization undergoing change is a small business or a large corporation, in order to be effective, the tools and processes implemented need to be well-planned in advance and also unique to that business. No two companies are alike, which means change is going to look different for every business.
Organizational Change
Organizational change generally falls into one of two categories: adaptive change or transformational change.
Adaptive Changes
Adaptive changes tend to be smaller in scale while not necessarily disrupting the entire organization. Changes of this nature can involve, for example, hiring someone to fill a newly created position or implementing new technology; perhaps the company is looking into adopting more flexible policies as far as working from home. These would be adaptive changes.
Transformational Changes
Much larger in scale, transformational changes tend to impact the entire workforce. For instance, a business may decide to expand its operation internationally. Examples of transformational change might also include reorganizing existing departments or acquiring another company. An important distinction between transformational change and adaptive change is that transformational change is often a sudden, dramatic change that is unanticipated by the organization.
Key Steps in the Change Management Process
The formula to successful change management lies in understanding that it is a methodical process that requires planning and, just as important, evaluating the effectiveness and success of any changes implemented. There are four basic steps associated with organizational change, be it adaptive or transformational.
Understand that Changes Need to Be Made

You can't implement change without first recognizing the need for change. A number of factors could be guiding an organization toward change - new technologies, a shift in the competitions' status, the political climate - among a host of other reasons. Identifying that there needs to be change happens at all levels. Engaging with employees and gathering their feedback can be incredibly useful here.

In fact, preparing the company for change really starts with getting all team members on board, from c-suite executives to frontline workers. Change is difficult to achieve when there is resistance at any level. Fostering a company culture that leaves lines of communication open—especially where organizational change is concerned—is thus critical.

Develop a Plan for Change

Planning when enacting changes within an organization is everything. The plan that is devised needs to account for every conceivable detail, even for those things that could potentially go wrong during the course of change. In developing this plan for change management, you want to be sure and include several key elements.

First, what are the goals that you hope to achieve by implementing change? Outlining goals and objectives should be among the first things that any organization does prior to implementing processes and procedures involved with change. The better prepared the organization is for any scenario, the more streamlined and seamless the process will be.

Identify who will be impacted by the changes, and by the same token, determine who will be responsible for the different phases of implementation. Understanding the level of impact and the people resources needed both throughout the organization and external to the organization will help prepare an action plan. Getting all parties on the same page regarding change management protocol and overall philosophy moving forward will greatly facilitate the process.

There will also be actionable steps involved with any change management plan. Detail those steps and clearly communicate them to all relevant stakeholders. Additionally, determine how success will be measured once changes are made. What indicators and/or metrics will help signal consequent success or failure?

Related: 5 Proven Tips for Building Strong Employer-Employee Relationships >>

Implement the Desired Changes

It is thought the key driver when it comes to change management success is communication. When creating major changes (or even minor ones) within an organization, there is no such thing as overcommunication. Let people know what is going on at every stage. What's more, be sure to consult with all employees regarding how things are going. Again, resistance can be a change management destroyer. Employees who simply decide to stick to the "old ways" could throw a major wrench into change management plans. Communicate, listen, implement, observe, then start over by communicating again The change management process is cyclical and everchanging. Consistent review and adjustment to the plan will help generate success.

When implementing changes, it is important to place focus on ensuring that changes become a real, tangible part of the company culture. The more entrenched the changes are within the fabric of the organization, the likelier they are to become the "norm."

Measure Progress and Analyze Outcomes

There is a difference between completed changes and successful changes. Just because the plan has been executed, all relevant changes have been implemented, and the company is now operating in accordance with new policies and practices, doesn't mean that success is guaranteed.

As mentioned in section 2 above - how will the organization measure the success of the changes made? We suggest talking to employees or, more formally, getting written feedback, comments and questions that can help gauge more directly what's working and what might not be the right path. Meetings and round table discussions to this end can also be quite helpful. Constant evaluation before, during and after the change takes place is pivotal if that change is to be meaningful.

Organizational change hinges on people. Plans and procedures are certainly important, but if the buy-in of people is lost, the project is bound to be a shaky one at best. Pay attention to employees during times of change, engage with them regularly, truly listen to their concerns, and in turn, this will create a culture of trust prior to implementing any type of change.