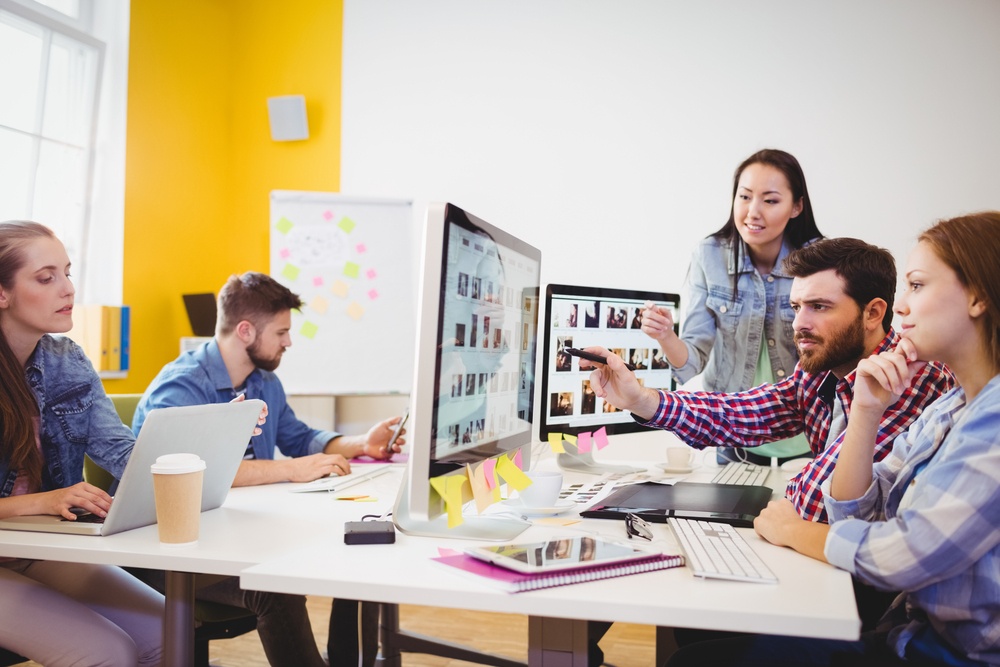 (Updated April 25, 2019) It's intern season! Summer internships offer students opportunities to gain real-world experience and hands-on career development. Conversely, internship programs give employers access to highly motivated and educated young workers and give junior managers more experience training and supervising. There are benefits for everyone involved.
However, there are some potential legal and administrative pitfalls many employers overlook. One of the largest issues is determining what interns should be paid – or not paid. Here's what employers should know before hiring summer interns.
One to two million internship positions are filled each year in the U.S. with 45.6 percent of those internships converting to full-time hires.

Do Companies Have to Pay Interns?
The Department of Labor issued new guidance on January 5, 2018, that gives employers more flexibility in deciding whether to pay interns. A seven-criteria test is now used to determine if an internship may be unpaid, but the biggest change is not all factors need to be met – no single factor is decisive, and the determination is made on the unique circumstances of each case. The seven-criteria test examines the "economic reality" of the relationship and serves to determine which party is the "primary beneficiary". The courts have identified the following factors:
1. The extent to which the intern and the employer clearly understand there is no expectation of compensation.
2. The internship training is similar to that which would be given in an education environment.
3. The internship is tied to the intern's formal education program by integrated coursework or receipt of academic credit.
4. The internship accommodates the intern's academic commitments by corresponding to the academic calendar.
5. The internship's duration is limited to the period in which the internship provides the intern with beneficial learning.
6. The intern's work complements, rather than displaces, the work of paid employees providing benefits to the intern.
7. The intern and employer understand the internship does not entitle the intern to a paid job concluding the internship.
If after analyzing these seven criteria it is revealed the intern is actually an employee, then the individual is entitled to both minimum wage and overtime pay under the Fair Labor Standards Act (FLSA). Read our blog FLSA Basics: A Toolkit for Employers for more information.
If the job training program primarily provides professional experience that furthers a student's educational goals, a student may not be considered an employee entitled to compensation. However, if students are doing work usually done by employees and are not receiving training and close mentoring, they should be paid wages. If there is any doubt, the best approach is to pay the student.
4 Reasons to Pay Interns
However, while it's now legally permissible to classify more interns as unpaid, there are still compelling reasons to pay interns even when the internship does meet the criteria for unpaid status.
Unpaid internships tend to exclude students from lower- and middle-income backgrounds, who cannot afford not to work at paid jobs during the summer. In addition, they may need to pay up to several thousand dollars for course credit, in addition to coming up with funds for housing, clothing and transportation related to the internship. This can put internships out of reach for some of the students who can benefit from them the most.

Unpaid internships may devalue the work paid employees are doing. After all, interns are working alongside regular employees — often doing some of the same tasks — and not being compensated for that work. This may send the message to employees their work, or time, is not valued.

Unpaid internships can create a negative impression of your company. Customers or the community may see you as taking advantage of these students, which is not the message you want to send. It's a good community relations move to offer youth paid opportunities.

The work the unpaid intern is doing may actually be work that should be compensable. Improperly classifying an internship and not paying the student could result in wage claims that include back pay, penalties and fines. To mitigate those risks, once again, the best approach is to pay the student.
Why Do Businesses Hire Interns?
Hiring summer students is a great way to help youth learn what it takes to be successful in business while helping employers get special projects completed. And just because you run a small business, doesn't mean you can't hire interns. In fact, interns gain valuable experiences at internship programs for small businesses they wouldn't at a large business. Plan ahead and structure your program so that your summer internship is a great experience for everyone.
Further Reading: Find out best practices for onboarding interns in this blog post.
Don't lose sleep over compliance issues. The experienced consultants at Axcet HR Solutions are up-to-date on human resources best practices and the law. Find out more about our human resources services.