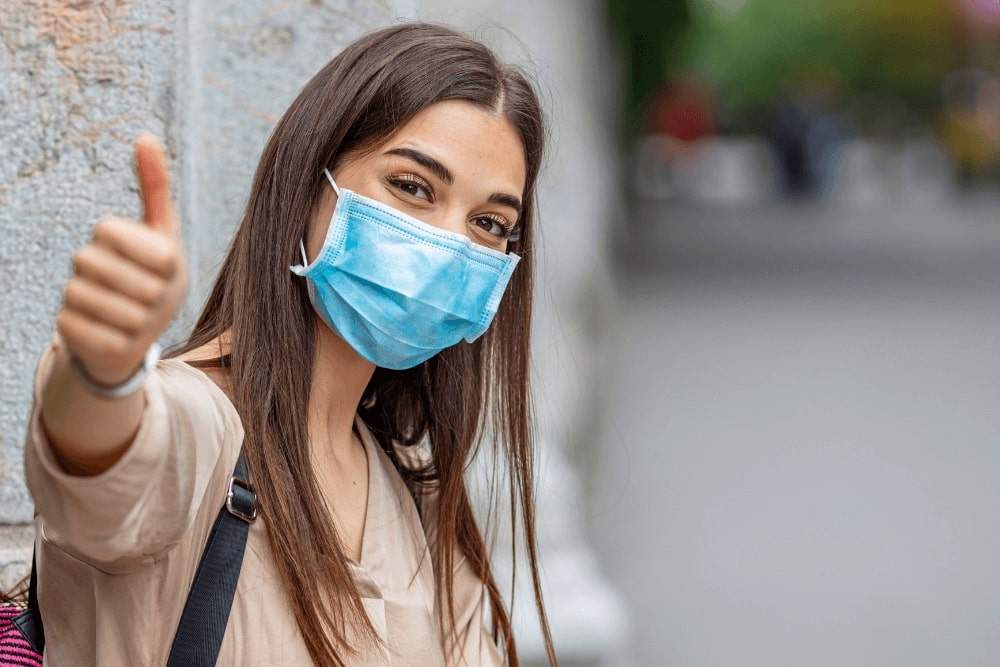 Last Thursday, the Centers for Disease Control (CDC) announced new COVID-19 public health mask recommendations. According to the updated guidance, in most settings, people who are fully vaccinated against COVID-19 no longer need to wear a mask or physically distance themselves in large or small activities, while outdoors or indoors. According to the CDC, on May 18, 59.8% of adults in the U.S. had received at least one COVID-19 vaccine.
Following the CDC's announcement, major U.S. businesses reacted. Walmart, the U.S.'s largest private employer, captured news headlines when they announced fully vaccinated shoppers and employees would no longer be required to wear face masks, except for stores in locations with local mask ordinances in effect. However, major automotive manufacturers General Motors Co. and Toyota Motors Corp. said they would still require masks.
Locally, expired state, city and county mask mandates in Kansas and Missouri, combined with the CDC's new guidance, have left business owners in the Kansas City region with a very difficult question, "Should I discontinue mask requirements at my business?"
According to Axcet HR Solutions Director of Human Resources Jeanette Coleman, SPHR, SHRM-SCP, "Businesses can drop their mask requirements, but should they? There's a lot to consider before making the decision."
Here are five things employers need to consider before dropping their mask requirements:
1. State and Local Industry Guidance Takes Precedence
Even with the new CDC guidance and in the absence of local mask mandates, employers are still allowed to implement reasonable work rules governed by the Occupational Safety and Health Administration (OSHA) and local health departments. Federal, state, local, tribal and/or territorial laws, rules and regulations that are not in alignment with the CDC's new guidance supersede the CDC. This also includes any state or local health department guidance and any business, industry or workplace guidance (which are different from state executive orders for masks).
2. OSHA Has Not Released New Guidance
Although the CDC made their announcement last week, OSHA has not finalized their Emergency Temporary Standard (ETS) for COVID-19 in the workplace and it could be weeks before the ETS is released. The new ETS may include information for employers regarding when it is acceptable to lift requirements requiring face masks in the workplace. OSHA has not provided guidance since January 29, 2021, when they recommended the use of face masks in the workplace.
Axcet HR Solutions Senior Human Resources Consultant Sherri Bennett, SPHR & SHRM-CP, explains, "OSHA still has not issued clarity as to how they will apply these new CDC guidelines. This means employers still have the burden of providing a safe workplace."
While we await guidance, OSHA has provided the following statement in response to the CDC's new guidelines:
"The Centers for Disease Control and Prevention (CDC) has issued new guidance relating to recommended precautions for people who are fully vaccinated, which is applicable to activities outside of healthcare and a few other environments. OSHA is reviewing the recent CDC guidance and will update our materials on this website accordingly. Until those updates are complete, please refer to the CDC guidance for information on measures appropriate to protect fully vaccinated workers."
3. A Comprehensive Approach to Managing COVID-19 in the Workplace Extends Beyond Vaccinations
Focusing solely on vaccines to lift mask requirements at work ignores other safety measures with a proven track record of slowing any potential spread of the virus. These include physical distancing, proper sanitation and disinfection, and careful consideration of how much contact employees have with the general public. It is important to take stock of everything your organization is doing to manage COVID-19 in the workplace. Vaccines should not be in a vacuum when determining mask policies. Other measures must continue to be implemented whether your business lifts its mask mandate or not or you could be putting your employees and customers at risk for a COVID-19 outbreak.
4. A Sudden Change in Policy Could Lead to Employee Relations Issues
According to Sherri Bennett, "It's likely businesses will have some employees who are not comfortable with their coworkers not wearing masks. This could create a whole other set of employee relations issues at your business."
Policy changes should be clearly communicated in advance and training should be provided for when employees encounter an awkward mask situation. For instance, some employees may feel pressured into going maskless to be like their coworkers. Other employees may get made fun of or bullied by customers or coworkers about their continued use of face masks. They may be asked to remove their mask when they aren't comfortable doing so.
5. To Ask or Not Ask Employees About Their Vaccination Status
How do you know which employees or customers are fully vaccinated? At businesses that deal with the public, it would be impossible to know which customers are or are not vaccinated. Dropping your mask policy would mean operating solely on the honor system. In Johnson County, Kansas, 52.8% of residents have received their first dose of the COVID vaccine, but only 43.1% are fully vaccinated. However, in Wyandotte County, Kansas, only 30.45% of residents have received their first dose of the COVID vaccine, with only 25.01% fully vaccinated.
When it comes to asking employees about their vaccination status, Axcet HR Solutions advises against it. Bennett explains, "While you technically can ask about their vaccination status, the issue becomes when employees start disclosing other information and/or when employers start making more in-depth inquiries. This type of questioning poses the same risk as any other health inquiry (discrimination, retaliation). In our opinion, the risk of asking outweighs the reward of knowing whether someone is or is not vaccinated."
While the latest CDC guidance sounds like great news and leaves Americans full of hope for the promise of a return to normal life, in practice, it could cause employers a lot of headaches. We will continue to update our blog as more information and guidance becomes available.