Delegating responsibilities vs. doing them yourself is an age-old quandary for small business owners. A DIY approach can sometimes save money – or it can end up costing you plenty more in the long run.
Take human resources, for example. It's fundamental in every business. You cannot avoid it, because you have to hire, pay and manage employees in order to operate. Starting out, many entrepreneurs choose to handle everything HR themselves. That can be a viable approach – even a necessity – when a company is very young and very small. Fledgling businesses rarely have the capacity to dedicate one or more staff members exclusively to overseeing human resource functions. So, because payroll, managing benefits, new employee onboarding and other HR tasks are essential, they frequently land on the owner's already-overloaded schedule.
As the business begins to grow, owners may recognize the need to hand off the role of human resources. They often choose to assign HR responsibilities to an administrative or accounting staff member or to the office manager.
For some businesses, this tactic can work for a short while. But owners also run the risk of having dropped a vital business function into the lap of someone who has neither the time nor the training to effectively handle all of its demands.
Table of Contents
1. What Size Business Needs an HR Expert?
2. In-House HR Manager vs. Outsourced HR
3. Types of Businesses Well-Suited to Outsource HR Services
4. Six Signs It's Time to Outsource Your Company's HR
5. What Does It Mean to Outsource HR?
6. How to Determine Which HR Services to Outsource
7. Evaluating the Pros and Cons of Outsourcing HR
8. How to Decide if HR Outsourcing is Right for Your Business
9. Three Types of HR Outsourcing
10. What is a Professional Employer Organization (PEO)
11. How Outsourcing to a PEO Can Help Grow Your Business
12. Understanding HR Outsourcing Agreements
13. Shifting HR Services to an Outsourced Service Provider
14. Partnership with Axcet HR Solutions
15. Request a Consultation with Axcet HR Solutions Today
What Size Business Needs an HR Expert?
There comes a point as a small business grows when the need for more specific human resources expertise becomes apparent. The timing and considerations for delegating HR vary from company to company, but traditional wisdom says it usually happens between the 10th and 15th hire.
When a company reaches that size, most entrepreneurs recognize two things:
Their time would be better spent on activities that drive growth and revenue; and


The breadth of HR demands is

more than they or a non-HR-specialist employee can effectively manage alone

.
That's because managing human resource responsibilities is time-consuming and complicated for any company, but the burden falls especially heavily on small and mid-sized businesses. With fewer employees to divide the workload and fewer financial resources to draw on, owners of these companies can feel like they're drowning in day-to-day HR tasks.
These small and medium-sized businesses – companies with 10 to 250 employees – typically have limited staff or no personnel at all dedicated solely to HR. And they frequently lack the budget to hire enough qualified employees to cover their HR needs. These companies cannot afford to ignore the inherent HR demands, yet spending time on them does not contribute to revenue growth.
As the business grows and adds staff, the complexity compounds. Company leaders must think about the entire employee lifecycle. This means having to not only recruit, screen, interview, hire, onboard and pay increasing numbers of employees, but also manage a long list of other equally important HR tasks – like professional development and manager training, conflict resolution, employee discipline, benefits enrollment and administration, payroll taxes and legal compliance.
The last item on that list – legal compliance – is another frequent trigger for business owners that signals it's time to establish or expand in-house HR expertise, hire an outside resource or both. Due to the sheer number of federal, state and local employment laws and regulations, it's almost inevitable that a company with limited HR knowledge at its fingertips will unconsciously violate some of them. Non-compliance, of course, leads to fines and hassles that could have been avoided.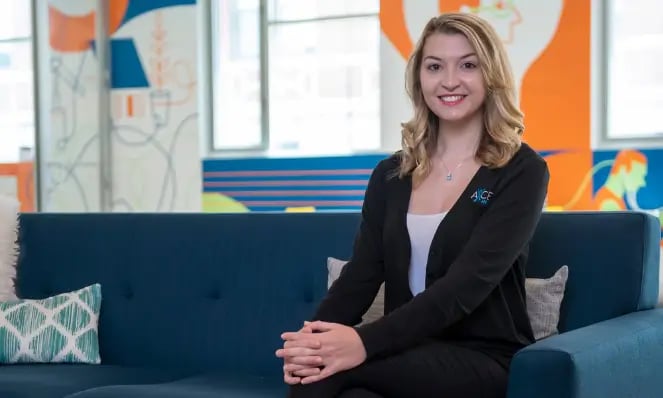 In-House HR Manager vs. Outsourced HR
Some organizations respond to the growing need by hiring a dedicated HR manager – a move in the right direction, although solo HR managers often are skilled in the basics but untrained in managing the more complex aspects of the role.
Employing a team of trained professionals with expertise in each area of HR is the best way for small businesses to avoid the distractions and high costs of HR missteps. Most small businesses, however, lack the financial resources to hire an entire HR team.
The feeling of being overwhelmed from trying to juggle multiple priorities at once leads many small business owners to consider working with a human resources consulting firm. Fortunately, there are great outsourcing options that give your small business access to exactly the right level of human resources expertise for the stage it is in – whether to gain additional skills and HR support for an in-house manager or to fully outsource stressful HR tasks to third-party professionals who then essentially serve as your internal team.
Types of Businesses Well-Suited to Outsource HR Services
The Society for Human Resource Management (SHRM) states that small to mid-sized employers benefit most from working with human resources consulting firms. These businesses often lack the size and resources to manage a full suite of HR functions in-house.
The complexity of business operations also plays an important part in whether a business would benefit from outsourced HR services. Larger businesses such as hospitals with people on staff 24 hours a day, shift differential pay and some employees belonging to unions are more likely than small to mid-sized businesses to keep all HR functions onsite.
6 Signs It's Time to Outsource Your Company's HR
By definition, running your own company means you're wearing many hats. But nobody can be an expert in every area of business that requires attention, and nobody has limitless time and capacity.
You likely know firsthand the frustration that comes with spending too much time on activities that don't help your business grow. Human resources requirements are likely to be high on that list. For example:
Spending that much of your limited availability on HR tasks – instead of on strategic activities that will grow your business – is a sure sign it's time to consider outsourcing your human resources. Here are six more: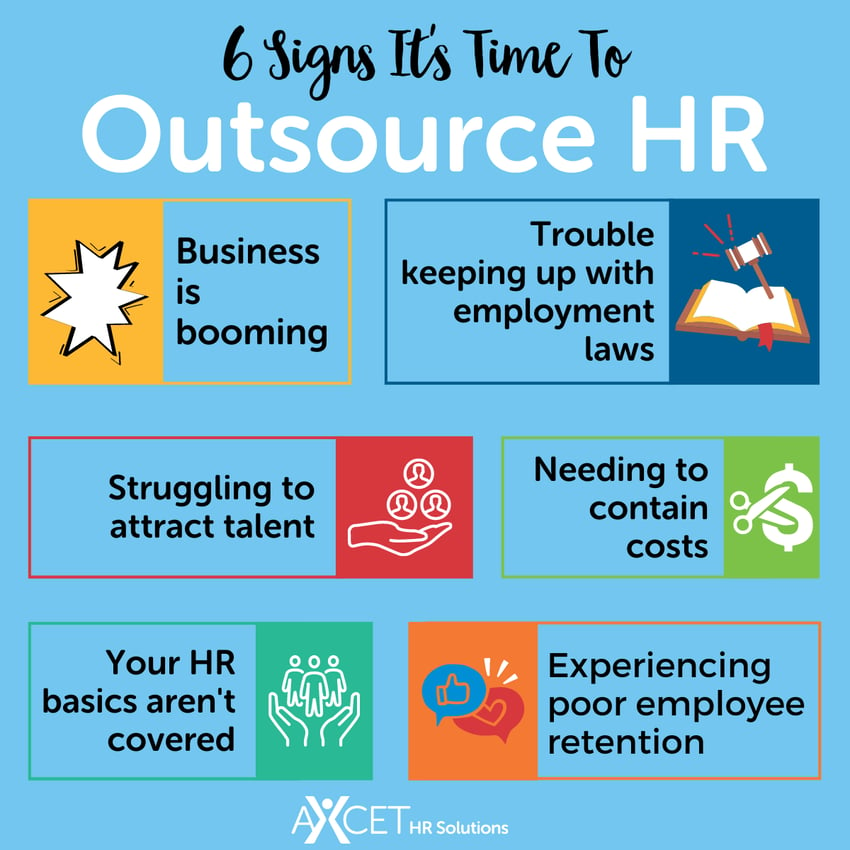 1. Your business is booming.
A growing business leads to growing HR demands. Payroll and benefits packages get more complex, an expanding employee base calls on supervisors to become increasingly skilled at managing people and someone needs to make sure the great culture you had at the start sticks around when you have 30, 60 or 150 employees. By outsourcing your HR, you can get back to activities that help your business grow and gain a partner that comes alongside you to handle your HR needs.
2. You're having trouble keeping up with employment laws.
Knowing and adhering to the vast number of local, state and federal employment laws can almost be a full-time job in itself, especially with regular changes being passed. A human resources outsourcing partner, whose job it is to stay fully up to date on these regulations, can remove that responsibility from your list and give you peace of mind that your company remains fully compliant.
3. Your HR basics aren't covered.
Your growing small business has certain basic HR needs. Among them are payroll, consistent onboarding, well-thought-out HR policies, an employee handbook and a competitive benefits package. Getting them right often takes more energy and expertise than a small business can handle in-house, but they're the bread and butter for a qualified outsourced HR team.
4. You need to contain costs.
If your HR needs have expanded, but you don't have the financial resources to build an internal HR department, you may feel stuck. An external HR resource usually can meet your needs for less cost than it would take to hire an internal team.
5. You're struggling to attract and retain talent.
Recruiting is more difficult today than it was in previous years. It can especially be difficult for small businesses. One way to be competitive when it comes to recruiting and retaining top talent is to offer attractive, comprehensive benefits packages. Your outsourced partner can lead the way in finding and securing benefits options that will appeal to top job seekers.
6. You're experiencing poor employee engagement.
If nobody is proactively guarding your culture as the company grows, it can slowly slide. Employee engagement can suffer as a result, leading to lower productivity and higher turnover. A third-party HR partner can help by conducting pay audits, offering employee and manager training, implementing HR technology and giving employees access to knowledgeable HR consultants. This boosts engagement, creates a desirable culture and reduces turnover. In fact, when small businesses partner with a PEO, they experience 10-14% lower turnover rates.
RELATED: Ask the Expert - Employee Engagement and Your Business' Success >>
What Does It Mean to Outsource HR Services?
When your small company chooses to hire an HR consultant, it means that a separate company takes over some or all HR functions on your behalf. The consultant team specializes in a range of tasks, including human resources, payroll administration, employee benefits and risk management.
Some small businesses prefer to let the HR partner they hire handle all of the above duties. Others take a more à la carte approach by outsourcing some services and keeping others in-house. For example, company leaders may decide to only outsource payroll, staffing or health insurance functions.
They also may select just one or more than one providers. The drawback of hiring multiple HR service providers is that the small business must juggle relationships and payments with each one. Top HR consulting firms offer clients the flexibility to choose which services they want to outsource, giving small businesses the ability to create greater efficiency and cost savings by handing off most HR functions to a single organization.
RELATED: Is It Time for Your Company to Outsource HR? >>
How to Determine Which HR Services to Outsource
A key advantage of human resources outsourcing is that it can be tailored to meet your company's exact needs. You may choose to keep some HR functions in-house and offload those activities that are important to the company's operations but don't drive its strategic mission. These may include payroll, benefits administration, risk management, employee relations and training – all of which can be outsourced to free up company leaders' time, reduce costs and provide access to technology and expertise.
The list below includes specific services HR outsourcing companies typically provide.
Access to background checks and drug screening
Creation of employee handbooks and company policy manuals
Development and administration of compensation programs
Independent contractor compliance
Payroll processing and report generation
Small and mid-size employers typically retain control over:
Business succession planning
Management of the internal HR department
Organizational development
Performance management
Strategic capital planning
Talent development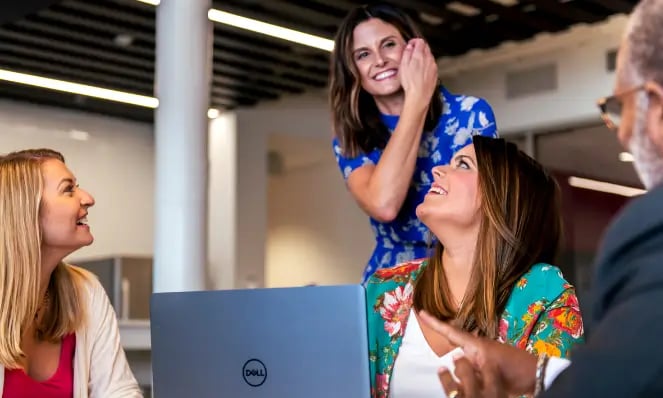 Evaluating the Pros and Cons of Outsourcing HR
Once company leaders have decided which HR services could most effectively be outsourced, the next step is to consider the pros and cons of outsourcing HR for your business.
The pros of outsourcing include:
Outsourcing HR saves money
This is the biggest reason companies choose to outsource HR responsibilities. Managing the full employee lifecycle, including developing recruiting and retention strategies and hiring and training your own HR staff takes time and money that can cut into your small or mid-sized company's revenue. While it makes sense for some smaller businesses to create internal HR departments, the cost of the related salaries and operations often adds up to more than a company would pay for an outside firm to handle the same duties.
Outsourcing promotes internal focus
When a company outsources HR duties such as payroll, compliance or benefits administration, leaders usually find that the company is less bogged down in paperwork and internal teams can better focus on their own goals. Administrative HR tasks that would otherwise distract can be more efficiently handled elsewhere.
Outside firms allow for an adaptable approach
Hiring an in-house HR staff requires small to mid-sized employers to pay a guaranteed salary, plus benefits. By outsourcing, businesses pay only for the functions they need and never have to pay for employee downtime due to low work volume or technical issues. If you choose to outsource HR, you can ramp up outside help when the need is high and scale it down when the need is low.
Outsourcing gives you access to specialists
HR covers such a broad array of responsibilities that HR employees at small or medium-sized businesses often must be generalists who perform several types of duties at once. This is a jack-of-all-trades, master-of-none trap. Chances are good that, at some point, your company will have an HR issue for which the expertise of a specialist is required. By outsourcing HR, you'll have consistent access to specialists you can utilize as needed without making them a permanent part of your company.
Outside HR firms know current laws
Or at least a good firm does. Federal, state and local laws on hiring practices, compensation, safety and other significant employment issues change constantly. It's difficult for HR departments of all but the biggest businesses to remain knowledgeable on current laws. Companies that violate a federal or state law face fines and other penalties, even if the business did not know the law existed. This risk disappears when you hire a reliable HR consultant. For outside HR firms, constant awareness and understanding of employment laws is a must, because their businesses revolve around these matters.
Your company gets access to up-to-date HR technology
Payroll software that came out 10 years ago might work, sure, but chances are that newer programs developed since then would better serve your business and your employees. You may find it a challenge to update old HR technology, however, because new systems mean money out of the budget and time spent training. Companies that provide outsourced HR services, on the other hand, routinely include new software and hardware upgrades in their company budgets. Their clients then have access to that technology, which creates efficiencies by automating key functions like job applicant tracking, onboarding and benefits enrollment.
Outside consultants excel at training employees on key issues
Working with an outside HR company is an efficient and highly effective way to present required employee training on issues such as harassment, workplace safety and the importance of an inclusive work environment. These companies' HR pros are subject-matter experts that continually seek new information on essential workplace topics. Internal HR departments often are stretched too thin to be fully specialized on specific issues like harassment and safety, so they might not be able to train as effectively.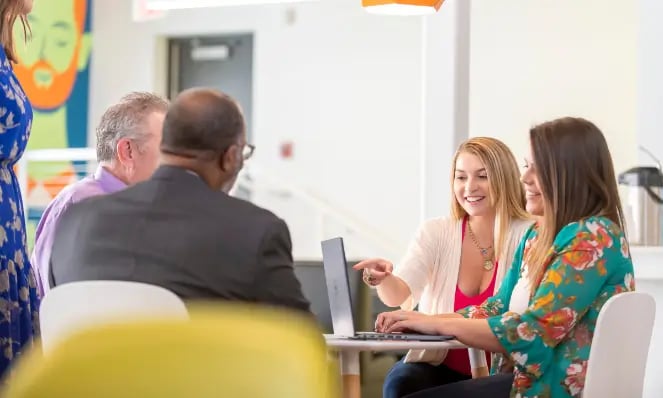 As helpful as a human resource consulting firm can be, employers also need to recognize potential drawbacks before hiring one. The cons of outsourcing HR to a third-party organization include:
Outsourcing means fewer HR professionals on site
Sometimes it's nice to be able to walk into a colleague's office and speak face-to-face. With outsourcing, you might find that more HR business is conducted over the phone or via emails and virtual meetings. If this is a concern for you, make sure you find an HR consulting firm that includes periodic onsite visits in their client contracts. That way, you and others at your company will have opportunities to speak with these experts in person.
Outside consultants might not be as considerate of company culture
Human resource consulting firms that do not take the time to research new clients appropriately may end up making decisions or taking actions that don't coincide with your company's culture. Beyond being frustrating, such behaviors are the antithesis of what a third-party HR partner should bring to the table. To make sure the consultant you hire understands and is aligned with your company's culture and values, make sure to ask every firm you consider what steps they take to familiarize themselves with new clients. The right partner will invest time and resources into understanding your company's purpose, principles and personality. Avoid outsourcing to any firm that doesn't care to properly research what you have created.
RELATED: PEO vs. HRO - Which Outsourcing Option is Right for Your Business? >>
Outsourcing can delay future internal development
None of us can see the future, but there may come a time when your company grows enough that you decide an internal HR department will better fit your company's needs. Outsourcing before then might mean depriving your company of developing the talent and skills it will need later. This doesn't mean you should take the risk and forego outsourcing, though. Instead, partner with an HR consultant that is prepared for your company to grow and evolve and will help train or otherwise prepare your company for potential future transitions.
Your data could be at risk
HR professionals deal with a lot of sensitive and confidential information, from employees' medical history to bank account numbers for direct deposit. HR firms are obligated to keep this information confidential, and you should never partner with a firm that doesn't seem to take confidentiality seriously. Your outsourced provider also should have multiple security measures in place to prevent unauthorized access to your data, including secure data storage, secure communications and professionals who are trained to adhere to security procedures. If you decide to outsource, be sure to ask the firms you meet with about their methods for ensuring confidentiality and security of client data.
How to Decide if HR Outsourcing is Right for Your Business
The mindset that a small business owner must handle HR – and everything else – is detrimental to the company's growth. When you start considering whether outsourcing HR might be right for your company, it's important to analyze how effectively HR is being delivered now and whether an outside partner could provide those services more effectively. Here are 10 questions to ask yourself:
Is my company experiencing a high turnover rate and, if so, do we have the expertise to know how to stem the departures?


Do we have effective recruiting, interviewing, candidate tracking and onboarding processes in place?


Would we better attract and maintain top talent if we could offer more premium HR services and benefits?


Have we developed strong HR policies and formalized them in an employee handbook?


Are supervisors effectively handling performance reviews, discipline and other employee management responsibilities?


Are we making payroll or payroll tax errors or having trouble getting workers paid on time?


Is our culture what we want it to be? If not, do we know how to get it there?


Are we running into HR-related issues like decreased employee engagement or discrimination that we don't have the skills to address internally?


Could we benefit from using newer, online HR technology platforms?


Is the company at risk because we're having a hard time maintaining regulatory compliance?
If you answered yes to even two of these questions, it's very likely your company would benefit from outsourcing HR to experts.
RELATED: Scared to Outsource Payroll? 6 Reasons to Let Go of the Fear >>
Three Types of HR Outsourcing
Once you decide to outsource HR, the next step will be to decide which model best meets your needs. You may choose to:
Outsource a single function, such as payroll;
Hire a third party to cover responsibilities for which your existing HR staff does not have the capacity or expertise; or
Engage an outsourcing partner that will do it all, essentially serving as a full-service HR department.
After you select a model, there are multiple options for structuring the outsourced relationship – software-as-a-service, business process outsourcing, single-source outsourcing, shared services and professional employer organizations (PEOs).
What is a Professional Employer Organization (PEO)?
Even though business owners spend a lot of their time working on payroll and employee management issues, they still may find it difficult to keep up with HR tasks like complying with employment laws and attracting and retaining talent. That's where a PEO, or professional employer organization, can help. Companies that outsource HR to PEOs enjoy significant advantages, including faster growth, increased compliance, administrative cost savings, better benefits packages and lower turnover.
A PEO is a company that specializes in only HR functions. A PEO acts as a "co-employer" by combining employees from multiple client organizations to ensure that all clients benefit from reduced costs and administrative burdens. With help from a PEO, small to mid-sized employers can offer their employees better health care and other benefits that allow them to compete for talent with larger companies.
A PEO, for example, can operate as a full-service outsourced HR department or can support and fill in expertise gaps alongside an internal HR manager. A PEO may work in tandem with in-house HR personnel, for instance, by taking on overflow work or more complicated tasks and by providing counsel as needed, like when a company is facing harassment issues or needs to discipline or terminate an employee without putting itself at risk for a lawsuit. 
While business owners should carefully vet every potential outsourced HR partner before engaging one for any aspect of such a critically important function as HR, a trusted and experienced PEO like Axcet HR Solutions can alleviate the problems that come with DIY human resources. A PEO makes broad and deep human resources expertise available, allowing small companies to scale up the services they use as they grow.
A PEO can help by offering competitive benefits, implementing HR technology, offering training and giving employees access to knowledgeable HR consultants. This boosts engagement, creates a desirable culture and reduces turnover. In fact, when small businesses partner with a PEO, they experience 10-14% lower turnover rates.
In terms of fees, clients typically pay a PEO based on a per-employee cost or as a percentage of total payroll.
Between 156,000 and 180,000 small to mid-sized U.S. businesses outsource their HR to PEOs, according to the National Association of Professional Employer Organizations (NAPEO). Thus, the number of employees whose payroll, benefits and other typical HR functions are handled by PEOs ranges between 2.7 and 3.4 million. Acting in the role of co-employer enables PEOs to negotiate lower employer rates on workers' compensation and unemployment benefits in addition to standard employee benefits.
When you're ready to choose a PEO, look for one that:
Has a deep understanding of the industry
Has highly knowledgeable,

certified HR professionals

Is willing to supply references from clients in industries similar to yours
Offers a thorough range of human resource, payroll, benefits and compliance services
Besides PEOs, other types of HR outsourcing companies include administrative service offering (ASO) and human resources offering (HRO). While both offer some of the same functions as PEOs do, they do not have the same bargaining power PEOs have to reduce employer benefit costs. ASOs and HROs also do not provide guidance to employers when it comes time to choose employee benefits. Any small to mid-sized employer requiring a full suite of outsourced HR services would do best by working with a PEO.
RELATED: PEOs Are Not All Created Equal. Here's How to Choose Wisely >>
How Outsourcing to a PEO Can Help Grow Your Business
Smart business owners and managers use outsourcing as a growth tool. Human resources, a critical aspect of business that requires specialized expertise and daily attention, is commonly outsourced to PEOs. Partnering with PEO professionals who have industry-specific business acumen you don't possess relieves administrative headaches, ensures legal and regulatory compliance and frees up your time to focus on income-generating activities.
Small business owners who do not understand the value of outsourcing human resources functions sometimes dismiss the idea as a "luxury" that would cost the company more money. The reality is that human resources outsourcing provides an average return on investment of more than 27% each year when small and mid-sized employers outsource to a PEO.
RELATED: Top Benefits of Outsourcing HR to a PEO >>
Here are four specific ways choosing a PEO for HR outsourcing can help small businesses grow:
1. Sharper focus on business growth and strategy
Keeping all HR services in-house does nothing to help businesses expand into new territories, develop a new product or increase market share. Even though these are the primary reasons most companies are in business, smaller employers' attention often gets pulled away because of the need to focus on compliance and other HR issues. Also, having an onsite HR staff increases company overhead expenses because it requires more office space and investment in computers and additional equipment. Outsourcing HR to a PEO allows your small or mid-sized business to shift attention back to growth-related essentials and reduces internal costs.
2. Greater protection against HR-related legal liabilities
Government regulations are becoming increasingly complex. They also change frequently and can be challenging to track. Without staff and resources to devote to managing compliance issues, your small business faces significant legal risk. The government, customers or employees could sue the company for non-compliance, even if you and your leadership team were not aware of the requirements. A reliable PEO stays on top of all federal, state and local regulations that impact its clients, ensuring ongoing compliance.
3. Reduced rates of employee turnover
In September 2019, NAPEO conducted research using 2018 and 2019 data from the United States Bureau of Labor Statistics. The research compared turnover rates of companies that did and did not use PEOs.
After completing its research, NAPEO concluded that smaller organizations using PEO HR consulting services had a turnover rate 19.6% lower than those that kept all HR functions in-house. Specifically, having a PEO partner reduced voluntary resignations by 10.5% and reduced involuntary terminations by 9.1%.
NAPEO uncovered and published these additional findings, as well:
PEO clients enjoy higher rates of business revenue growth – 13.5% annually compared to 8.5% for non-PEO clients.
PEO clients experienced a 5.6% increase in their employee numbers, while non-PEO clients grew their workforces by only 1.4% annually.
Once they become PEO clients, it is common for small businesses to add or improve benefits such as health insurance, voluntary benefits and retirement plans.
Compared to their non-PEO counterparts, PEO clients expressed less concern about employee relations,

onboarding and retaining and motivating

 employees, thanks to the PEOs' support.
4. Help with workers' compensation and unemployment claims management
Navigating workers' compensation and unemployment claims can be overwhelming for small companies. To manage either type of claim in-house requires the work of multiple employees and access to numerous resources. A PEO removes this burden by managing the process on the small employer's behalf. Typical services include:
Accident compensability and fraud investigation
Claims cost management
Injury management consulting and protocols
Litigation management
Management of medical providers
Return-to-work policy and procedure development
Substance abuse policy and procedure development
A PEO like Axcet HR Solutions maintains a dedicated in-house claims management team and assists clients with unemployment claims processing, filing appeals and pre-trial preparation for unemployment appeals cases. And, while a PEO will understand that employers want to do right by their employees, its experts will also know that not all workers' compensation and unemployment claims are legitimate. When this is the case, a PEO will help its client detect and fight fraudulent claims, an advantage that can save organizations thousands of dollars each year.
Still Have Questions? Check Out These HR Outsourcing FAQs >>
Understanding HR Outsourcing Agreements
At the core of every mutually beneficial outsourcing relationship is a sound contractual agreement. Structuring the relationship between a company and an outside provider can help ensure long-term success by aligning the HR partner's expertise with the client's business imperatives.
A well-designed HR outsourcing agreement addresses, among other contractual elements, the following five key items:
Terms, including the length of the agreement, among other things
Scope of services
Pricing
Service level
Exit strategy
RELATED: The 6 Components of a Strong Outsourcing Relationship >>
Shifting HR Services to an Outsourced Service Provider
After the agreement is in place, the shift of HR services begins. Setting clear expectations and deadlines in a thorough transition plan will help ensure a smooth process. Your company and the HR outsourcing partner should work together to achieve the business benefits the relationship promises, from cost savings, improved compliance and more competitive employee benefits to increased efficiencies, access to specialized HR skills and greater knowledge of ever-changing regulations that affect your business.
Your company and the HR provider should regularly evaluate whether desired outcomes are being achieved. Establishing specific goals for the transition of HR services to an outsourced partner will set the stage for a successful long-term relationship.
RELATED: Unpacking the Five Types of HR Outsourcing >>
Partnership with Axcet HR Solutions
Perhaps we only have two hands because we're meant to only do so much at once.
Companies are made up of a finite number of people, and people have limitations. That means you should carefully consider what your company can manage in its current form. Many small and medium-sized businesses find their resources stretched thin, so they choose to double down on their strengths and outsource other tasks – notably, human resources – to outside firms.
Axcet HR Solutions is a Kansas City-based professional employer organization (PEO) that acts as a co-employer for small and mid-sized businesses. By shifting HR work to Axcet, you as an owner of a small company will be freed up to focus on core business functions. You'll gain the expertise of seasoned and certified HR professionals without having to pay the salary and benefits the market demands of internal staff.
Request a Consultation with Axcet HR Solutions Today
Axcet has served both the mundane and the complex HR needs of the small business community since 1988. Clients have peace of mind, knowing that, as a Certified PEO, Axcet has met the stringent requirements of the Internal Revenue Service to earn certification. Axcet is among fewer than 10% of PEOs in the country the IRS recognizes that operate with integrity, have proven experience and consistently maintain a record of financial stability.
Axcet serves small and mid-sized businesses that employ 250 or fewer people, with the company's typical client having 10 to 99 employees. To learn more about Axcet's services, please contact us to schedule a consultation.