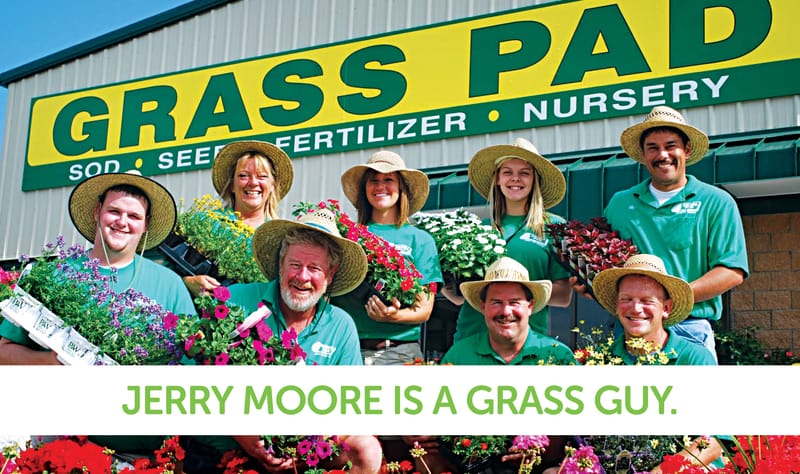 Jerry Moore, president of Grass Pad, is a grass guy and a smart guy. That's why he has been outsourcing his business' HR to Axcet HR Solutions for nearly 30 years.
Jerry knows that by outsourcing Grass Pad's HR administration, payroll and payroll taxes, employee benefits, risk management and workers' compensation to us, he can focus on what really matters. Growing his business even more.
Jerry recently wrote about his experience with Axcet. Here's his story:
A Trusted Partner for Nearly 30 Years
Axcet HR Solutions' PEO services to the Grass Pad have evolved over what is nearly 30 years to be the most trusted and relied upon business partner we have. The last 30 years have seen HR topics become one of the most complicated and risk-laden aspects of trying to operate a small business. For decades we have accepted the financial and viable practice of retaining outside services such as legal counsel and accounting.
Today the loss potential of mishandled HR issues warrants having the same type of professional services on your team. HR now requires skills that require a command of local, state and national statutes that can change daily, all of which are different in every state you operate in. It also requires competent delivery of benefit responsibilities for things like health care, retirement plans, PTO and insurance plans, like disability, dental and vision. All these specialties would be tied together by an administrative staff.
RELATED: When It Comes To Managing HR, You Have Choices. Here's Why To Choose Axcet >>
The fact that these services would require three-to-five people in our office is completely overshadowed by the fact that the leadership of this department would potentially be one of the most important hires the company could ever make. The risk of this falling on one set of shoulders is not a risk we would want to engage in. We are a small business and do not have an attorney or CPA on staff and will not have an HR department as long as Axcet is around.
RELATED: Axcet HR Solutions Provides a Full-Suite of PEO Services >>
Why We Stay with Axcet
We stay with Axcet because of the people they have in key positions. These managers have been in place for years and have a team under their watch that is extensive and responsive to everything we have ever been challenged with. Axcet will provide our staff and managers with answers to questions and training on how to handle anything that comes their way.
Successfully Navigating COVID-19
Navigating the last two years of Covid-19 has again proven to us the importance of what Axcet does for us. What seemed to be the daily changes to practices, protocols and requirements were coming from cities, states, and national entities. While OSHA, WHO and every political organization on television were claiming employers must do this or do that, all this was interpreted and clarified through one phone call to Axcet.
When the implementation of ETS was imminent, a plan was orchestrated by their team that had us ready to become compliant within days. All policies, training, documentation and information were handed to us in a package that only needed to be copied onto our letterhead.
A Team of Experts
With Axcet you have a team of experts to help you navigate all the areas that will involve your employees in how they are hired, managed and compensated as well as all the other risks involved with being an employer in today's litigated environment.
RELATED: Meet the Axcet HR Solutions PEO Team >>