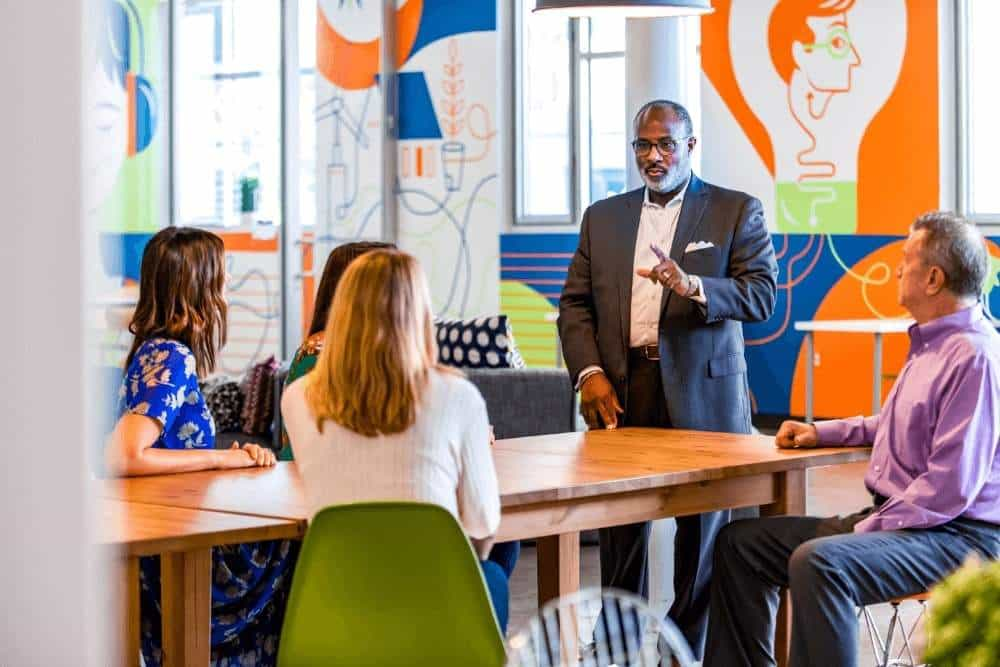 A common issue with growing businesses is that they do not have the staff or resources to devote to human resource functions. Although payroll, managing benefits, new employee onboarding, and other HR tasks are essential, performing them takes time away from the core operations of a developing company. The feeling of overwhelm from trying to juggle multiple priorities at once leads many small business owners to consider working with human resource consulting firms.
In-House vs Outsourced HR: What's Right for Your Business
What Does It Mean To Outsource HR Services
When a company chooses to hire HR consulting services for a small business, it means that a separate company takes over HR functions on its behalf. Third-party HR administrators specialize in a range of HR tasks, including human resources, payroll administration, employee benefits, and risk management. The list below includes specific services provided by HR outsourcing companies stemming from these four broad categories.
Background checks
Creation of employee handbooks and company policy manuals
Development and implantation of compensation programs
Drug screening
Independent contractor compliance
Payroll processing and report generation
Recruiting
Researching, preparing, and updating affirmative action plans
Temporary staffing management
The top HR consulting firms offer clients the flexibility to choose which services they want to outsource. Some small businesses prefer to let the HR administrator they hire handle all the above duties while others take a more à la carte approach by outsourcing some services and keeping others in-house. Most small to mid-size employers retain control over the functions below.
Business succession planning
Management of the internal HR department
Organizational development
Performance management
Strategic capital planning
Talent development
Once company leadership has decided which HR services to outsource, the next step is to host a planning session to consider the pros and cons of in-house vs outsourced HR.
Types of Businesses Well-Suited To Outsource HR Services
The Society for Human Resource Management (SHRM) states that small to mid-sized employers benefit most from working with human resource consulting firms. These businesses often lack the size and resources to manage a full suite of HR functions in-house.
The complexity of business operations also plays an important part in whether a business would benefit from outsourced HR services. Larger businesses such as hospitals with people on staff 24 hours a day, shift differential pay, and some employees belonging to unions are more likely than small to mid-sized businesses to keep all HR functions onsite.
RELATED: 5 Signs It's Time To Outsource Your Business' HR >>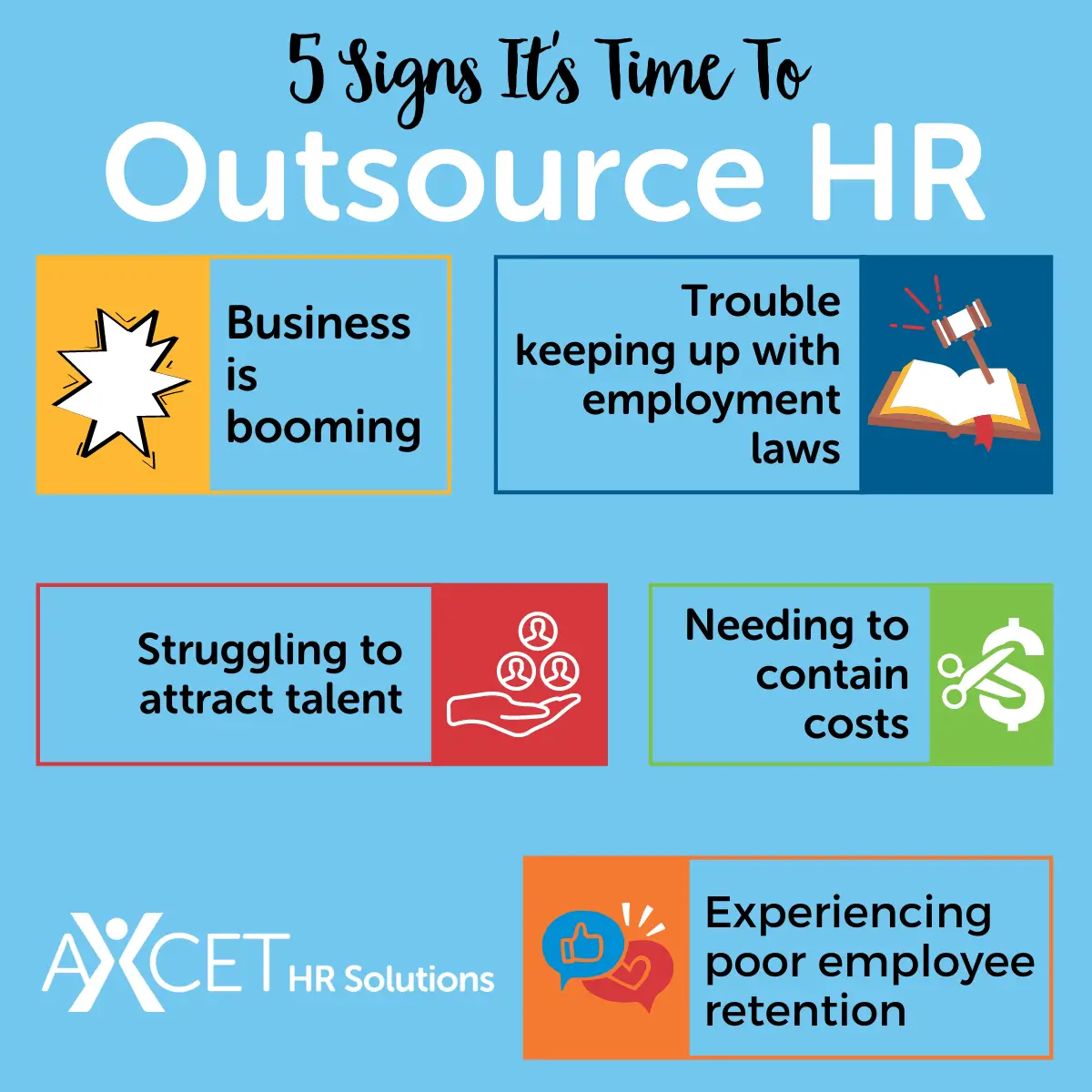 Evaluating the Pros and Cons of Outsourcing HR
Small and mid-sized businesses have several options to outsource some or all HR functions. For example, company leadership may decide to only outsource payroll, staffing, or health insurance functions. The drawback of hiring multiple HR service providers is that businesses must juggle relationships and payments with each one. Outsourcing most HR functions to a single organization create greater efficiency and cost savings. Here are some other benefits associated with obtaining HR consulting services for small businesses.
An Understanding of Current Laws

The top HR consulting firms in Kansas City understand current laws at the federal and state level regarding employee compensation, hiring practices, workplace safety, and other major issues facing today's small and mid-sized employers. Companies that violate a federal or state law face fines and other penalties, even if the business legitimately did not know the law existed. This risk disappears with HR consulting.

Up-To-Date With Tech and Compliance Issues

Companies providing outsourced HR services remain up-to-date with technology and compliance issues. Since completing HR functions is a third-party administrator's sole function, the best HR consulting firms routinely include new software and hardware upgrades in the company budget.

Efficient Employee Training on Key Issues

Working with an outside HR company is an efficient way to present required employee training on issues such as sexual harassment, workplace safety, and the importance of an inclusive work environment. These companies are subject-matter experts that continually seek new information on sensitive yet essential workplace topics.

Only Pay for the HR Functions You Need and Use

Hiring an in-house HR staff requires small to mid-sized employers to pay a guaranteed salary plus benefits. By outsourcing, businesses pay only for the functions they need and never have to pay for employee downtime due to low work volume or technical issues.
As helpful as human resource consulting firms can be, employers need to consider potential drawbacks before hiring one. For example, some employers and employees prefer the convenience of walking into an HR representative's office to ask a question. With outsourced HR, most interactions take place online or by phone. Top HR consulting firms recognize this and work onsite visits into client contracts.
Human resource consulting firms that do not take the time to research new clients appropriately can make decisions that violate the client's company culture. When selecting a company to provide HR services in Kansas City, employers should ensure that the outsourced HR benefits administrator will invest time and resources into understanding the values, culture, and purpose of the client company.
RELATED: How To Choose a Reliable PEO for Your Business >>
What is a Professional Employer Organization (PEO)?
A PEO is a company specializing in only HR functions. According to Investopedia, the typical business that contracts with human resource consulting firms has 19 employees. In terms of fees, clients typically pay a PEO based on a per-employee cost or as a percentage of total payroll.
PEOs act as co-employer by combining employees from several clients to ensure that all of them benefit from reduced costs and administrative burdens. With help from a PEO, small to mid-sized employers can offer their employees better healthcare and retirement benefits that allow them to compete for talent with larger companies having more resources.
RELATED: PEOs Are Not All Created Equal. Here's How To Choose Wisely >>
Investopedia states that between 156,000 and 180,000 small to mid-sized businesses in the United States outsource their HR services to PEOs. The number of employees whose payroll, benefits, and other typical HR functions fall under the jurisdiction of a PEO, ranges between 2.7 and 3.4 million. Acting in the role of co-employer enables PEOs to negotiate for lower employer rates on workers' compensation and unemployment benefits in addition to standard employee benefits.
The criteria below can help employers make the right decision when they are ready to choose a PEO.
Deep understanding of the industry
Ability to meet the unique needs of small to mid-sized employers and their employees
Willing to supply references from clients in the same industry
Offers a wide range of human resource, payroll, benefits, and compliance services
RELATED: HR Outsourcing - A Tool for Building a Better Business >>
Other types of HR outsourcing companies include administrative service offering (ASO) and human resources offering (HRO). While both offer some of the same functions, they do not have the bargaining power of PEOs to reduce employer benefit costs. ASOs and HROs also do not provide guidance to employers when it comes time to choose employee benefits. Any small to mid-sized employer requiring a full suite of outsourced HR services would do best by working with a PEO.