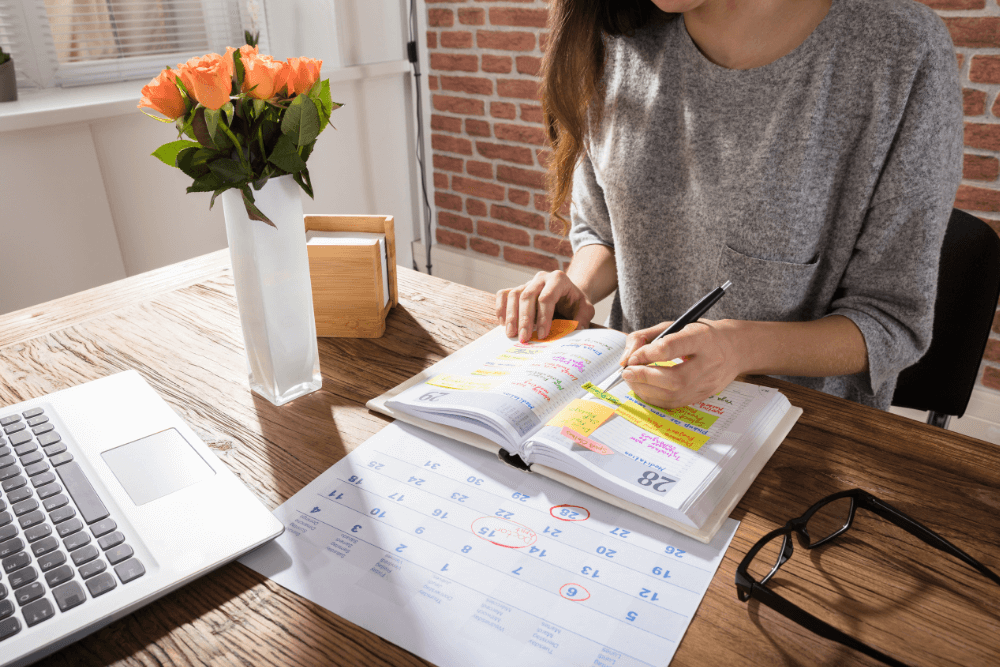 Managers of businesses that require staff to work weekends or holidays often have concerns about how to schedule employees fairly. Their concerns are certainly valid. When employees detect even a hint of favoritism surrounding who gets the best schedule, it inevitably leads to upset feelings that impact workplace productivity.
The best way to schedule employees fairly is to create a weekly employee schedule that evenly rotates staff for weekend coverage. That said, employers should take employee seniority into account when creating the weekend schedule, allowing those staff members with the most seniority to have first pick.
Here's what to consider when creating a fair weekend, holiday and vacation schedule:
Weekend Rotations
Whether small businesses need an employee to work every weekend or one weekend a month, managers should consider the importance of consistency in allowing people to plan personal appointments and tasks. If the workload is such that the business requires staffing every weekend, managers should give those who worked two consecutive days off during the week. Not only does this make planning easier for employees, but it also gives them the chance to unwind and relax before reporting back to work.
Consistency is also important when enough staff is available to spread out the weekend duties. As an example, assume a company has four employees who rotate weekend coverage. Assigning them the same weekend each month helps to keep their work-life balance more consistent. Of course, this scenario requires some creative thinking for those few months a year that have five weekends.
Employers must also be fair when planning weekend rotations. The person with the most seniority should get the first choice on which weekend they want to work all the way down to the employee with the least seniority. Managers should be sure to emphasize to those at the bottom of the seniority scale that they will eventually move up as employees quit and new ones replace them. The company might also consider adding weekend premium pay to attract employees to the job in the first place.
Holiday Time Schedules
Tensions around the office can get especially high when multiple employees want to be off work for the same holidays but the business needs to retain coverage on those days. Besides the actual holidays like Thanksgiving Day and Christmas Day, many people want to add several days of PTO to extend their time away from the office as long as possible. Unfortunately, agreeing to this arrangement can leave a small business with staff shortages and unhappy customers. Here are some steps employers can take to keep holiday schedules as fair as possible:
1. Provide a deadline for vacation requests around the holidays and stick to it. It would not be fair to employees who get their requests in on time to lose out on holiday vacation time to someone who submitted their request late.

2. Let employees know which days are company holidays and which days they will need to use personal days well in advance. Be sure to include any days that the office will close early such as Christmas Eve or New Year's Eve.
3. Create a schedule that balances the workload as evenly as is feasible. Some options to determine who gets which days off are seniority, a lottery system, or having the first choice of holiday vacation days go to the person with the highest productivity that month.

4. Once managers have created the holiday coverage schedule, they should distribute it in plenty of time for employees to schedule their holiday events around work.
When employees must work on actual holidays, aim for consistent and fair holiday rotation. For example, count the number of employees expected to work on a holiday and the specific holidays the business must remain open. Managers can then divide up the group and assign them to holiday coverage based on factors communicated to them earlier.
Many companies rely on seniority when it comes to something that could fuel employee resentment like working on a holiday. Employers that decide to go this route should do so with the understanding that the same employees cannot request the same holidays off multiple years in a row regardless of seniority.
Vacation Time Off Requests
Besides holidays, summer is an especially popular time for employees to want time off from work. It is always a good idea for employers to review PTO policy with employees before an in-demand vacation season arrives. Here are some best practices for handling vacation time at the office.
1. Encourage teams to communicate their vacation plans with each other.

2. Ensure that employees understand the criteria used to approve or deny PTO requests, whether it is seniority, work performance, who requested time off first, or another method.
3. Managers should give a brief explanation when they must deny vacation days to avoid any misconceptions by employees.

4. Employers should always be upfront with job applicants about any vacation blackout periods they must enforce.
5. For especially sought-after vacation time, managers should require all employees to submit their requests before reviewing any of them.
Employees with the option for flexible scheduling are often more willing to return the favor when the employer requires flexibility around vacation scheduling. When juggling PTO requests becomes too problematic, the company might consider incentives such as offering extra pay for putting off vacation plans until a slower or less in-demand time of the year. It is especially important for employers to send the message that they support time away from work and to place restrictions on when people can use the time off they have earned only when necessary.