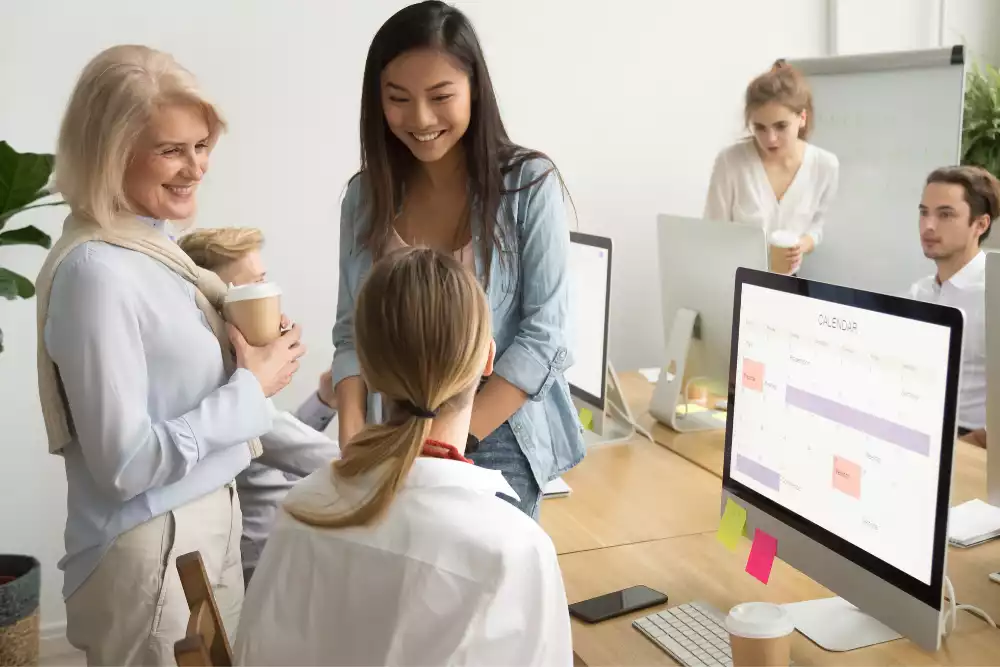 For the first time in history, today's workplace may consist of up to five generations working side-by-side, with 50 or more years of age difference spread between the oldest and youngest employees. Not only are your employees more diverse based on the generation they were born to, but the benefits you offer must be equally diverse. It's safe to say, the days of "one size fits all" benefits plans are long gone.
From Traditionalists, Baby Boomers and Generation X to Millennials and Generation Z, we'll break down what motivates each generation to get a better understanding of what they want in terms of benefits and why a diverse offering is so important. We'll also share some helpful tips to putting together a benefits package for all generations.
The Multi-Generational Workforce
While each generation has different needs and values, health insurance is the one benefit highly valued across all generations. In fact, an Employee Benefits Research Institute (EBRI) study found 60% of workers indicate health insurance is extremely important when considering whether to stay in or choose a new job compared to only 42% who report a retirement savings plan is extremely important. That said, what each generation wants in terms of other benefits can vary greatly.
Traditionalists. Also known as the Silent Generation, Traditionalists were born between 1927 and 1945. Approximately 95% are retired, but those who are still working are in their 70s and are working because they want to. When it comes to benefits, Traditionalists often what to accumulate as much as possible in their retirement savings accounts. Additionally, critical illness coverage and identity theft protection have been noted as benefits with tremendous value to this generation. While many Traditionalists have adopted the latest technology, in general, they prefer face-to-face interaction, which is why the latest HR tech may intimidate them when it comes to benefits enrollment or management. Ensuring a benefits administrator is present during enrollment to help guide the process will prove beneficial.
Baby Boomers. Employees in this generation were born between 1946 and 1964 and are mostly in their late 50s and 60s. They now represent less than 30% of the workforce as they gradually exit by means of retirement. Baby Boomers value a high salary level and good health insurance. Like Traditionalists, they are concerned about saving enough for retirement and have also indicated an interest in critical illness coverage and identity theft protection. According to AARP, 71% of boomers selected health insurance as a top benefit, 67% said a 401(k) match and 54% indicated a pension (compared with 34% of Gen Xers and only 16% of Millennials).
Generation X. Born between 1965 and 1979, and the second-largest demographic in the labor pool, Gen Xers are critical members of the workforce as they contain experienced workers who are in the prime of their careers. This candidate pool is great for senior-leadership roles or specialized positions requiring 10-15 years' experience. According to Glassdoor, Gen Xers place a high value on salary level, a 401(k) plan with employer match, job security, advancement opportunities within the organization and work-life balance. This demographic likely has children at home in addition to aging parents. To attract and retain top Gen X talent, businesses need to offer benefits that support a healthy work-life balance and helps relieve family pressures this generation may feel. This may include flexible work arrangements, generous family leave policies, and creative time-off programs.
Millennials. Generation Y, or more widely known as Millennials, were born between 1980 and 1994. When they entered the workforce, survey after survey tried to determine what Millennials want from work and how employers could not only attract top Millennial talent but retain them (as they had earned the reputation of "job jumpers"). We do know that Millennials don't just work for a salary, they want to work at organizations with similar values as their own and at companies that are socially responsible. As such, they place a high value on working at businesses that offer paid volunteer time and charity matching benefits. Millennials also value options when selecting benefits, an attractive paid time off (PTO) plan, employer student loan repayment assistance, pet insurance, health and wellbeing support, fun work environments, the ability to work from home or the local Starbucks, and flexible work schedules. When it comes to Millennials, benefits matter. Just consider what this research revealed: Glassdoor found over 90% of Millennials surveyed reported they would prefer additional benefits over a pay raise.
Generation Z. Just when employers everywhere felt relieved to have figured out how to motivate Millennials, Generation Z arrives on the scene. This digital generation, or iGeneration, was born between 1995 and 2012, and will further shake up the way benefits are administered. Just like Millennials, benefits outside of the core offerings will be equally important as this generation seeks to work at organizations that complement and support their lifestyle. As the first generation to grow up without ever having to experience a world without smart devices in their pockets, WIFI and an app for everything, they have much to bring to the workforce in terms of innovation. If you're not using the latest HR tech for benefits enrollment and management, beware. This generation will not respect organizations that still use methods that are not tech-based or accessible by mobile devices. According to Inc., this generation expects a higher salary right out of college and wants great benefits, but they are willing to work hard and maybe more loyal to employers than Millennials.
Benefits Tips
From not knowing which benefits to offer to financial or administrative challenges, here are a few tips.
Financial Challenges. For businesses that don't have enough employees or budget to offer generous family leave plans, consider other options that will allow employees to still be able to balance work and family pressures. For instance, granting remote work and/or flexible schedules will help employees meet family demands, such as elder care and childcare, without the expense of a generous family leave plan. As long as the work gets done, it may not matter if it is completed in four 10-hour days or five 8-hour days.
Uncertain What Employees Want. If you want to know what your employees want, ask them and take what they say into consideration when planning your benefits offering. A lot of times, business owners believe their employees only want more money, but it may be flex time or more recognition. Discussing benefits with new hires will open the conversation to possibly find out what the competition is offering, which may be beneficial when it comes to recruiting top talent.
Offer a Wide Variety of Benefits Options. Benefits options should start with the core benefits, like medical, dental and vision, and extend throughout a menu of additional benefits. The key to appealing to all generations is variety. For example, only offering one health care plan with a $500 deductible may not appeal to Millennials as much as Gen Xers. Start with a well-thought-out mix of medical, dental and vision plans, and then build out from there with paid time off, gym membership discounts, identity theft protection, pet insurance and more.
Understand a Benefits Administrator is More Than Likely a Necessity. With more options, the ability to administer benefits becomes more and more of a challenge. Not to mention, you may not even know how to go about providing certain benefits. The help of an experienced professional will help you stay compliant, allow you to hand off the time-consuming paperwork, may get your employees to access to the latest HR tech for benefits enrollment and management and may even come with better health insurance pricing. For example, when businesses partner with a PEO, they gain access to Fortune 500 level medical benefits - the most important benefit across all generations - at a more affordable rate due to the co-employment relationship. Learn more about small businesses, health insurance and the PEO option here.
When you choose Axcet HR Solutions as your PEO, we'll afford you a personal, dedicated Benefits/HR consultant. This certified expert navigates the benefits minefield for you, makes sure you're legally compliant, manages the ever-growing paperwork and takes this headache off your shoulders. Find out more about our Employee Benefits Management services today.