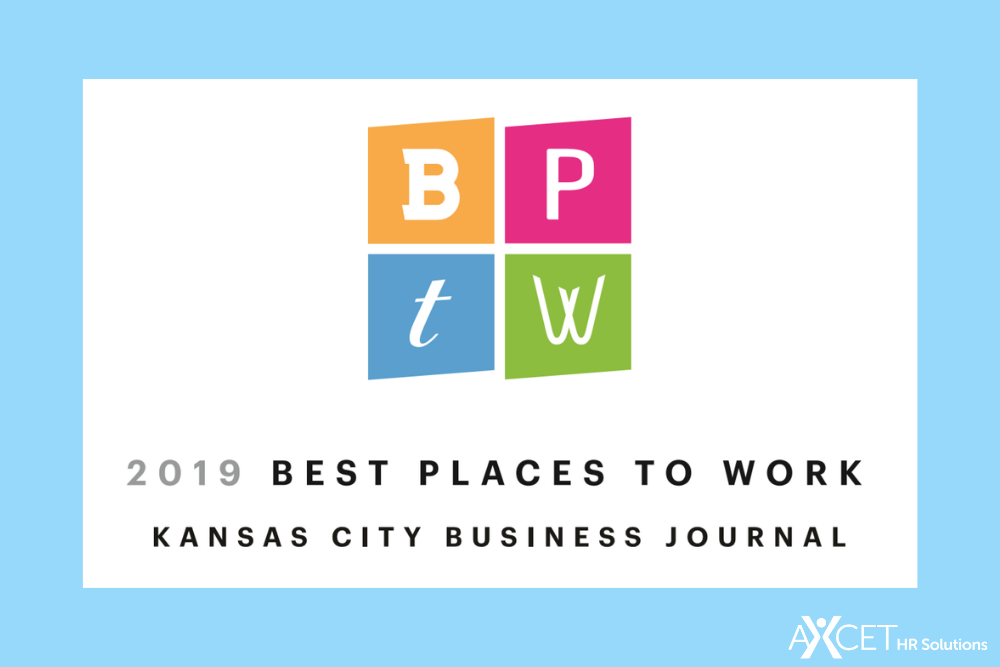 Each year, Kansas City Business Journal (KCBJ) recognizes the most outstanding companies, as identified by their employees, whose benefits, policies and practices are among the best in the Kansas City metropolitan area. The entire team at Axcet HR Solutions is proud to announce we are one of 10 businesses in the extra small category (10-50 employees) to be named a 2019 Best Places to Work honoree.
2019 Best Places to Work Honorees Unveiled
KCBJ unveiled the list of 45 companies, broken down into five categories based on size, earlier this month, on August 15, 2019. All honorees will be recognized at a luncheon on October 10, 2019, at Arrowhead Stadium in Kansas City, where KCBJ will announce the top three scorers in each category. To find out more about the Best Places to Work awards program or to buy tickets, visit KCBJ's website here.
"At Axcet HR Solutions, we truly care about our employees — their futures, families, and lives beyond our front door," explains Jo McClure, Director of Payroll Administration, "Because of that, almost 50 percent of our team has been with us for more than 10 years. We are happy to be recognized by KCBJ for our efforts to create a truly exceptional work environment for our employees."
What it Takes to be a Best Places to Work Company
Curious about what it takes to become a Best Places to Work honoree? It's much more than ping pong tables and office yoga on Fridays.
According to KCBJ, initial qualifications for consideration include at least 10 full-time equivalent employees and an office location in either Cass, Clay, Jackson, Platte or Ray counties on the Missouri side; or Johnson, Leavenworth or Wyandotte counties in Kansas. All eligible organizations are encouraged to participate and once nominated by an employee will be moved into the survey portion of the program — after all, employees are the real judges of the businesses they work for.
A predetermined percentage of employees will be asked to complete surveys administered by Quantum Workplace, in which they will rate their employer on team/manager effectiveness, retention probability, work engagement, feeling valued and more. Quantum Workplace uses its proprietary formula to determine the highest-scoring employers in each category — extra small (10-50), small (51-100), medium (101-250), large (251-500) and extra-large (501+).
About Axcet HR Solutions
Axcet HR Solutions, a Kansas City-based professional employer organization (PEO) was founded in 1988 by Gerald Diddle at a time when the concept of a PEO was relatively unknown. Last year, we celebrated 30 years in business, and just this month we relocated our offices from Lenexa, Kan. to a new, 14,000 sq. ft. office space in Overland Park's Corporate Woods.
Our new location boasts floor to ceiling windows with beautiful, wooded views and an abundance of natural lighting. In our continued efforts to support the health and wellness initiatives of our employees, each team member has an adjustable-height desk which promotes long-term health benefits. What's more, our spacious new office allows for plenty of room for our team to continue to grow.
We want to congratulate the other Best Places to Work honorees; we are happy to be in the company of other great Kansas City businesses that understand the value of treating employees well.