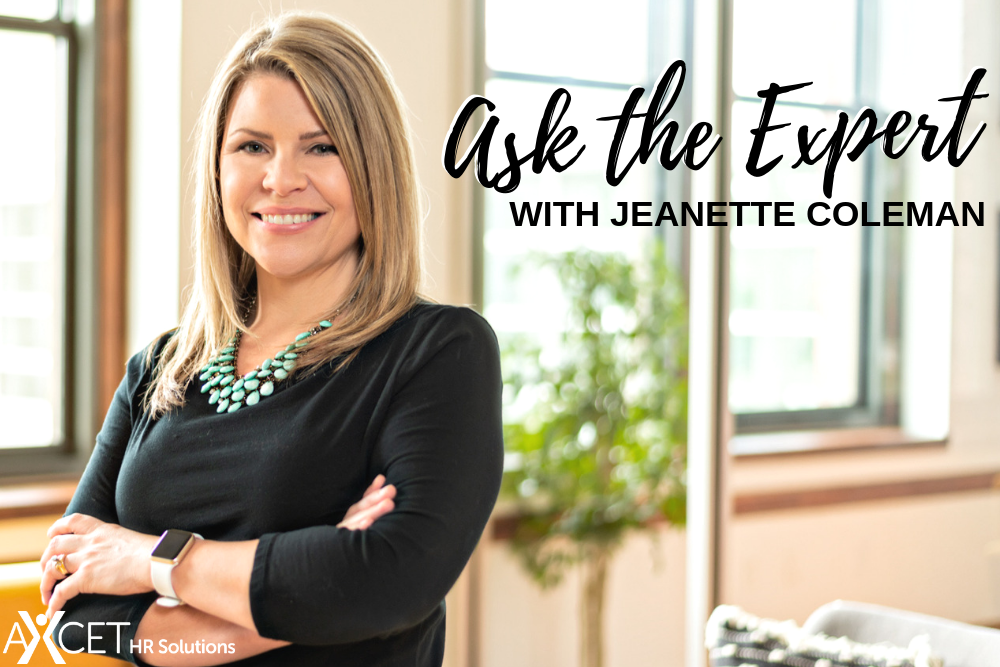 Despite Attorney General Jeff Sessions best efforts to stamp out legal marijuana, the industry is booming. In fact, nine states plus Washington, DC have legalized recreational marijuana for adults 21 years of age and older and 29 states have legalized the use of medical marijuana. According to a report from Arcview Market Research and BDS Analytics, legal marijuana sales reached $9.7 billion in North America in 2017. The industry is expected to continue to grow as more states legalize its use and may reach $24.5 billion by 2021. That said, marijuana use in any form is still illegal in Kansas, Missouri and at the federal level. As additional states jump on board legalizing marijuana, more and more questions arise concerning marijuana and the workplace.
In a recent Ask the Expert session, Axcet HR Solutions Director of Human Resources Jeanette Coleman received the following question about marijuana and the federal Department of Transportation (DOT):
Question: In states where recreational marijuana is legal, how does that affect federal Department of Transportation (DOT) regulations? For example, what can we do if an employee is involved in a motor vehicle accident while on the job and tests positive for marijuana?
Answer: DOT regulations take precedence over state laws when it comes to marijuana use. Marijuana is still illegal under federal law, meaning all "safety sensitive" employees who are subject to federally-mandated drug testing are still prohibited from using the drug. This group of employees includes anyone who operates commercial vehicles, including train engineers, pilots, and school bus drivers.
The DOT has made its stance on the issue known multiple times, beginning when Washington and Colorado legalized recreational marijuana in 2012. "We want to make it perfectly clear that the state initiatives will have no bearing on the Department of Transportation's regulated drug testing program. The Department of Transportation's Drug and Alcohol Testing Regulation – 49 CFR Part 40 – does not authorize the use of Schedule I drugs, including marijuana, for any reason," the DOT said in a statement.
Because marijuana is classified as a Schedule I drug by the United States Controlled Substances Act, safety-sensitive employees are not permitted to have it in their systems at any time. Even if someone is sober when they take a drug test, the THC from the drug will be detectable in their system for up to 30 days after use. If an employee whose job subjects them to DOT regulations tests positive for marijuana, they should be removed from their job immediately and be required to work with a Substance Abuse Professional to complete the Return to Duty process in order to regain eligibility to return to work.
Conclusion
Understand your state's laws regarding marijuana use and "for cause" drug testing.

Know your obligations as an employer, such as being required to follow the Drug Free Workplace Act of 1988 or having employees in "safety-sensitive" positions.

Be aware of your rights in regards to hiring a prospective employee if he or she is a medical marijuana user.

Include all policies in your employee handbook. Make sure they are clear and employees fully understand how to stay in compliance.
Employers have a duty under the Occupational Health and Safety Act of 1970 to "maintain conditions or adopt practices reasonably necessary and appropriate to protect workers on the job." However, you also need to be sure you aren't violating employee rights in the process.
Disclaimer
The content offered is offered only as a public service and does not constitute solicitation or provision of legal advice. This site should not be used as a substitute for obtaining legal advice from an attorney licensed or authorized to practice in your jurisdiction. You should always consult a suitably qualified attorney regarding any specific legal problem or matter.