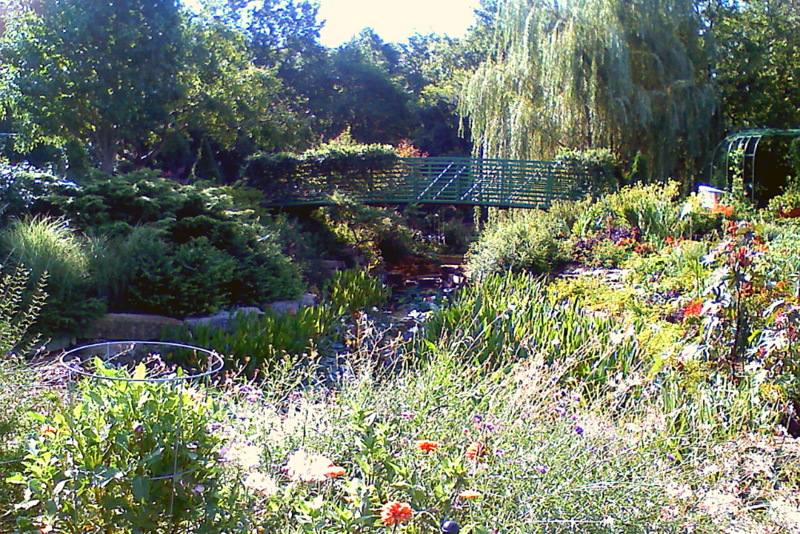 Whether you're looking to squeeze in a few more outdoor activities before cooler weather settles in for good or you're just looking for something different to experience this weekend in the Kansas City area, our local HR team has you covered. We've put together a list of a few of our favorite outdoor activities in the metro, including some spots right in our hometown and some that are just a day trip away. From gorgeous panoramic views on area hiking trails and gardens, to spots that are just a short drive away, we've got you covered.
Related: Five Spooktacular Things To Do in Kansas City This Halloween >>
Local Hiking Trails
Want to get in touch with nature? Kansas City-area hiking trails are a great way to experience the beauty of the area while also staying physically active. Here are a few of our favorites:
1. Parkville Nature Sanctuary
Located less than 20 minutes from Downtown Kansas City, Parkville Nature Sanctuary boasts 115 acres of natural land for wildlife connected by 3 miles of hiking trails. Click here to view a map of The Jim Reed Trail System.
Why it is one of our favorites: Old Kate Trail, the most popular trail at Parkville Nature Sanctuary, features beautiful waterfalls that provide a breathtaking photo opportunity.
Tips: Because Parkville Nature Sanctuary is a wildlife preserve, dogs, horses and other animals are not allowed as they could disturb the wildlife. The park is open from sunrise to sunset.
2. Shawnee Mission Park
If you're looking for a longer hike, and one that is pet friendly, then head over to Shawnee Mission Park where three trails loop together for 6.5 miles of scenic views. For more information, visit Johnson County Parks & Recreation District's website by clicking here.
Why it is one of our favorites: Not only does the park feature great trails for hiking and mountain biking, but its 44-acre dog off-leash area will likely be your furry friend's favorite attraction. While you're there, check out the 120-acre lake (complete with boat rentals) and 18-hole disc golf course.
Tip: Don't forget your fishing pole, tackle, and Kansas fishing license. Shawnee Mission Lake is stocked with rainbow trout, channel catfish, large and small-mouth bass, wipers, and crappie.
Related: It's Pumpkin Time in Kansas City; 7 Pumpkin Patches to Visit in 2020 >>
3. Swope Trails
Located within Kansas City's largest park, which is also one of the largest municipal parks in the United States, Swope Trails are one Swope Park's many attractions. The trail system provides 13.5 miles of wooded views and features rolling contours to the north and limestone bluffs to the south. The trails are open year-round and are mountain bike and dog-friendly. Click here to access a trail map and view pictures.
Why it is one of our favorites: Stunning forest views and a great nature escape, all within an urban environment.
Tip: The trails are made of dirt, rocks and tree roots, so you'll want to wear appropriate shoes and understand it may be muddy after periods of rain. Trail changes aren't clearly marked, so you'll want to pay close attention.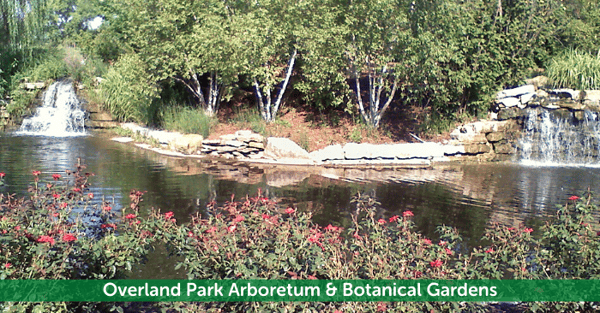 Gardens
1. Powell Gardens
Located 15 minutes east of Lee's Summit in Kingsville, Missouri, Powell Gardens boasts 970 acres of breathtaking scenic views with seven themed gardens, 100 botanical areas, three miles of hiking trails and seasonal displays.
Why it is one of our favorites: The Festival of Butterflies takes place through August 9 featuring over 1,000 free-flying butterflies and moths. It is a must-see!
Tip: Visitors are strongly encouraged to secure their tickets in advance for timed entry into the Gardens.
2. Overland Park Arboretum and Botanical Gardens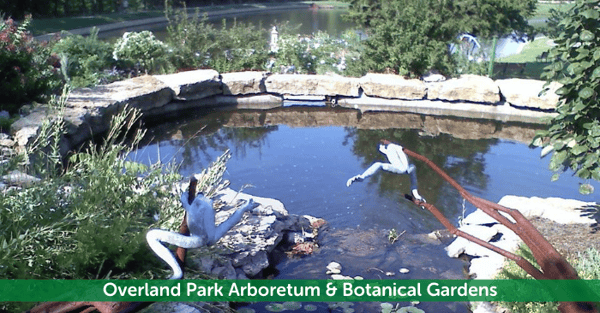 Overland Park Arboretum and Botanical Gardens provides a scenic, nature escape with every season. From gorgeous summer flowers to breathtaking fall foliage and a spectacular winter luminary walk, the opportunities for a variety of experiences are almost endless. The Gardens feature over 300 acres of scenic views, 45 acres of botanical gardens, 800 species of plants and a variety of landscapes including ponds, hiking trails and sculptures. Click here for more information.
Why it is one of our favorites: Approximately 85% of Overland Park Arboretum and Botanical Gardens' property is solely dedicated to the preservation and restoration of natural ecosystems. While you're there, you won't want to miss Monet's Garden!
Tip: The Arboretum is open seven days a week from 9 a.m. to 5 p.m. Upcoming free admission days are October 5, 2021, and October 9-10, 2021.
Related: 7 Kansas City Area Christmas Tree Farms Where You Can Choose and Cut Your Own Tree >>
Day Trips
1. Weston, Missouri
Just 30 quick minutes from downtown Kansas City lies Weston, Missouri, featuring the historic Saint George Hotel, Green Dirt Farm, McCormick Country Store, wineries, one of the oldest operating distilleries in the U.S., breweries and Weston State Park. For the best views of the Missouri River and Fort Leavenworth, take a hike along the West Ridge Trail which travels through the woods and along the edge of the bluff. Click here to visit the Weston, Missouri website.
Why it is one of our favorites: Weston, Missouri is frequently voted number one day trip and overnight destination — and for a good reason. Historic Main Street is full of local, small shops, each one a delight. There's no shortage of places to dine and if you're planning on spending the night, there are plenty of Bed & Breakfast accommodations and don't forget about the historic Saint George Hotel.
2. Ha Ha Tonka State Park
Located in Camdenton, Missouri, Ha Ha Tonka State Park features trails, castle ruins, a crystal-clear spring, sinkhole and natural bridge. Click here to visit Missouri State Parks for more information.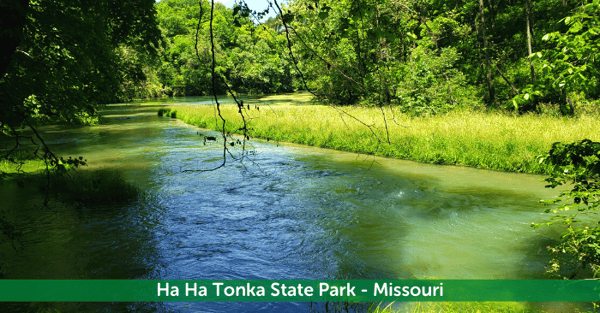 Why it is one of our favorites: While it is 300 steps down (and then 300 steps back up), the natural spring is well worth the exertion and provides an amazing experience.
Tip: Plan on spending a whole day hiking the park to the various sites. Bring plenty of water and pack a cooler.
We've been lucky to call Kansas City our home since 1988 and are continually amazed by the breathtaking views of nature found right here in our backyard. If Kansas City is your home and you'd like to share your favorite outdoor spots for hiking and experiencing nature, leave us a comment.