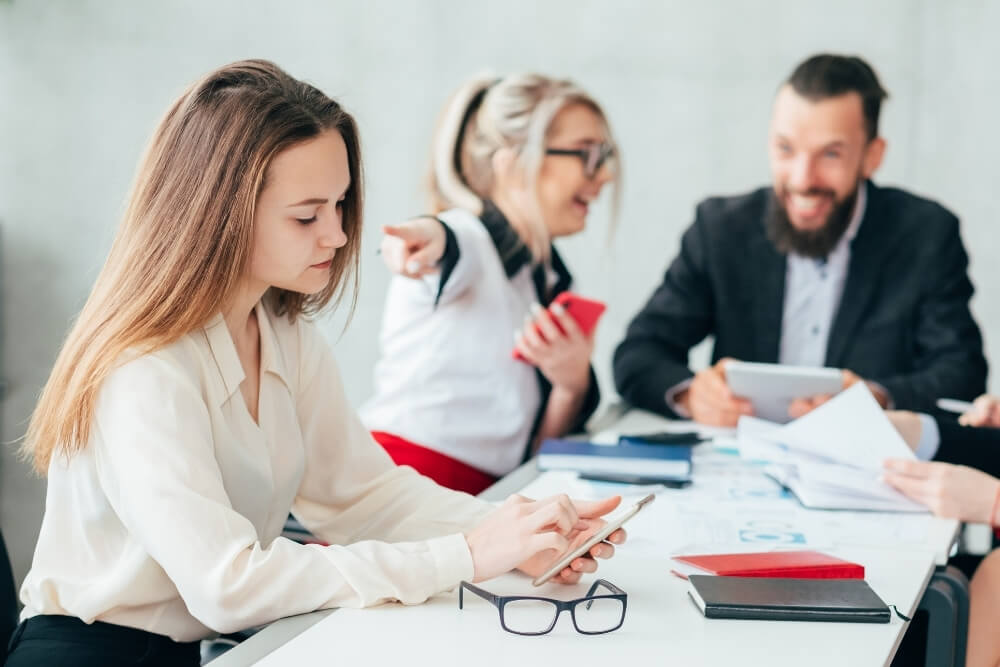 The website Healthline.com defines workplace bullying as harmful behavior targeted at an individual or group meant to intimidate or humiliate the victims. Some criticism in the workplace is valid, such as when a manager needs to correct an employee's mistakes with constructive feedback. The difference with bullying is that it serves no constructive purpose other than to make the people doing it feel more powerful and those on the receiving end feel intimidated.
Common Signs of Bullying at Work
People who experience bullying at work do not always realize it. They may think they are being too sensitive or feel embarrassed to let anyone know what is happening. Employee education is crucial to help validate the experience of victims and let aggressors know when they are pushing too far. Here are some typical examples of bullying behavior on the job:
A manager or department lead consistently misleads certain employees about their work responsibilities by providing unclear guidance and incorrect deadlines.

An employee receives undeserved or harsh criticism without any constructive advice.

One employee or group routinely makes another employee or group the target of practical jokes that feel humiliating or cause physical harm.

Micromanaging employee performance to the point of causing severe anxiety.

Verbal abuse in the form of threats, name-calling, sarcasm, deliberate humiliation, or revealing confidential information about an employee.

Employees or managers leave others out of office parties, lunches, or general office culture.

Small groups of employees become clique-like and spread malicious rumors and gossip about others.
Federal and state laws exist to protect people from workplace harassment based on race, disability, or another protected class. However, most bullying and harassment at work is psychological and difficult to identify.
What are the Statistics on Bullying and Harassment at Work?
The Workplace Bullying Institute exists to research and provide solutions for the escalating problem of working in a hostile environment. The organization publishes books and provides direct counseling for victims of workplace bullying. Every three to four years, the Workplace Bullying Institute conducts a nationwide survey to gauge the extent of the problem. Some key findings with the 2021 survey include:
48.6 million Americans are victims of bullying at work or have been in the past.

Bullying behavior is even more common in the remote workforce with 43.2% reporting experiencing it at least once compared to 30% of people in a traditional working environment.

Two-thirds of bullied employees are at a high risk of losing their jobs rather than perpetrators of the harassment.

65% of those committing acts of workplace bullying and harassment are in leadership positions.

60% of American employers do not act appropriately when a bullying victim comes forward. Managers and human resources representatives are more apt to defend, deny, or rationalize the bully's behavior rather than deal with it constructively.
The 2021 Workplace Bullying Institute survey polled 1,215 adults and has a margin of error of 2.8%.
How to Stop Bullying at Work
Everyone deserves to work in a respectful environment, and employers have a legal and moral obligation to ensure that happens. The HR department must lead the way by putting a clear anti-bullying policy into writing. Each department should receive training on how to identify and report bullying at work, and every employee should read and sign the employer's official anti-bullying policy.
The best way to stop bullying behavior before it escalates is to address it as soon as it happens. Memories fade after a while, and the employee called out for aggressive behavior counts on this to deny ever having done anything wrong.
The department manager or HR representative should not resort to attacking the bullied employee in return but instead, use a professional three-step approach. First, explain why the behavior is a problem. Acknowledge that employees are human with strong emotions but that does not give anyone the right to yell at or be overly crucial of someone else.
Managers or HR reps should also describe how the target and anyone witnessing the exchange might feel, using words such as embarrassed or uncomfortable. Lastly, ask the employee exhibiting aggressive behavior towards others what he or she is willing to do to prevent it from happening again. Be sure to document the conversation and let the employee know what the company expects moving forward.
Sometimes managers feel they cannot do much to stop bullying behavior when they do not witness it directly and only hear about it secondhand. This is not only untrue, but managers have an obligation to investigate all complaints even if they seem minor. Managers should immediately contact HR for guidance on how to proceed with investigating the incident and what steps they must take to address the aggressive employee's behavior.
Workplace bullying victims must receive support to prevent them from resigning or possibly filing a lawsuit. HR should provide a list of resources for people who have experienced harassment at work while managers should periodically follow up to ensure the bullied employee is recovering from a potentially traumatic experience.
Axcet HR Solutions Provides Harassment Allegation Investigations and More
We are a Kansas City-based professional employer organization (PEO) available to assist small and mid-sized employers with the common yet challenging problem of workplace bullying. As part of our human resources offerings, Axcet works with clients to identify employee concerns, investigate grievances and allegations of harassment, and provide training on creating a respectful and inclusive workplace.
We invite Kansas and Missouri employers with 250 employees or fewer to request a consultation. This session provides employers with more information about how our human resources, employee benefits, payroll administration, and risk management services can help make their company an employer of choice in the Kansas City area.