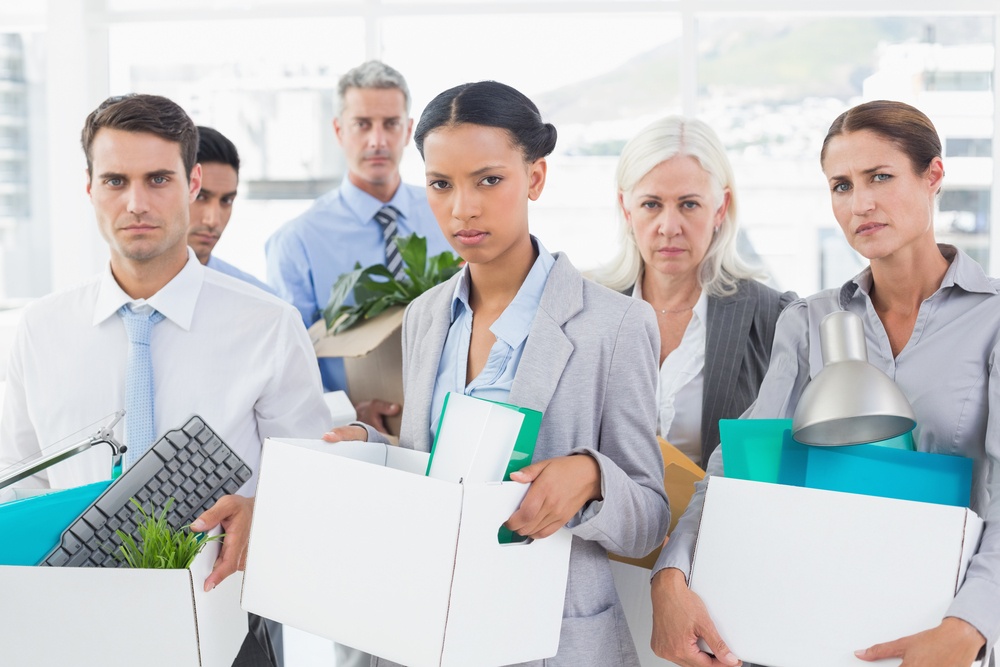 As a business owner, for the most part, you've probably found employees who choose to depart your organization do so peacefully. They turn in their notice and you gradually transition them out of their role at your company. No drama, and hopefully no need to get security to escort anyone out of the building. In fact, the majority of business owners (63 percent), do not have an offboarding strategy in place.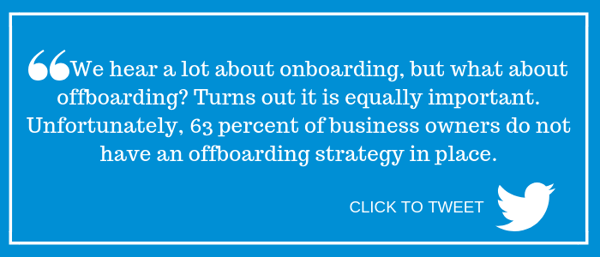 But, with most young Millennials only staying at a given company for an average of 1.3 years, combined with 10,000 baby boomers retiring each day, not having a plan is a serious missed opportunity for your business to gain valuable insight. And a great offboarding strategy can keep your company's reputation intact, reducing the risk of scathing reviews by former employees on sites like Glassdoor, Google or Indeed. By following these steps, the offboarding process can be an easy, seamless and rewarding experience.
10 Steps for a Successful Employee Offboarding Experience
1. Communicate the Departure
Communication is key. Be sure to notify managers, HR, payroll, IT and, in some cases, your customers. Most often hesitated, is notifying coworkers, which can be detrimental. The longer you wait to inform the whole team, the more likely rumors will begin to spread. Without details from you, the missing information will be filled in with assumptions. Stay ahead of this loss of productivity by communicating quickly.
2. Transfer Knowledge
When an employee who has been with your organization for some time gives you notice, such as with senior-level employees, they hold years of knowledge. Harvard Business Review describes these as "the people who have so much tribal knowledge and are so valuable that they become almost irreplaceable." With plenty of notice and a great offboarding strategy, your business will be able to capture a good chunk of this knowledge before the employee departs the organization. Team training can be helpful and time spent with the exiting employee's replacement. However, if a positive relationship has not been maintained, the transfer of knowledge can be almost impossible. To avoid this situation, have ongoing policies where information is regularly shared among the team.
3. Recover Assets
Surprisingly, many companies fail to recover company assets from departing employees, including computers, company-issued mobile phones, keys, keycards, uniforms, company credit cards, camera equipment and more. The cost of these non-returned items adds up quickly. To underscore the importance of recovering company assets, take a look at this news story about a Walmart employee who retained his manager uniform after being fired. He stole $30,000 from three Walmart stores by dressing up in his old uniform!
4. Update Website, Org Charts and Marketing Materials
To ensure a smooth transition, update all organizational charts and company directories. Also, if the employee is currently being used in marketing materials or is listed on the website, be sure to update those materials, as well.
5. Revoke Systems Access
Once the employee has his or her final day, IT should work to immediately to remove the employee's access to company hardware and software. Shared passwords should be changed, email accounts removed, and calls forwarded. Be sure to maintain a security checklist for offboarding employees to ensure all company account access has been removed, especially external service accounts that are not part of the internal infrastructure.
6. Complete Final Paperwork and Pay
Paperwork … not always fun, but extremely important and a must. A proper offboarding will include a written letter of resignation, any nondisclosure or non-compete agreements, and benefits documents. At this time, determine and communicate how the exiting employee will receive final pay. Will it be direct deposited, mailed, or available for pickup? Also, calculate any accrued, unused PTO, commission payments, reimbursements or bonus pay still owed. Be sure to
to find out what to do about FLEX spending accounts.
7. Perform Exit Interview
No business or person is perfect. But those who strive to be better seize opportunities when they can learn something new. This is one such opportunity. When an employee has already turned in their notice, they will have less worries than a current employee when it comes to providing open and honest feedback about their experience. Don't miss out on this wealth of information to find out what areas your business can improve on. Listen with an open mind and consider their viewpoint. You may even find out key details about a competitor your exiting employee may have interviewed with or will go to work for.
8. Provide Letter of Recommendation
The departing employee may request a letter of recommendation, ask permission to list you as a reference in the future or request written proof of employment. State laws vary on providing references and service letters. For example, in the state of Kansas, an employer is required to write a service letter upon written request stating the length of employment, job classification and rate of pay. Be sure to check your applicable state laws.
9. Thank the Exiting Employee
When appropriate, such as with a long-term employee or a top performer, their accomplishments should be celebrated. By honoring their contributions to your organization, you acknowledge the simple fact that yes, people do leave, and that is OK. It shows maturity and humanity, helps maintain positive energy in the final days and strengthens your culture.
10. Engage the Former Employee
It is becoming more and more common for employees to return to organizations at a later date. Remember all of those young Millennials only lasting an average of 1.3 years at any given organization? Yes, they may want to return. And the majority of HR professionals are open to re-hiring these "boomerang employees," especially with the current talent shortage employers are experiencing. And at the very least, with proper offboarding, they can become brand ambassadors for your business and refer people from their network to your organization. So, before the door closes on that last day, be sure to leave it open a bit to those who were an asset to your organization. Whether through emailed company news, LinkedIn or an automated system, request to keep them in the loop via a company alumni network.
The days when employees are never heard from again after their last day are gone. People share their experiences for the world to see, including any future talent you may wish to recruit, across the internet on sites like Glassdoor, Google, LinkedIn, Facebook and many more. Through proper offboarding, you can strengthen your culture, leave the door open for possible rehires, enlist former employees as strong brand ambassadors and have an overall positive experience. A well-planned offboarding process is a win-win.
For assistance with all manner of employee offboarding including terminations, layoffs, and general unemployment claims, contact Axcet HR Solutions.