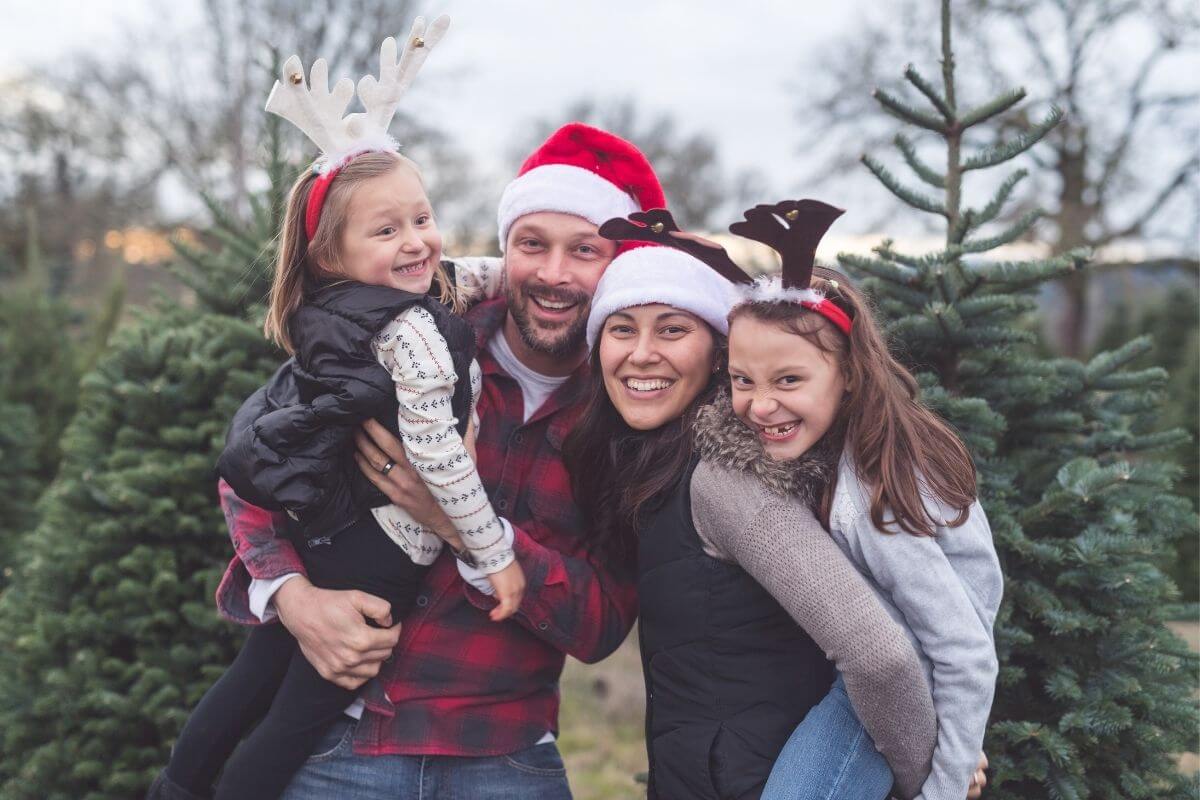 Looking for a new family tradition? Instead of putting up the same artificial Christmas tree you've decorated year after year, why not head to one of Kansas City's many Christmas tree farms where you can choose and cut your own fresh Christmas tree Many of these festive tree farms provide a truly interactive experience the whole family will love including gift shops, hot cocoa and Santa! Here are 10 of our favorite Christmas tree farms in Kansas and Missouri:
Pumpkins and Pines
20606 South State Route 7, Pleasant Hill, Missouri 64080
The 2021 season at Pumpkins and Pines in Pleasant Hill, Missouri will be a great one with over 2,850 trees available for you to choose from. Family-owned and operated for over thirty-one years, Pumpkins and Pines has grown more than 14,000 Christmas trees. Pumpkins and Pines provide bow saws to cut your own tree or a member of the staff will cut it for you. You'll find Scotch, Red, Austrian and White Pines in the field or pre-cut Fraser fir trees, Canaan Firs, Balsam Firs, Concolor Firs and Blue Spruce Christmas trees. In addition to a great selection of trees, you can enjoy free hayrides and hot cocoa, a gift shop, visits from Santa on the weekends and 150+ fresh wreaths.
Pumpkin and Pines opens for the season the Saturday before Thanksgiving at 9 a.m. and will remain open seven days per week. Pumpkins and Pines closes at 3 p.m. on November 24 but will be open all day on Thanksgiving. For more information, visit the Pumpkins and Pines website here or their Facebook page here.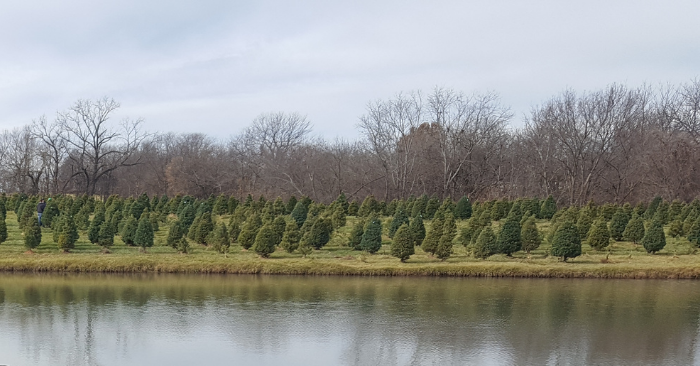 Pumpkins and Pines Christmas Tree Farm
Fulk's Tree Farm
23400 Hwy 92, Platte City, Missouri 64079
Fulk Farms is a six-generation, family-owned farm founded in 1889. You can choose and cut your own farm-grown Scotch or White Pines (saws provided) or take home a pre-cut Douglas, Frazier or Balsam Fir. The main tree grown at the tree farm is Scotch Pine. Be sure to take a few moments to shop Fulk's Red Barn, their gift shop featuring live wreaths and garland, ornaments and more. Fulk's will not tie trees onto cars for liability reasons. The tree farm opens for business the Friday after Thanksgiving at 9 a.m. Regular hours are Tuesday - Friday from 12 - 5 p.m. and Saturday - Sunday 9 - 5 p.m. The farm is closed on Mondays. For more information, visit Fulk's Tree Farm's website here.
Fort Osage Farm & White Pine Lodge
3022 North Twyman Road, Independence, Missouri 64058
If you're looking for twenty acres of breathtaking, rolling Missouri countryside filled with beautiful, live Christmas trees, look no further than Fort Osage Farm! The Luke Family has been filling Kansas City homes with beautiful, fresh-cut Christmas trees for nearly two decades. At the farm, you can choose and cut your own Scotch Pine, White Pine, Norway Spruce or Virginia Pine with a farm-provided saw. Trees range from $30 - 275. Also available are pre-cut Christmas tree Fraser Firs ranging in size from 6 - 12'. The farm provides complimentary shaking and bagging and twine to tie your tree onto your car. Additionally, you'll enjoy complimentary hot cocoa, hot spiced cider, candy canes and coloring books. Opening weekend for the farm is the Saturday before Thanksgiving. The tree farm is closed on Thanksgiving, open 9:30 a.m. to 5:00 p.m. on Friday, November 26; 9:30 a.m. - 5:00 p.m. on Saturday, November 27 and 10:30 a.m. to 5:00 p.m. Sunday, November 29.
Hours vary. For more information, please visit Fort Osage Farm's website or their Facebook page.
Related: How to Schedule Employees Fairly on Weekends and Holidays >>
Bierman's Christmas Tree Farm
2825 South 63rd Street, Kansas City, Kansas 66016
At Bierman's Christmas Tree Farm you can choose and cut Scotch and Austrian Pines from 5 - 12' tall. The farm also features pre-cut White Pines (up to 9' tall) and pre-cut Frasier Firs and Balsam Firs (up to 18' tall). Once you've selected your tree, head to the heated barn for complimentary hot cocoa, gift shop, Christmas picture cut-out and fresh wreaths and garland. Sleigh rides are $2.50 per person; children under 3 years old ride for free. Other attractions include a Christmas Egg Hunt. Remember to bring a mask to wear in the gift shop.
The tree farm will be open November 26 through November 28 from 9:00 a.m. to 5:00 p.m., December 4 through December 5 from 9:00 a.m. - 5:00 p.m. and December 11 through December 12 from 9:00 a.m. - 5:00 p.m.
For more information, visit Bierman's Christmas Tree Farm's website here or their Facebook page here.
Wilderson Christmas Tree Farm
14820 Parallel Road, Basehor, Kansas 66007
At Wilderson Christmas Tree Farm, you'll find gorgeous Virginia and Scotch Pines in the field to choose and cut, along with a nice selection of pre-cut Fraser Firs. Due to COVID-19, Wilderson has made a few changes to keep everyone safe this holiday season. Hayrides, hot chocolate and candy canes will not be available. Twine will be supplied for customers to tie their own tree to their automobiles, but the staff at Wilderson Tree Farm will not be able to. Masks must be worn when approaching the cashier, but are optional elsewhere. Credit cards are the only payment method accepted in 2021. As a reminder, please do not bring dogs to the tree farm.
The Christmas tree farm is open November 21 through December 12 on Saturdays and Sundays from 10:00 a.m. to 4:30 p.m. Additionally, the farm is open on Black Friday. For more information, visit Wilderson Christmas Tree Farm's website here or their Facebook page here.
Midland Holiday Pines
18541 Midland Drive, Shawnee, Kansas 66218
If you love extra tall trees, this is the place for you! Midland Holiday Pines has North Carolina mountain trees and Big Tall Fraser Firs. Heights for the 2021 season range from 12 to 14 feet tall! Conveniently located in Shawnee, Midland Tree Farm is a family-owned Christmas tree farm that has been providing magical holiday experiences for the Kansas City area since 2002. You'll find Scotch Pines growing on the farm available for cutting, along with a beautiful selection of pre-cut Fraser Firs and White Pines. The season kicks off at Midland Holiday Pines the Friday after Thanksgiving and the farm remains open on weekends from 10 a.m. - 5 p.m. through the end of the season. For more information, visit Midland Tree Farm's website here or their Facebook page here.
Christmas Ranch Trees
24818 NE 148th Street, Excelsior Springs, Missouri 64024
Horse-drawn hayrides are back this year! They will be at the farm Friday, November 26 and Saturday, November 27 from 10:00 a.m. to 4:00 p.m.
Roy and Carol purchased this 40-acre farm in the rolling hills of Clay County in 1982. Although there were no evergreens when they purchased the farm, 25 acres are now planted with Scotch and White Pines, among other varieties including Blue Spruce, Norway Spruce and Canaan Fir. This year will be Roy and Carol's 30th season selling Christmas trees to people in the Kansas City-area.
Saws are provided and the staff will shake, bail and load/tie down your tree to your automobile. While your tree is being prepped, visit the barn for complimentary hot chocolate, hot cider, coffee and cookies. You'll also find handmade wreaths, centerpieces, door swags and ornaments available for purchase. Opening day is the day after Thanksgiving.
Fun Fact: Christmas Ranch Tree Farm was used as the filming location for the Lifetime movie My Sweet Holiday that aired on Christmas Day 2020.
For more information, visit Christmas Ranch Trees' website here their new Facebook page here.
Cedar Valley Forest
29145 West 83rd Street, De Soto, Kansas 66018
The Cedar Valley Forest team has made the difficult decision to not open for the 2021 season of Christmas in the Forest. For more information, visit Cedar Valley Forest's website here or their Facebook page here.
Reindeer Lane
19401 Fightmaster, Trimble, Missouri 64492
Located just minutes north of downtown Kansas City, Missouri, you'll find Scotch Pine, Eastern White pine and Canaan Fir Christmas trees at Reindeer Lane. While you're there, enjoy complimentary hot cocoa, fresh popcorn and family or individual photos with Santa. Reindeer Lane opens the Friday after Thanksgiving and remains open on Saturdays and Sundays throughout the season from 9:00 a.m. to 5:00 p.m. For more information, visit the Reindeer Lane website here.
Best Local Kansas City Business for Fresh Pre-Cut Trees
Grass Pad
Olathe, Kansas City, Bonner Springs, Lee's Summit, Stilwell
With five locations in the Kansas City area, it's easy to find a Grass Pad near you with a great selection of pre-cut real trees. Plus, when you buy a Grass Pad Christmas tree, you support local small businesses and independent American farmers. This year Grass Pad has two varieties of pre-cut, real trees to choose from: Oregon Noble Firs and Northern Fraser Firs. Oregon Noble Firs are the most desired of all the real tree varieties, are a rich blue-green color with a hint of silver and are known for their needle retention. For more information, visit Grass Pad's website here.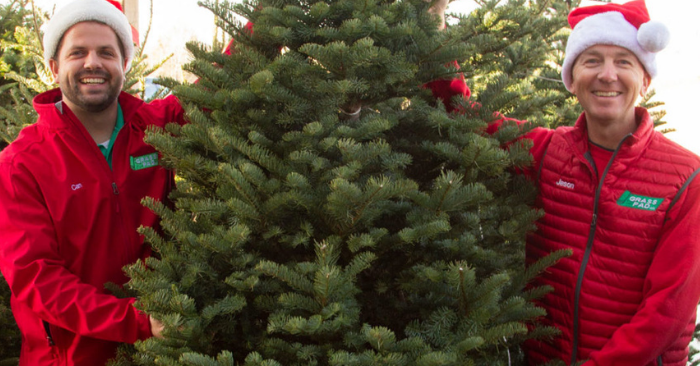 Nothing beats the look and smell of a fresh-cut Christmas tree. One of the keys to tree safety is placement. Remember to never place your tree within three feet of a heat source including fireplaces, radiators, candles, heat vents or lights. Also, be sure to check its water level daily, never allowing it to go dry. Happy tree hunting, and most importantly, have a safe and happy holiday.
Related Reading: 'Tis the Season for Safe Holiday Lighting Tips >>
At Axcet HR Solutions, we are proud to be Kansas City's local PEO since 1988.