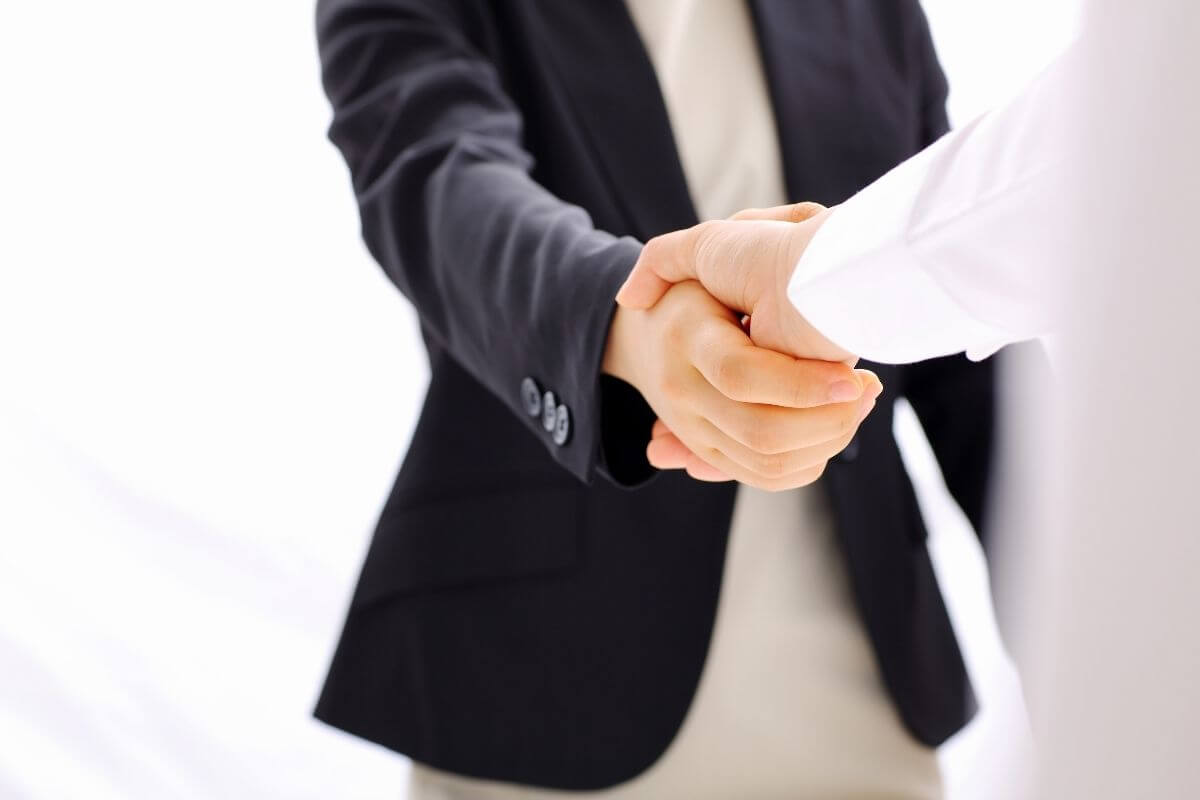 Small and mid-sized business owners walk a fine line every day. On the one hand, they need HR staff to complete administrative tasks such as employee benefits enrollment and payroll administration. They also understand that having their employees engage in revenue-generating activities instead would contribute more to the company's long-term growth.
The frustration of continually trying to balance these competing needs causes the leadership of many smaller organizations to search for PEO services in Kansas City. PEOs, or professional employer organizations, have existed since the late 1980s. These organizations provide overwhelmed small and mid-sized business owners the opportunity to outsource some or all human resources administrative tasks.
7 Reasons Small Businesses Should Partner with a PEO:
Obtain Better Employee Benefits
What Are the Benefits of Hiring a PEO?
Launched in 1988, Axcet HR Solutions in Kansas City is one of the earliest PEOs in the region. Our company is actually a Certified PEO, which means we have earned recognition from the Internal Revenue Service (IRS) for organizational integrity, financial stability, and proven results for clients. Currently, only 10% of the more than 1,500 PEOs in the United States are CPEOs.
We understand that potential clients have a lot of questions before making the commitment to hiring a PEO. Here are seven benefits smaller companies can expect when they commit to searching for the best PEO services for small businesses in Kansas City.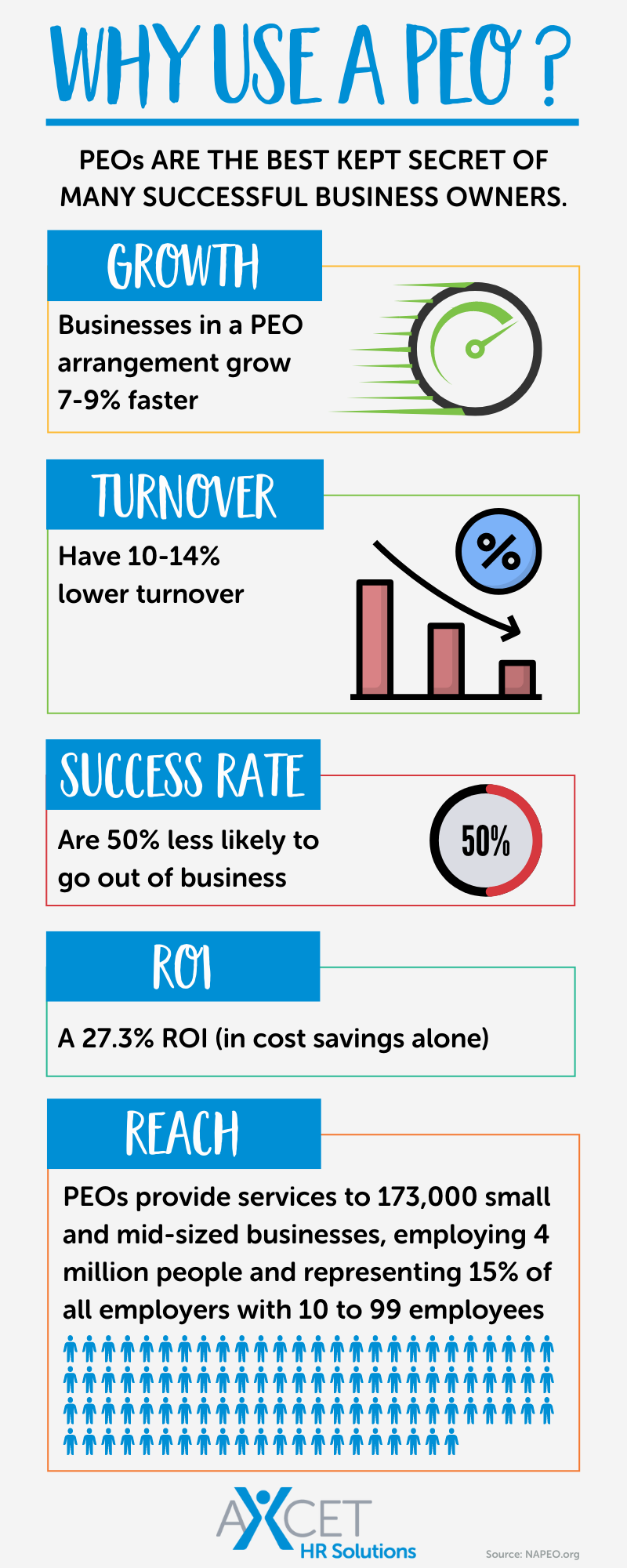 Ability to Obtain Better Employee Benefits

All business owners have experienced the frustration of seeing the cost of providing employee benefits increase each year. The frustration has caused millions of business owners across the country to shift more of the cost of benefits to employees. For their part, employees consistently state that the quality and cost of benefits are just as important as their salary, if not more so.

Small employers have traditionally struggled to compete with large employers to attract and retain the best talent. Their risk pool is smaller due to the lower number of employees, causing insurance companies to charge higher employer premiums.

One of the top benefits of working with a PEO is that small and mid-sized companies benefit from the combined bargaining power of all clients of the PEO combined. The result is lower premiums for employees, better employee retention, and improved job satisfaction.

RELATED:

Small Businesses, Health Insurance and the PEO Option >>

Half the Failure Rate of Other Businesses

The National Association of Professional Employer Organizations (NAPEO) reports several promising statistics about companies that partner with a PEO. For example, small and mid-sized businesses that use a PEO grow 9% faster each year than businesses that do not outsource their HR.

Perhaps the most impressive finding from the NAPEO is that smaller companies outsourcing to a PEO experience business failure 50% less often than other small businesses. With the high rate of closure during the first few years of operating a business, smaller employers are wise to use any resources available to them.

RELATED: What is a PEO and How Can It Help Your Business? >>

Remain in Compliance

Labor laws at the local, state, and federal levels change so often that keeping up with them is a major challenge, not to mention understanding them. Leaving only one person or a handful of people in charge of compliance sets the stage for a compliance disaster down the road. Consider what would happen if the person in charge of compliance had to be out of work because of an extended illness. Would the company have the resources to hire a replacement or train existing staff to take on the duties on short notice?

HR compliance is just one of several services Axcet offers its clients. Small business owners can rest easy knowing they are compliant with regulations ranging from Title VII compliance to legal postings required by the state and federal government.

RELATED: Top Benefits of Outsourcing HR Functions to a PEO >>

Reduced Workers' Compensation Costs

Even when the state requires it, the cost of contributing to the workers' compensation system can be prohibitive for smaller businesses. Workers' comp insurance providers charge premiums based on a company's experience modifier rate (EMR), which is usually high for smaller employers. By initiating a co-employment relationship with a PEO, small companies can join the PEO's existing plan and benefit from their lower EMR. PEO clients can also receive assistance with workers' compensation claims from their dedicated HR specialists.

Improve Recruitment and Retention Efforts

Recruiting for even one open position is a time-consuming process that sometimes leads to many dead ends. Unfortunately, the delay in filling a position can cause resentment among the existing staff due to the additional workload placed on them. Some may become frustrated enough to resign themselves, causing the problem to snowball even more.

This is especially true with small businesses because many positions only have one person doing them. When that employee leaves, the knowledge goes out the door with them. Recruiting and training a new person for the position becomes a complex, time-consuming task.

RELATED:

Five Lesser-Known PEO Services That Can Transform Your Business >>


Axcet is available to aid clients with the recruitment and onboarding process. For example, we offer a technically advanced applicant tracking system that streamlines the entire hiring process. Job applicants also benefit from an improved experience. Here are some of the other recruitment and retention services we offer:

Strategic planning for recruitment, hiring, and retention
Interviewer training and sample questions
Compliant job postings
Criminal background check, which is an automated part of our applicant tracking system
Drug testing resources
New employee onboarding help

Offer Competitive Pay Rates

Smaller companies need to offer a starting salary competitive with larger companies to entice top talent to accept a job offer. Even so, knowing how much to offer a new employee without going beyond what current employees earn can be challenging. That is where Axcet enters the picture. Our HR specialists have years of experience researching current market conditions and client competitors to recommend a realistic and sustainable pay rate for employees.

As an experienced and certified PEO in Kansas City, Axcet is also available to help clients work through pay compression issues. We understand this is a delicate and highly confidential problem, and we provide research and recommendations to clients to make pay rates for employees fair across the board.

No Need to Work with Multiple Software Programs

More so than large companies, small and mid-sized businesses seem to operate using a patchwork of software programs and computer systems to carry out everyday tasks. By working with our certified PEO, small business owners have access to our software and no longer need to use so many programs of their own.

Axcet HR Solutions stores all HR information from clients in one secure location. Our own employees need proper credentials to view certain information, such as payroll details and recent job offers. The same is true for the client's employees. They only see information relevant to them like their most recent pay stub and paid time off balance. Employers have one less thing to worry about because they know highly confidential data will not end up in the wrong hands.

Axcet HR Solutions offers a comprehensive suite of HR, payroll, employee benefits and risk management services. Please schedule a consultation to learn more.