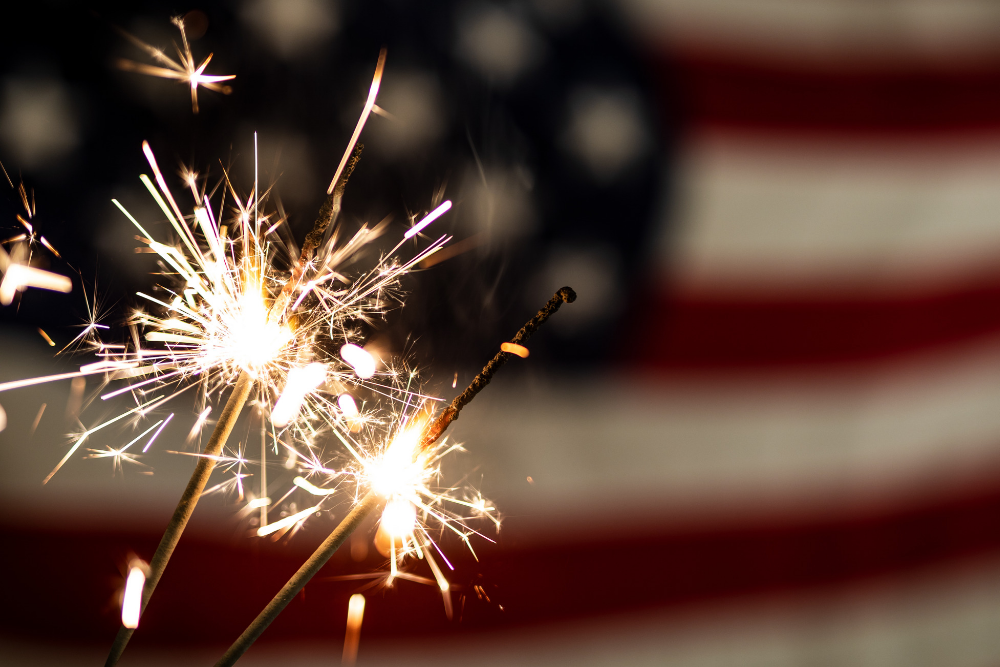 Updated July 3, 2019
Nothing says summer and Independence Day like American flags, fireworks, boating and some tasty Kansas City barbecue! While the holiday week can be a fun time spent with friends and family, it is considered one of the most dangerous holidays in the U.S. Just in time for the Fourth of July, Axcet HR Solutions Safety and Health Consultant Randy Clayton shares the top holiday risks and helpful tips in hopes everyone enjoys a safe holiday.
Fireworks by the Numbers
The history of fireworks in America is as old as this great country itself and Americans love showing their patriotism by illuminating the night sky. According to the American Pyrotechnics Association (APA), 254.4M pounds of fireworks were consumed in 2017! Of that, 229.0M pounds were consumer fireworks and 25.4M pounds were display fireworks. While they may be as American as baseball and hot dogs, fireworks aren't something we handle every day, so it's important to remember the risks involved and take appropriate steps to prevent injuries. According to the U.S. Consumer Product Safety Commission (CPSC), on average, 280 people seek ER services every day due to fireworks-related injuries in the month around the Fourth of July holiday. Here is a breakdown of fireworks injuries by body part: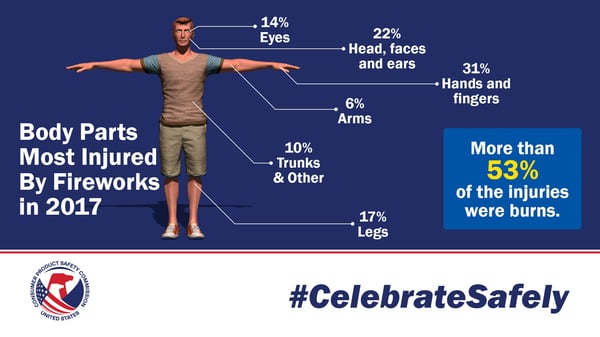 Fireworks Safety Tips
Are you planning on using fireworks this year? The U.S. CPSC offers a thorough list of tips worth reviewing. When using fireworks:
Never allow young children to play with or light fireworks

Avoid purchasing fireworks packaged in brown paper as this often means they are designated for professional displays and could come with greater risks.

Directly supervise children at fireworks activities. Sparklers burn at 2,000 degrees Fahrenheit (hot enough to melt some metals) and children can get severely burned.

Never have any part of your body directly over a fireworks device when lighting the fuse. Extend your arm and keep your body a safe distance. Once lit, move back quickly!

Only light one firework at a time.

Never attempt to re-light or pick up fireworks that didn't ignite on the first attempt.

Never point or throw fireworks in the direction of another person.

Never carry fireworks in clothing pockets or shoot them off in metal or glass containers.
Other safety recommendations include wearing protective safety goggles. Please note regular glasses do not provide the same protection. Additionally, a bucket of water or garden hose should always be at hand in case of fire. To be on the safe side, soak burned fireworks with water before discarding. Each year, underwriters see an estimated $43M in direct property costs from fireworks. Finally, check local laws before purchasing or using fireworks. As always, the safest way to enjoy fireworks is by attending a professional display. If you are in the Kansas City this Fourth of July 2019, check out our full list of professional fireworks displays across the metro.
Drunk Drivers
It's a patriotic birthday celebration and for many that means a toast or two. According to WalletHub, over $1B was spent on beer last Fourth of July plus an additional $568M on wine! The risk comes when people decide to get behind the wheel and drive under the influence. Between 2007 and 2011, Esurance reported 40 percent of highway deaths were caused by drunk driving accidents over Fourth of July weekends. A friendly reminder, please do not operate a motor vehicle, boat or ignite fireworks under the influence, or allow anyone else to.
Food Safety
It's picnic time! An estimated 62 percent of Americans will attend a picnic this holiday. Unfortunately, some of the top side dishes in attendance are mayonnaise-based, like coleslaw and potato salad, which do not mix well with the hot summer weather. Never leave perishable side dishes sitting out for more than two hours and always keep them on ice.
Grilling Accidents
It's time to fire up the grill and cook up some famous Kansas City barbecue. According to the National Fire Protection Association (NFPA), July is the peak month for grill fires and the number one cause is failure to clean the grill. However, a little common sense can go a long way in preventing accidents. Here are a few tips:
Never leave the grill unattended.

Check for propane leaks.

Never light a gas grill with the lid closed.

Regularly clean the grill.

Always grill outdoors.

Teach kids to keep a safe zone of at least three foot around the grill.
Boating Incidents and Drowning
Are you heading to the lake for the holiday? An increase in boaters on the water marks this holiday as the busiest and deadliest of the season, according the American Boating Association. Steps like wearing a life vest, not operating under the influence of alcohol and being aware of other boats help prevent boating incidents.
Finally, drowning can occur in a matter of seconds, with children under age five at the greatest risk. No child is ever 100 percent water safe and should never be left unattended while swimming, but formal swim lessons can reduce the risk of childhood drowning by 88 percent!
From all of us at Axcet HR Solutions, we wish you a safe and happy Fourth of July.
Axcet HR Solutions manages human resources, benefits, payroll, safety, and workers' compensation duties for small- to medium-sized businesses in the Greater Kansas City metro area. We boast a professional risk management team and have received OSHA's "Star of Excellence" award eight times for upholding the highest level of safety and health standards (read the blog).