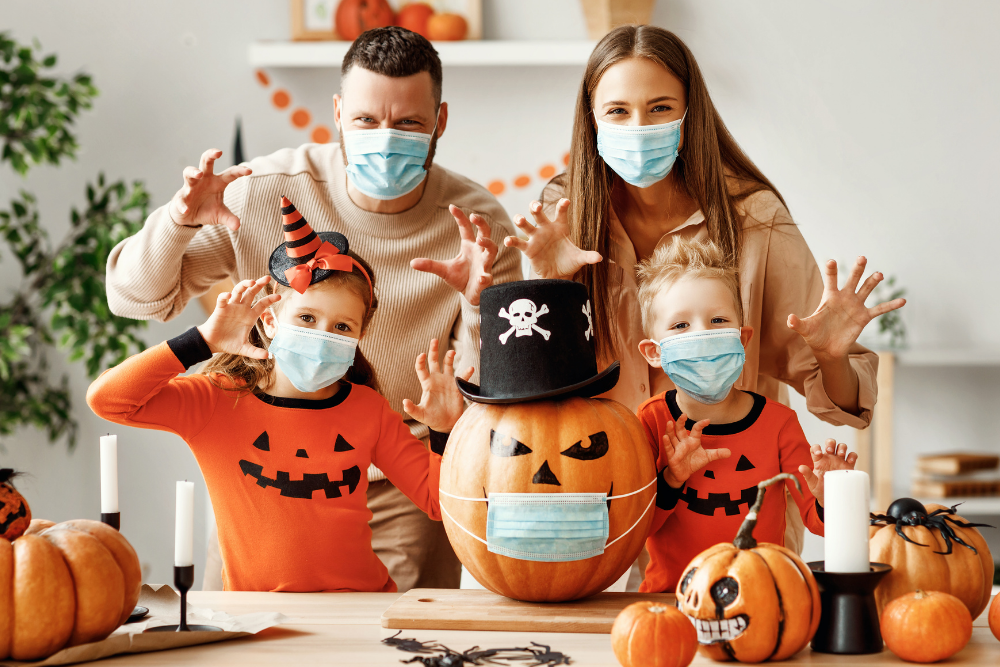 There's no doubt about it, Halloween will look different this year. That said, the majority of Americans aren't abandoning the holiday, instead they are finding new ways to celebrate. According to the National Retail Federation, more than 148 million U.S. adults plan to participate in Halloween-related activities this year despite COVID-19.
Tips to Safely Participate in Traditional Halloween Activities
While the CDC, Kansas Department of Health and Environment and City of Kansas City, Missouri all recommend against traditional door-to-door trick-or-treating this year, haunted houses and costume parties, these organizations also realize people will still be participating in the spooky season. For those who will be embracing an evening of fun, fright and candy, here are some tips to help celebrate Halloween safely.
Opt for the right kind of mask. While creepy masks are usually all the rage on Halloween night, this year there's nothing scarier than someone without a cloth mask. Remember, safety should take priority over your Halloween costume attire — a costume mask should not be used as a substitute for your cloth face covering. Wearing a cloth mask under a Halloween mask is not recommended and can make it difficult to breath.
Outdoors doesn't always mean mask free. Masks should be worn while handing out candy (whether you are at your door or outside), trick-or-treating, and attending outdoor activities when social distancing cannot be maintained. According to the CDC, masks are not recommended for children under 2 years of age and individuals who have breathing troubles.
Get creative when it comes to handing out candy. Maintain control of how trick-or-treaters receive candy while on your property. Instead of having trick-or-treaters come to your door, set up a table and chair in your driveway to distribute candy from, or put treat bags together and space them out at the end of your driveway so children can easily pick them up without coming into close contact with you or other kids. Filling up a large bowl of candy and allowing trick-or-treaters to simply dig in and grab what they want with no social distancing guidelines is not recommended. Remember to wash your hands for at least 20 seconds before handling candy for trick-or-treaters and keep hand sanitizer nearby to use throughout the night.
Remember to social distance. Whether you are inside or out, remember to stay at least six feet away from people who do not live in your household. This includes outdoors at pumpkin patches, corn mazes, Halloween parties, while trick-or-treating or handing out candy. Avoid spaces (indoors and out) that don't allow for social distancing.
Don't forget the hand sanitizer. Trick-or-treaters should have access to hand sanitizer that is at least 60% alcohol and should sanitize their hands frequently. Before eating candy, hands should be washed for 20 seconds with soap and water.
Regularly disinfect high touch surfaces. If children will be ringing your doorbell or if you will have a table set up outdoors, be sure to regularly disinfect these (or any) high touch surfaces throughout the night.
CDC Recommended Ways to Celebrate Halloween Amid COVID-19
There are plenty of ways to celebrate Halloween without the worry and scare of being exposed to or spreading COVID-19. Here are a few ideas that don't involve haunted houses, trick-or-treating or traditional costume parties:
Pumpkins and Halloween Decor. Pick out a pumpkin (or three) from one of Kansas City's local pumpkin patches to carve or decorate with your family. You can also spend more time decorating the inside and outside of your home with Halloween decor to be enjoyed by yourself and neighbors. Likewise, you can go for a drive or take a walk through your neighborhood to admire other people's Halloween pumpkins and decorations.
Corn mazes, haunted forests and Halloween scavenger hunts. Attend a corn maze or haunted forest, but remember to wear a mask and social distance). You can also plan a Halloween scavenger hunt in your house or yard for your children instead of going trick-or-treating.
Host a virtual costume party or pumpkin carving contest. Instead of having a traditional party, get dressed up in your Halloween costume and join your friends and family for a virtual party where you can also play games and show off your pumpkin creations.
Have a frighteningly good time watching Halloween movies. Pick out your favorite Halloween movies and celebrate the season by watching some of your favorite scary movies at home. You can also look for drive thru and outdoor Halloween movie showings in your area.
Additional Halloween 2020 Resources
To view a list of Halloween events happening in Johnson County, Kansas, click here.
To see a full list of Halloween guidelines by state, click here.
To get expert advice on Halloween trick-or-treater safety during a pandemic from Dr. Dana Hawkinson, medical director of infection prevention and control for the University of Kansas Health System, click here.