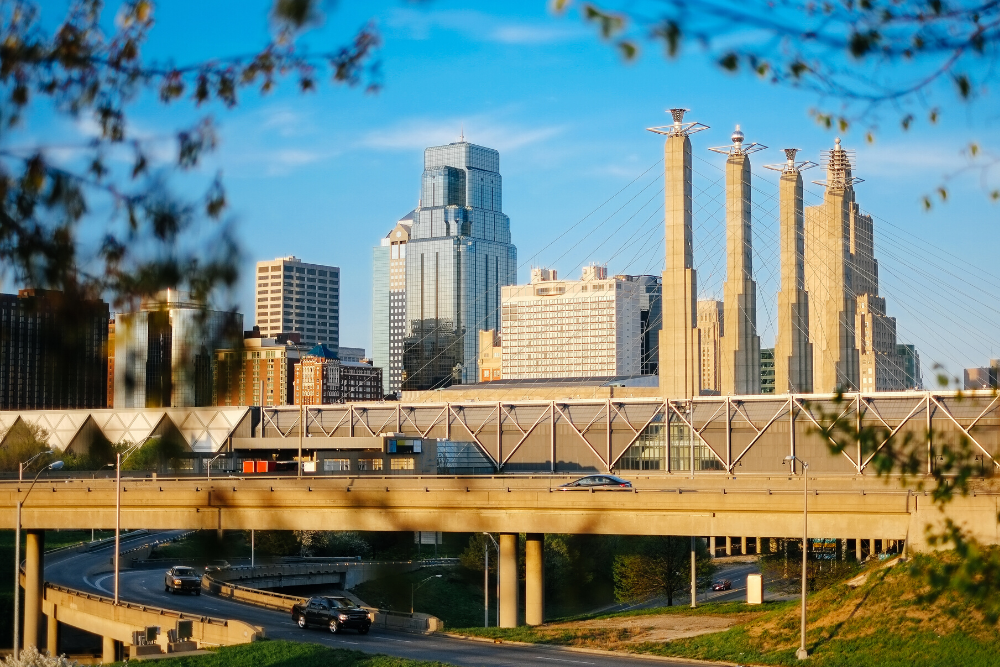 As mandatory shutdowns and restrictions gradually ease, more Kansas City-area businesses have been able to resume operations. And while it's hardly business as usual, employers have begun to cautiously navigate the post-pandemic economy. Previously, we blogged about the various reopening guidelines in the KC area — each state, county and even city (in some cases) have their own guidelines for businesses to follow. With varying rules, it's no wonder business owners with multiple locations across the KC metro are having a difficult time streamlining their reopening procedures. Here's what has changed since stay-at-home orders lifted this month in Kansas, Missouri, KCMO and Jackson, Johnson and Wyandotte counties.
Kansas Slows Reopening
Kansas Governor Laura Kelly announced she would be slowing the reopening of the economy and coronavirus-related restrictions are expected to remain in place through the end of June. Phase 1.5 began earlier this week on Monday, and then today, Friday, the state moves to a modified Phase Two. Here's what changed:
Phase 1.5
Mass gatherings stay limited to no more than 10 individuals.
Hair and nail salons, barber shops, tattoo parlors and other personal service businesses where close contact cannot be avoided may open for appointments only.
Fitness centers may open, but locker rooms must remain closed and group classes may not take place.
These businesses remain closed: bars and nightclubs, non-tribal casinos, theaters, museums, indoor leisure spaces, large entertainment venues, swimming pools, community centers, organized sports and camps.
Modified Phase 2
While the state of Kansas takes another step forward in reopening process with additional businesses opening, Governor Kelly has stressed Kansas is nowhere near "normal". Modified Phase 2 is expected to last through June 7, ahead of the originally projected date, through June 14.
Mass gatherings limited to no more than 15 individuals.

All businesses and activities slated to reopen during Phase 2 will be allowed except bars, night clubs and swimming pools, summer camps, outdoor and indoor large entertainment venues with capacity of 2,000 or more, and fairs, festivals, carnivals, parades.
Phase 3 is expected to begin on Monday, June 8.
Missouri Remains in Phase One Through May 31
The State of Missouri's Show Me Strong Recovery Plan took effect Monday, May 4 and remains in effect through May 31, unless extended. Here's how businesses are impacted:
Every person and business in the State of Missouri is required to follow social distancing requirements, including maintaining six feet of space between individuals. However, if individuals are performing job duties that require contact with other people closer than six feet, they are exempt from the rule. That said, individuals performing job duties that require contact with other people closer than six feet should take additional precautionary measures to mitigate the risks of contracting or spreading COVID-19. This provision shall apply in all situations, including, but not limited to, when customers are standing in line or individuals are using shared indoor or outdoor spaces.
Any entity that employs individuals that is engaged in retail sales to the public, shall limit the number of individuals in any particular retail location to: (1) 25% or less of fire or building code occupancy for a retail location with 10,000 square feet or less; (2) 10% or less of fire or building code occupancy for a retail location with 10,000 square feet or more.
Restaurants may offer dine-in services, provided guidelines for proper spacing of at least six feet between tables, lack of communal seating areas to non-connected parties and having no more than 10 people at a single table are adhered to. Drive thru, carry out and delivery services are strongly encouraged.
Jackson County Amends Phase One
Jackson County began Phase One of their recovery plan on May 11 and expected to stay in Phase One for a minimum of two weeks. Late last week, however, the county amended Phase One to allow fitness centers to reopen effective Monday, May 18 as long as they follow Phase One occupancy limits. To see an overview of Jackson County's Recovery Phase One, click here.
Johnson County Mirrors State of Kansas
On Monday, May 18, fitness centers and salons reopened their doors in Johnson County with restrictions in place. Health clubs were not allowed to hold group classes and locker rooms were to remain closed. Hair and nail salons, barber shops and tattoo parlors are open, but for appointments only. Additional restrictions lift Friday, May 22, as Johnson County follows the State of Kansas' Ad Astra Plan and moves to a modified Phase 2. Gatherings must be limited to 15 or fewer individuals, group fitness classes are now permitted if limited to 15 participants or fewer, locker rooms are open and all non-essential businesses can begin reopening with the exception of bars, night clubs and swimming pools, summer camps, outdoor and indoor large entertainment venues with capacity of 2,000 or more, and fairs, festivals, carnivals, parades.
While Johnson County's stay at home order extended a week beyond Kansas', the county now follows the same reopening plan.
Wyandotte County Remains in Red Zone
Wyandotte County was one of the hardest hit areas in the KC metro with infection rates four times higher than surrounding communities, like Johnson County and Kansas City, Missouri. As such, while salons, barber shops and gyms reopened across the state this week, they remain closed in Wyandotte County. Additionally, restaurants, bars, hospitality and retail are curbside pickup or delivery only.
KCMO Reopens Restaurants
Mayor Quinton Lucas' guidelines for reopening restaurants and all other non-essential businesses in Kansas City, Missouri took effect Friday, May 15 at 12:01 a.m. and will remain in effect through (at least) Sunday, May 31. Non-essential businesses may now open under the 10-10-10 rule and restaurants under yesterday's newly released restaurant guidelines.
The 10/10/10 Rule specifies that non-essential Kansas City, Missouri businesses must limit the number of customers allowed in their establishment at one time to no more than 10% of building occupancy or 10 people (whichever is larger). These businesses are encouraged to record the names and contact information of all customers who are on premises and seated for more than 10 minutes.
Restaurant guidelines are as follows:

Patrons exhibiting symptoms should not be permitted to dine.
Employees with symptoms should not be permitted to work.
All patrons must be seated while eating and/or drinking with 10 feet of space between tables, and six feet of space between fixed, bench seating, measured from the back of one chair to the back of the other chair. For booths, this may mean only seating every other booth.
No bar seating allowed at this time.
Buffet style food service and self-serve options are not allowed.
Employees are required to wear face masks when in public areas of the restaurant. Customers are encouraged to wear face masks.
All surfaces to be sanitized between customers, including tables, chairs, highchairs.
Doors, door handles, service counters, restrooms and waiting areas to be sanitized at least every 90 minutes.
Patio and outdoor dining service are permitted as long as social distancing rules are followed and no food preparation occurs outside of city-permitted kitchens.
Kansas City Missouri Food Code must be followed including hand washing frequency, employee health guidelines and proper sanitation of surfaces.
Carry out, delivery and drive thru is strongly encouraged.
Restaurants are strongly encouraged to maintain a log of all customers who are on premises for more than 10 minutes. Records should be held for 30 days.
Single use, disposable menus are encouraged.
We will continue to provide area small business owners with updates as the local economy continues to reopen post-pandemic.