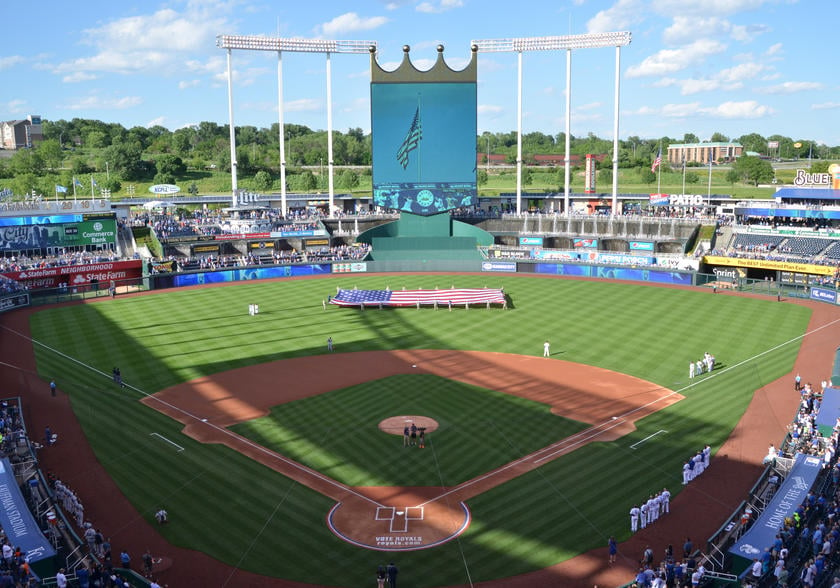 It's that time of year again — who's ready for some baseball? MLB Opening Day is tomorrow, Thursday, March 28, with 30 MLB teams playing, including our beloved boys in blue, the Kansas City Royals. If you're heading to the K to see the Royals take on the Chicago White Sox, the stadium will open at 1:00 p.m. with the first pitch scheduled for 3:15 p.m. You can see the full MLB Opening Day schedule here.
For baseball fans right here in Kansas City, and all across the U.S., there's nothing better than Opening Day. It is like a rite of spring, or an unofficial holiday. In fact, many people take this day off work so they can attend the first of the 162 regular season games.
Did you receive multiple PTO requests for the Royals home opener? Find out how to effectively manage multiple PTO requests for the same day in this blog.
We know everyone is excited and just wants to get out the the K to have a great time, but as massive amounts of fans flood Kauffman Stadium, it's important to keep in mind a few safety tips to help prevent any accidents from occurring, especially if you're heading to the game with children.
Watch for Foul Balls and Other Flying Objects
Who wouldn't love their one-minute of fame catching a foul ball in the stands, not to mention a great souvenir. But exercise caution and have respect for the speed at which the ball is traveling. There have been many MLB fans injured by foul balls. In fact, a 2014 Bloomberg News report found about 1,750 fans are injured each year. And fans right here in Kansas City's Kauffman Stadium are included in that stat.
According to the Kansas City Star, at a 2011 Royals game, a 4-year-old girl suffered a fractured skull after being struck above the eye by a foul ball. She did make a full recovery. Also in 2011, a 64-year-old woman suffered facial fractures when she was struck by part of a shattered bat.
Expert Safety Tip: While you may feel your best seat is where there is an unobstructed view, and as close to home plate as possible, having a seat behind adequate protective netting is strongly recommended. Also, be alert to what is going on in the game. Many fans are distracted by smartphones and don't even see the ball or broken bat headed right for them. This is even more of a concern if you are attending the game with small children who are unaware of the risk associated with the high speeds of these flying objects.
Stay Hydrated
While the weather on Opening Day may not be too hot yet, any one who has ever attended a Royals game in the middle of the summer, basking in the hot afternoon sun, knows how easy it is to dehydrate. Further, some fans looking to keep costs down while attending the game are reluctant to spend the money on game concessions.
Expert Safety Tip: On a hot day when you are perspiring, focus on water and electrolyte-type drinks. If you don't want to spend the money on game concessions, find out what the stadium's policy is for bringing your own unopened, non-alcoholic beverages.
Peanuts, Peanuts, Everywhere
What's the first snack that comes to mind when you think of baseball? Peanuts! And while many of us enjoy cracking open these salty snacks, if you or someone you're attending the game with has a peanut allergy, it can be trouble.
Expert Safety Tip: While you can always try to find out if there is special seating for those who suffer from allergic reactions to peanuts, there are some other ways to enjoy the game and reduce risk. Some essential items, permitting they are allowed into the stadium, include stadium seat covers or a blanket to sit on, Clorox wipes, hand wipes and latex-style (or latex free) hand gloves. As always, when it comes to severe allergic reactions, it is important to always consider the risk involved.
Check the Weather
Spring brings unpredictable weather patterns, not to mention the cool, spring temperatures change into hot summer days as the baseball season progresses. To ensure comfort, know the weather forecast ahead of time.
Expert Safety Tip: Be prepared for the elements and check out where your seats are in advance. If you are out in the open air, without seats above you, and rain is in the forecast, you'll need the appropriate rain gear. Out in the sun for the afternoon? Apply SPF before the game and be sure to have it with you for later in the day to help prevent sunburns. For full benefit, SPF should be applied approximately 30 minutes before going outdoors and should be reapplied every two hours … even on cloudy days. Keep in mind if you are sweating, your sunscreen could wear off sooner.
While these safety tips may seem like common sense, they are often forgotten in the excitement of getting out the door, and often we don't fully understand the risk before diving for that foul ball. We hope everyone has a safe and enjoyable day at the K. Let's go Royals!