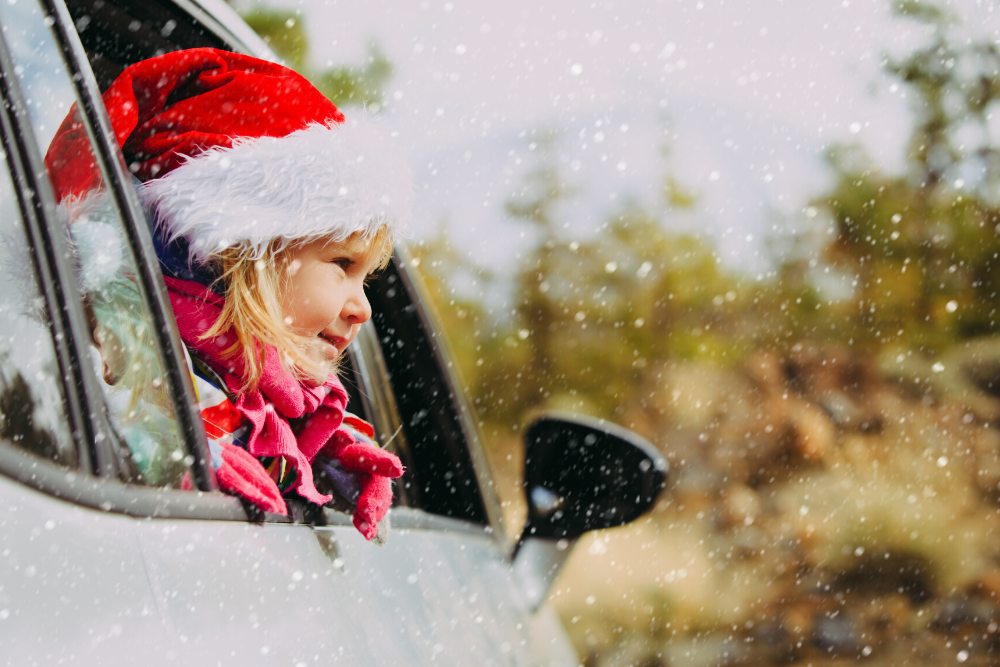 It's that time of year ... the holiday travel season. According to The Vacationer's 2021 Holiday Travel Survey, 122 million American adults will travel this year to celebrate Hanukkah, Christmas and Kwanzaa. About 61% will opt for the traditional road trip. Much different than 2019 and even 2020, this is a time when a lot of people feel they can travel and spend some quality time with family and friends.
Perhaps you, like many others, are planning on leaving home behind and taking off somewhere else for the holidays. But even though you might be away from work with complicated HR decisions being the last things on your mind, Axcet has some tips we think holiday travelers should keep in mind to ensure holiday vacation is as safe and relaxing as it deserves to be.
First, the Car
The road trip is a staple of holiday tradition. Since many travelers will decide to opt for the open highway to get them to their Christmas destination, let's handle the matter of cars first. Below are some tips to keep your journey safe while on wheels.
Perform Basic Maintenance
Any time you're planning on logging some major mileage on your vehicle, it's a good idea to make sure your vehicle is up to date on basic maintenance. This is especially true for the holidays when dropping temperatures wreak havoc on car batteries and tires. So, if your car is due for an oil change, tire rotation, brake check, or even a new battery, make sure your car receives the maintenance it needs before going on a long drive.


Prepare for Traffic
You won't be the only one traveling. Even midwestern highways are busier around the holidays. Be aware that your travels will probably take more time than at other points during the year. If traffic is a stressor for you, consider leaving early in the morning or late in the evening, since these times typically are lighter on traffic than others.


Winter-Prep Your Car
Bring along some staples in case Jack Frost gets angry. Make sure your car's heater is functioning well, but still bring along blankets anyway if it malfunctions. Snow shovels and brushes are essential. An ice scraper or defroster is useful to bring along to keep your car from icing over. Consider bringing sandbags or cat litter too if you expect to drive through areas with heavy snow—they could provide invaluable traction if your car gets stuck. A fully inflated spare tire doesn't hurt either.


Pack an Emergency Kit
Vacation is supposed to be relaxing, but sometimes the best way to relax is to be fully prepared. Include in your car an emergency kit that has items you'll need in an emergency, such as first aid supplies, a flashlight with extra batteries, nonperishable foods, a compass, and even a fire extinguisher.


Keep the Passengers Happy
In order to keep kids from getting too rowdy and distracting the driver, make sure they stay occupied with video games, movies, or audiobooks. Pack snacks. Bring along some water to keep everyone hydrated.
Next, the Rest
Not everyone will be traveling by car over the holidays, and even those who opt for the open road will spend at least some of their time outside of their cars. With this is in mind, we've gathered another handful of tips of the less automobile-focused sort below.
Secure your Home
It's hard to put your mind at ease when you're away from home if you don't remember if you locked your front door. Fortunately, there are now many security systems available that can remedy home away from home anxieties. Be sure to get one installed and armed before you leave. If you can, get a system that syncs to a mobile phone app so you can monitor your home's status even while you're many states away.


Avoid the Public Transportation Cold
Few things can ruin a vacation like getting sick. If you happen to be traveling by train, bus or plane, wash your hands frequently with soap or antibacterial hand sanitizer. The number of people who travel these ways will make nearby surfaces rife with germs. Avoid touching your face if you can help it. Also, remember that it's flu and cold season, so diseases are spreading fast.


Notify Family or Friends of Your Travels
Give them a copy of your itinerary and follow up with them occasionally throughout your trip. Make sure they have emergency contact information in case something goes wrong. Also, it's a good idea to give them a copy of your identification documents such as passports so they can digitally forward them to you if you misplace them.


Keep a Close Eye on Your Valuables
Don't leave them visible and out in the open, unattended. Make sure laptops and purses are tucked safely out of sight in cars, or in safes if staying at a hotel. Don't keep all your money in one wallet or purse, just in case it is stolen. Most people in the world are good and kind, but you don't want to fall victim to the view with lesser moral fortitude.


Follow Your Gut
Most of the time, staying safe is just a matter of common sense. If you have a voice in the back of your head at any point telling you that something is wrong, listen.
Axcet HR Solutions wishes you a safe and happy holiday season. We hope you get the time with family and friends you need and deserve.