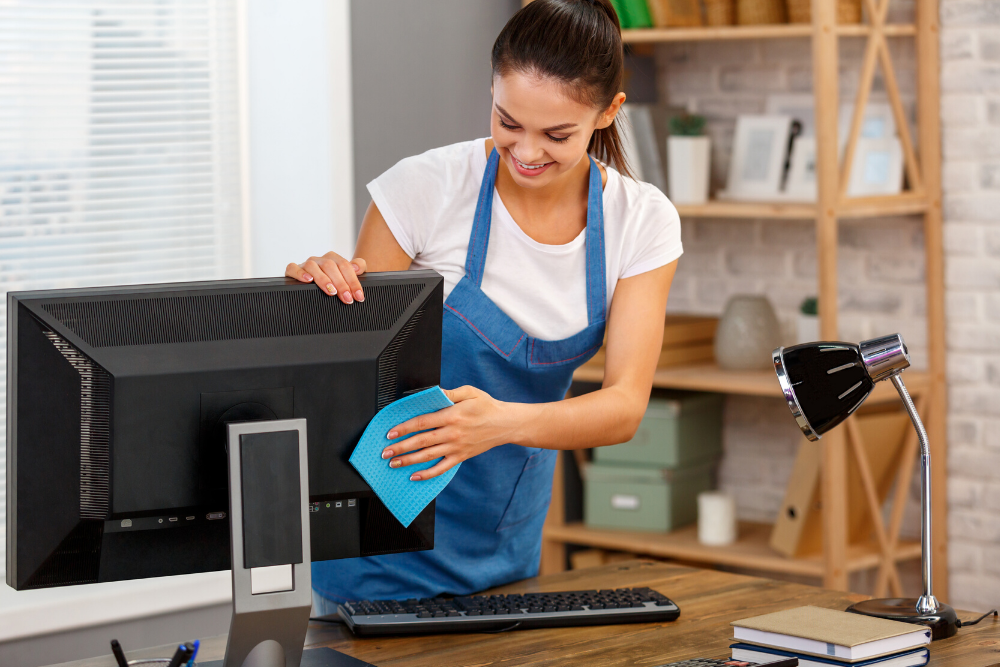 Part of reopening post-coronavirus shutdown involves being able to keep your place of business clean and sanitized. A safe workplace is the right thing to do regardless of COVID-19, but now it is more important than ever to ensure your employees' and customers' safety while the virus continues to spread. That said, shortages of sanitizers, disinfectants, thermometers and PPE, like masks and gloves, continue to be a reopening hurdle for responsible business owners.
Increase Demand Limiting Availability of Sanitizing Products
While paper products, including toilet paper, can be found in most stores at this time, the struggle continues for business owners and managers hoping to purchase a few canisters of Clorox wipes or Lysol disinfectants from local stores. The shortage of supplies is attributed to continued increased demand due to the virus. Just last month, Benno Dorer, CEO of Clorox, reported demand for their product had increased by 500% and in just one week the company sells what would typically take a whole month. Dorer said even with production up by 40% and wipes being manufactured 24 hours a day, there still will not be enough to meet the current demand.
Lysol mirrored Clorox' sentiment regarding the pressures of meeting demand. In fact, during the month of May, Lysol manufactured as much sanitizing product as it did during all of 2019.
For businesses unable to find popular products in stores, the EPA has put together a list of products for use on surfaces that meet their criteria for use against SARS-CoV-2. The list can be found here.
Turning to the Web for Related Products
The shortage of sanitizers, disinfectants, and PPE has many turning to the internet in search of products needed to safely reopen their businesses, but have been unable to secure at local stores. And while ordering online has been a great solution for many, the Better Business Bureau (BBB) warns of shortage scams and price gouging. Often scammers seek out "customers" online to sell face masks, sanitizers or other coronavirus-related products to and most of the time the products don't exist, are used or defective, or have been considerably marked up. Phony sellers are all over the internet — they take shoppers' money and personal information and often don't ever deliver the product. To protect business owners, and the general public, the BBB has issued the following guidelines when shopping online for high-demand COVID-19-related products:
Do your research. Check the URL spelling, domain name, and Google the potential seller's website to see if any complaints have been made. Poor grammar, not much information, and wrong use of capital letters can also indicate the website is a scam.
Check for the "s". Websites that begin with https vs. http indicate a secure domain. In fact, the "s" stands for "secure".
Investigate the website age. Websites like Whois.com can be used to determine if a website was recently set up. Scammers often set up new websites that align with whatever the current crisis is — in this case, COVID-19.
Check for detailed company history and confirm the contact info. Scammers may be creative, but they often don't go to the work to create a detailed "About Us" page laying out their company history. On the "Contact" page, email addresses and phone numbers are often made up and/or unresponsive.
Verify the organization on the BBB website. Always verify the website is a legitimate business before providing any personal information.
Always use credit. When paying for an online product, always pay with a credit card to ensure your transaction is protected by the Fair Credit Billing Act. If the product arrives defective, or not at all, you can work with your credit card company to withhold payment and investigate the seller.
Support Local Kansas City Businesses
Interested in supporting local Kansas City businesses while keeping your business sanitized and safe for customers and employees? KC PPE boasts a growing list of locally made sources of personal protective equipment for your business' needs including reusable masks, face shields & hand sanitizer. For more information, visit: https://www.kcppe.com/